In Wallbanger by Alice Clayton, When interior designer Caroline Reynolds moved into her new apartment in a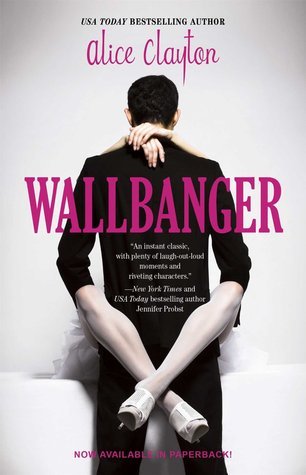 nice San Francisco neighborhood, she was over the moon. It had great aesthetics, lots of room for her beloved cat Clive to roam and play around in, and a kitchen just begging to be christened with tons of baking. Then there's her neighbor, who Caroline has dubbed Wallbanger for, well, obvious reasons. The first three nights in her new home, he was with a different woman each night–and each one was more unique and louder than the previous one. Then things were blessedly quiet while he was evidently out of town. But as soon as Wallbanger got home, the noise started all over again.
'There was some serious sexual prowess going on next door. I just didn't see why it had to affect my sleep habits.'
Sick of Wallbanger's harem and the reminder every night that her O has fled the country, possibly for good, Caroline goes next door in the middle of a hissy fit to confront her neighbor. And Holy Hotness! Simon Parker is all kinds of handsome and charming. Until she runs her mouth and ticks him off. Then it seems like every encounter they have is filled with tension and snarky banter, which is fine by Caroline. But when they call a truce and slowly form a friendship, she can't help but notice how much she and Simon have in common. And that there is an undeniable attraction simmering between them that is only getting bigger over time. Caroline doesn't want to become part of his harem. Although if he's interested in dating her and only her, she has a feeling her O might just make a reappearance–at the same time as her feelings get tangled up in it all.
"You really have no idea, do you?"
"No idea about what?" I murmured.
"How thoroughly you own me, Nightie Girl," he said, leaning in to whisper this part in my ear. "And I know I love you enough to want you to have your happy ending."
An outrageously funny, full-on sexy rom com with all the feels, Wallbanger showcases Alice Clayton's writing chops in all its sparkling, hilarious glory.
'How do you make a Wallbanger stop smirking? You kiss him.'
Now, I know that rom coms are not for everyone. Especially ones that are super quirky to the point of being silly at times, like with Wallbanger. But for readers who *do* like such stories? Alice Clayton will deliver. Every. Single. Time. And it's not all just raunchy fun with great banter and crazy ensemble scenes. Nope. There are always huge helpings of emotions, lovely friendships, and touching moments between the couples Clayton creates that balances out the chaos of their lives. It's those passages in her novels that make me dig in, becoming more entrenched in the storyline while also hanging on for the wild ride to the guaranteed HEA.
Caroline and Simon. Sigh. They were a couple who were perfect for each other from the get-go. But neither were at the right point in their life where a serious relationship felt like it would work. So, instead they bickered like an old married couple. Even while the sparks of attraction darn near burned them up. Simon and Caroline's encounters, while laugh out loud funny, left them a little bit, ahem, frustrated. And unfortunately, Caroline was already there thanks to her lack of an O in what (to her) felt like forever. It was as she and Simon were slowly becoming friends–and eventually so much more–during one awkward, tension-filled situation after another that things began to click into place. And once it did? Look out. There was absolutely no denying they were heading straight into a forever romance.
QOTD: Have you read any of the books in Alice Clayton's Cocktail series? If so, do you have a favorite character or couple?
Book Info:

Publication: First published November 27, 2012 | Gallery Books | Cocktail #1
Caroline Reynolds has a fantastic new apartment in San Francisco, a Kitchen Aid mixer to die for, and no O (and we're not talking Oprah here, folks). She has a flourishing design career, an office overlooking the bay, a killer zucchini bread recipe, and no O. She has Clive (the best cat ever), great friends, a great rack, and no O. Adding insult to O-less, she also has an oversexed neighbor with the loudest late-night wallbanging she's ever heard. Every moan, spank, and—was that a meow?—punctuates the fact that not only is she losing sleep, she still has—yep, you guessed it—no O. Enter Simon Parker. When the wallbanging threatens to literally bounce her out of bed, Caroline, clad in sexual frustration and a pink baby-doll nightie, confronts her heard-but-never-seen neighbor. Their late-night hallway encounter has…well…mixed results. Because with walls this thin, the tension's gonna be thick. A delicious mix of silly and steamy, this is an irresistible tale of exasperation at first sight.