In Wanted: Wife by Gwen Jones, Television reporter Julie Knott is known for her off-the-beaten-path spots on Channel 8 News in Philadelphia where she meets some very, well let's say, interesting characters. When she covers a story about a local man in Iron Bog, New Jersey, who is advertising for a wife by putting flyers on utility poles, she never guessed she would be the first choice to become his bride. Of course this had to happen at a very chaotic time in her life. She had just been dumped by her fiance mere weeks before they were set to be married while he runs back to his ex in Seattle. He locks her out of their apartment and bank account leaving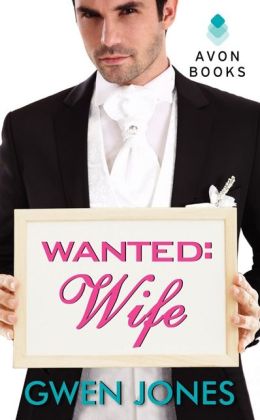 her with few options. She soon finds out as well that the station is cutting her spot and she'll be moved to late nights as a newscaster. When the mysterious and devastatingly handsome Andy Devine asks her to marry him, she is stunned and more than a little skeptical. He presents the proposal to her like it's a business agreement, with a contract and everything. They will have a three month "trial run" where she helps take care of the farm they'll be living on and they are to try to become pregnant during that time. Julie doesn't have to give him an answer for a few days and ends up deciding to go along with the plan so long as she can write a book based on her time with Andy.
"It was all I could do to think, breathe. 'Tres belle…tres belle…' he murmured, his mouth falling over mine.
I don't know if it was the French or the raw feel of his kiss, soft and cabernet-warmed, but when his tongue laced hungrily into mine it was like some crazy bomb went off in my head."
The adventure begins with a shaky start the day they marry. Andy's late for the wedding due to an emergency on the farm and from there crazy funny situations ensue. Julie still thinks there must be more to his story than he is letting on and is determined to get to the bottom of it. The one thing she is sure of is the incredible chemistry they have together. She can't even think straight when she's in the same room as Andy. They both have a lot to learn when it comes to not only farming, but being married and compromising, and they do eventually find their own rhythm to daily life in the Pines. That is, until one of Andy's family members comes to visit and drops a bombshell causing Julie to have to rethink her decision to follow through with this plan. They both have some thinking and soul-searching to do. Julie goes back to life in the city for a bit while Andy goes back to work. Events that happen while they are apart cause complications and Julie has to decide whether or not she wants to bring Andy into her life again or to forge ahead alone.
"Even someone as jaded as me sometimes has hope, when my dissolute mind allows just enough slack to believe–yes, sometimes things actually lean in my direction. And because of that I reached up and pulled my husband to me, his kiss meeting mine with tenderness."
Written as a narrative, this book by Gwen Jones is funny, romantic and witty. The love scenes were scorching hot…not sure if maybe it had to do with the French Andy spoke to Julie throughout the story…;) This is definitely a unique spin on contemporary romance and it works. I felt bad for Julie's situation at the beginning of the book and while I don't know if I'd be brave enough to jump into this kind of adventure, admired her for taking a chance–whether it was initially just for the story, or to start a new life. Andy was one of those mysterious characters that I both loved and was perturbed with at times. He obviously felt something toward Julie but I just couldn't figure out if he was real or simply playing a game until close to the end. I'd recommend this if you're looking for a romance that has a little bit different plotline but is still steamy.
Book Info:
Publisher: Avon Impulse (June 4, 2013)
If you love the humor and romance of Rachel Gibson and Susan Elizabeth Phillips, don't miss the fabulous debut of Gwen Jones!
Landed, financially secure 40-yr-old male
* Handsome, but with old-school communication skills and a secret past *
Seeks healthy, athletic female
* Preferably a pretty reporter with a messy love life who has never spent a day in the woods *
For marriage and family
* What could possibly go wrong? *