Wedding Night with Her Enemy by Melanie Milburne is romantic, sexy, and entertaining. Allegra Kallas is a family law attorney in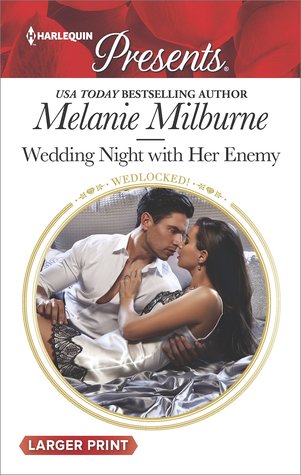 London and returns home to Greece in order to attend her half-brother's christening ceremony. When she arrives, she finds out her father has bartered her into marriage with a man she detests – Draco Papandreou – in order to bail out his failing business empire.
Allegra hasn't always hated Draco. She had a big crush on him when she was a teenager and attempted to kiss him once, and he's never stopped teasing her about it since it happened. He irritates her, but she's intensely attracted to him, but she cannot figure out why he would want to marry her. What does he stand to get out of this bargain?
Draco wants Allegra, because she would make the perfect Greek wife for a business tycoon like himself, and he also desperately wants her in his bed. She tries to resist the pressure to marry him, but she agrees to go through with it knowing she couldn't live herself if her father, stepmother and baby brother lost everything. She tells Draco that this will be a marriage in name only, but he knows she'll never be able to deny the sizzling chemistry between them. He plans to seduce his bride.
Both Draco and Allegra have reasons to fear falling in love, which is why they both like the notion of a marriage of convenience, but both begin to develop deeper feelings for each other and aren't quite sure where to go when they do.
Allegra is smart, determined and goal-oriented, and she isn't afraid to go toe to toe with the powerful Draco. They share snarky and flirtatious banter that builds the sexual tension to a fever pitch, and their relationship develops at a steady and realistic pace once they're married. Draco is incredibly sexy, and readers will love this love story built on a marriage of convenience.

Book Info:

Publication: 6/20/17 | Harlequin Presents |
Blackmailed by the billionaire!
Allegra Kallas detests Draco Papandreou–and she especially can't stand the desire she feels whenever she sees the arrogant man who once rejected her! So she's horrified when her father's business runs into debt and the only man who can save them is none other than the ruthless Greek…
No matter how much Allegra protests, Draco knows the driven career woman feels the fire which rages between them. And he's not above using his power to blackmail her into confessing it! To satisfy their cravings, Draco has a sinful plan: he'll make Allegra his wife, and seduce her into his bed…