What a Woman by Judi Fennell: Mary-Alice Catherine Manley, "Mac" runs her own maid service business.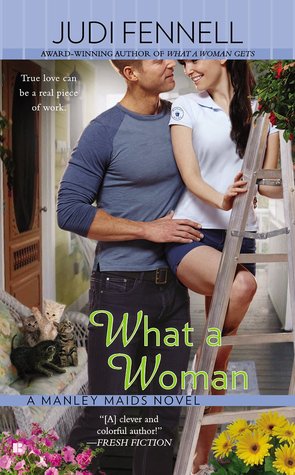 After her parents died, she and her three brothers moved in with their grandmother, where Mac continues to reside. Her childhood crush, Jared Nolan, comes back to town after being badly injured in a car wreck. His career as a professional baseball player has made him the town hero, but to Mac, he is the one that broke her heart.
Jared and Mac's grandmothers are friends. Jared's grandmother lives in a home for the elderly, so Jared stays at her vacant house. As a favor to both women, Mac starts cleaning the house and looking after Jared. While cleaning one day, Mac discovers kittens. The kittens, named after Stooges, become major characters, yet don't do anything to advance the story.
Playing matchmaker, Jared's grandmother claims to have lost her wedding ring in the attic and asks Mac and Jared to look for it. Mac and Jared spend a lot of time together and discover treasures in the attic that cause them to reminisce. Jared also learns more about his parents terrible marriage.
Jared is arrogant. I didn't find him likeable. His parents' story was just plain depressing and goes nowhere. Mac didn't have much of a personality. I found that there was little in the way of romance.
One of the biggest problems with What a Woman was that it lacked passion (IMHO). The other major problem was that the pacing was extremely slow. There are many pages that focus on the kittens, yet little happens. I kept waiting for something exciting or intriguing to happen, but was disappointed.
Book Info:

Published March 3rd 2015 by Berkley
After starting her housecleaning company, Manley Maids, one woman is determined to make it on her own. And what a woman she is…
Now that Mary-Alice Catherine Manley—Mac—has her hunky brothers working for her, she can sit back and watch the business roll in. But her new assignment quickly tosses that plan out the window. Mildred, her grandmother's best friend, needs her house cleaned and Gran has volunteered Mac for the job. The problem is Mildred's cocky grandson. He thinks Mac's at his beck and call, but she has a few things to tell him…aside from how hot he is.
Jared Nolan is currently lying low, nursing some broken bones—and a bruised ego. The former professional baseball player let himself be used by woman once, and now it could rob him of his beloved career. No woman is ever going to call the shots again, which is why, when the bossy Mac shows up, he's going to show her who's really in charge. He's just not prepared for the undeniable attraction between them. And with the two of them in one house, there's no telling who will come out swinging…