What I Need by J. Daniels: Riley Tennyson just had crazy, hot sex with her older brother's friend, CJ Tully, during her brother's wedding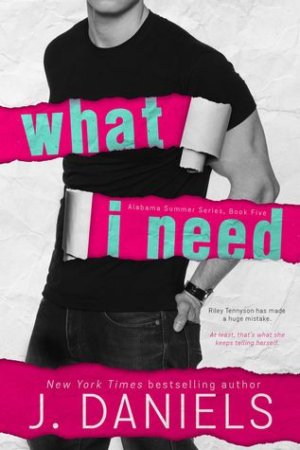 weekend. After the festivities, they part ways and return to reality. Although Riley likes CJ and they had an amazing time together, she just broke up with her long-term, live-in boyfriend and is now very confused on what she wants – CJ or the Other Guy.
CJ knows what he wants, and he wants Riley. He is willing to be her friend while she figures things out with her maybe-not-ex Other Guy. He doesn't want to be put in the friend zone, but he likes her enough to deal with it in order to be around her. He hopes she will get her head on straight. CJ is a pretty sweet guy, and it's pretty obvious that he is a fabulous find; therefore, it's hard to understand why Riley can't make up her mind.
What I Need is the fifth book in Ms. Daniels Alabama Summer series but does not need to be read in order. CJ is representative of many of J. Daniels's heroes – he is a dirty talking, alpha-male with a hidden sensitive side. Almost all her books are hero-centric, and this is true with CJ in What I Need. I am definitely more enamored with him, and I never warmed up to Riley. She is young, and she acts really young and immature at times, and I became frustrated with her indecisiveness. I am not a fan of love triangles, and Riley reminded me why these scenarios are not my cup of tea. I had a hard time connecting with Riley and CJ's love story, and I became impatient for the quasi-ex-boyfriend to make his exit.
What I Need isn't my favorite book by J. Daniels, but patient readers will enjoy this sexy romance if they are okay with dealing with the Other Guy.
Book Info:

Publication: 3/5/17 | Self-Published – J. Daniels | Alabama Summer #5
Riley Tennyson has made a huge mistake.
At least, that's what she keeps telling herself.
Showing up to her brother's wedding pissed off and newly single, Riley seeks comfort in solitude and an open bar, until the gorgeous and irresistibly charming CJ Tully makes her a better offer―a wild night with the master of smooth-talking where nothing is off limits.
Riley does what any single woman would do, and a connection is made. One neither one of them can ignore. But when she comes home to the boyfriend she no longer thought she had, Riley buries her secret and begs CJ to do the same.
Forget about each other. It was a mistake. That's all it was… right?
Desires are hidden. Distance is kept. Until one night CJ makes the ultimate sacrifice, and Riley can no longer avoid the man she can't stop thinking about.
Not with him sleeping down the hall…