In What Pretty Girls Are Made Of by Lindsay Jill Roth, Acting is the only thing Alison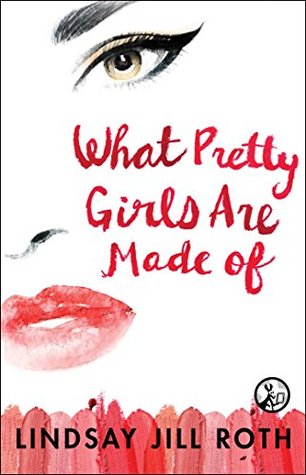 Kraft has ever wanted to do since she was a kid. It's too bad that after years of going to auditions she doesn't have the blossoming career she envisioned. After some soul searching, Alison starts looking for other jobs using skills she already has. Make up is definitely something she loves, so the opportunity to work for Sally Steele Cosmetics right in her current hometown, NYC, sounds perfect.
"Explore Alison Kraft like she's the lead in the main-stage play. The role everyone auditioned for and you got chosen for. Use this time, reflect, and make it work for you and your self-discovery."
And she was right–it was about finding me. A full year of committing to the process of my own self-discovery.
Alison should have been skeptical of getting a job right away as assistant to Sally Steele herself. What she soon finds out is that her miserly boss has daily moods swings and is completely unpredictable. The upside? Alison loves her coworkers and all the freebies from work. Plus, her dating life is looking up. But when her work life and social life collide, leaving her in the middle, Alison doesn't know if she'll be able to commit to her self-imposed year at Sally Steele Cosmetics like she first thought.
'Was that how she viewed my hard work and dedication? As overeagerness? She doesn't deserve me.'
What Pretty Girls Are Made Of was a laugh-out-loud good time story that had enough heart and enough drama to keep me entertained all the way through to the very end.
I honestly wasn't sure what to expect with this book upon reading the synopsis. I was hoping it wasn't a story that focused more about what is considered trendy, rather than on emotional depth. Thankfully, What Pretty Girls Are Made Of surpassed my hopes. Alison turned out to be a fun, intelligent woman nearing her thirties who was searching for her niche in the world. It's something so relatable to the majority of us that I have no doubt her struggles will resonate with many readers.
Through Alison's work struggles at Sally Steele Cosmetics Studio, her family drama and her dating woes, there was a nice balance of humor with the raw emotional moments. Even the chapter names were funny and painted a picture of what was to come for our heroine. I loved watching Alison grow as an employee and as a woman throughout the story. She had the boss from hell, which was funny for us, but made me cringe with the way she was treated. Her personal life suffered thanks to Sally Steele as well, and suffice it to say that changes had to be made. I'll let you find out about that on your own… 😉
Just a side note for those of you who like closure in a book: in true Chick Lit form, this ended with Alison in a good place but not necessarily a HEA. More like a HFN. It's left up in the air a bit, but I thought that worked to the reader's benefit. You could imagine where her life took off from there.
Author Lindsay Jill Roth brings her knowledge of the cosmetics industry to Alison's world and makes her come alive on the pages. From the catty office atmosphere to the, ahem, interesting customers, readers will have a blast with this impressive debut novel.
Book Info:

Publication: Published August 3rd 2015 | by Pocket Star |
Envision Lauren Weisberger's The Devil Wears Prada in the high-drama, estrogen-infused world of cosmetics, and you have What Pretty Girls Are Made Of—a hilarious debut novel from a writer who's lived it.
In the make-up world, life and love are never cruelty-free…
After living in New York City for four years and reaching a dead end on her acting career, Alison Kraft needs a new role—time for a career change. When she reads about the world-famous Sally Steele Cosmetics studio, Alison quickly swoops in to make a good impression and lands a job as an assistant to the diva herself.
Surrounded by fantastic new hues of blushes, eye shadows, and glosses, Alison loves her new job and the new swag. Even better, she discovers she's actually really good at it! But in the midst of juggling her love life, crazy family members, and the grueling demands of a jealous, flaky boss who could put Miranda Priestly to shame, Alison starts to question her choices. How long before the pretty face cracks for good?