What the Bride Didn't Know by Kelly Hunter: Don't you sometimes wish that lightning would strike (figuratively) and suddenly you could rise above your insecurities and be the person you want to be? Lena's been struggling with a unique set of issues that come with being a spy until she takes a fall while on a mission and loses most of her memory. She also forgets about her refusal of help from her life-long friend, Trig – and when she finds out they're just married and on honeymoon, she figures that falling into the romance might be the key to getting her memory back.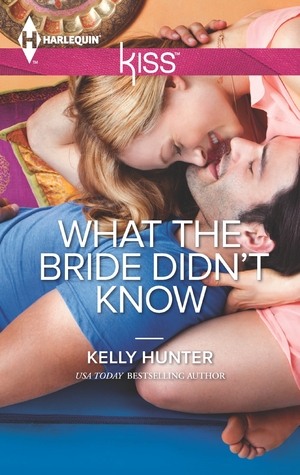 Trig Sinclair knows he's courting trouble. Yes it's true, he's been in love with Lena West forever. But he's been a virtual part of her family most of his life, and giving in to his attraction was a big no-no. She was gravely injured under his watch just over a year ago, but stubbornly fought against his help at every turn since then. When she's ambushed by (of all things) pickpockets while searching for her off-book brother he doesn't think twice about claiming to be her husband to get her quicker treatment in an Instanbul hospital. He doesn't count on Lena clinging to that role as if it were true.
Trig freely admits (at least to himself) that he's in love with Lena, but she's never given him any indication that she feels the same way. Her temporary amnesia makes her drop that facade, and he finds out she's been fighting a deep attraction for him almost as long as he has. Trying to treat her delicately, he doesn't disabuse her of the fantasy that they're blissfully honeymooning in Instanbul, but tries to be as honest as he can without throwing her into shock. Trig covertly continues their mission while fending off her misguided tries to seduce him.
Not lying isn't the same as being honest, and while Trig wants to tell her everything, there's also a part of him that wants to take advantage of the situation. He's only human, and God knows she's testing him at every turn. Lena's even more of a handful than normal, and Trig doesn't know how to stay on the side of love and not give in to desire. After all, he'll never get out of this alive if he does and she remembers.
Man oh man. Do I love the KISS titles. I would've been a little more generous with this one but for the fact that Trig does something I don't think he should've done. You'll have to read it to find out for yourself. However, for the most part, I thought Trig was amazing, and the glance at their teen years in the prologue was ADORABLE. The secondary characters, especially Jared and Ruby, were intriguing and they interacted in funny and unexpected ways.
Lena is a whole different animal. The unique way she is written allows us to see her as two different sides of the same coin. I like *both* Lenas, and in the end, I think she ends up with the right balance between the two. Loved her attitude, and I'm extremely jealous that she gets to forget her problems and live more 'in the now'.
Great read – quick and hot, yet also deep and thought-provoking.
Book Info:

Published October 22nd 2013 by Harlequin KISS (Book 38)
Shh…it's a secret!
Special ops expert Trig Sinclair is a man's man, and that means he knows the cardinal rule of the bro code—no matter how dynamite Lena West is, as his best friend's younger sister, she's strictly off-limits!
But when a secret mission to Istanbul sees Lena and Trig pretending to be married (and sharing a bed!), he finds himself in a whole new world of sweet torture…. But if Trig thinks playing the honor-bound hero is tough, it's got nothing on how Lena feels when she discovers what her "groom" is really hiding….