Whatever It Takes by L.E. Bross: Tess had a bright future ahead of her while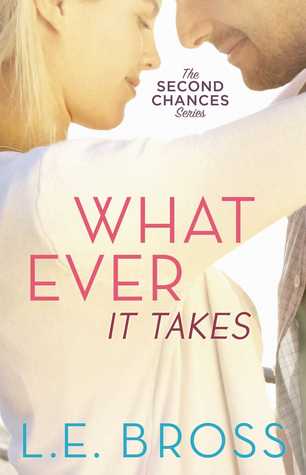 attending Brown…right up until the day she learned that there was no one to raise her baby brother. She didn't look back and made every decision from that point forward in terms of Noah and his best interests. She's determined to win permanent guardianship of Noah, but it seems like she can never get ahead.
Ryan may have grown up in a trailer in the bad part of town, but he's now running his dad's construction company. He loves his job and always has plenty of work, but he can't leave the trailer park behind with his dad struggling. Ryan has always wondered what Tess did with her life when she broke his heart at fifteen. He's shocked to see the intelligent, determined Tess with a young child and clearly struggling.
"Why?" I asked. "Why would you help me?" I met his eyes, defiant. I wouldn't let anyone take pity on me, not even Ryan.
"Jesus, Tess." He took his cap off and scrubbed his fingers through his hair. It stuck up in all directions before he slid his hat back on. "You looked like you could use a break today. That's all."
Tess well knows that her life is a mess. She's never forgotten Ryan or regretted her choices. Her life revolves around proving that she can be a great caretaker for Noah and get the education she needs for a better job. Having Ryan back in her life is a huge comfort, but he's also a complication. Neither are looking for a commitment, but they can't deny that the attraction they once felt as teenagers is stronger than ever.
"So are we going to do this?" he asked.
"Casual exclusive dating for the time being?" I said. "Has a certain ring to it, doesn't it?"
He grinned. "I like the sound of it."
Whatever It Takes is an endearing second chance romance with engaging characters. L.E. Bross creates strong characters who have interesting and unusual family circumstances. Ms. Bross captures your heart with Ryan's persistence and Noah's innocent devotion to the only family he knows. Fans of Kelly Moran, L. A. Fiore, and Marquita Valentine will enjoy Whatever It Takes.

Book Info:

Published December 14th 2015 | Pocket Star | Second Chances #2
Tess is burdened with a responsibility she's not quite sure she can handle, and Ryan is determined to save her from it—if she ever stops pushing him away—in this sexy follow-up to Right Where You Are, the first new adult novel in the captivating Second Chances series.
Tess is a lot of things. Strong. Independent. Determined. Completely overwhelmed by the responsibilities of being her little brother's caretaker. But she can handle it. She has to. Because there's no way in hell she's letting anyone else raise Noah.
Ryan's happy with a life on cruise control. He has no intention of tying himself down. That road only leads to heartbreak, a lesson he learned the hard way when he was fifteen. So why can't he stay away from the one woman who broke his heart?
Tess knows exactly why Ryan keeps popping up right when she needs the most help: He's got a hero complex big enough to save Cinderella. But Tess isn't that girl, and she refuses to let him be part of her life. Not even when Noah takes a liking to him. Not even when they kind of, maybe, hook up.
Not even when she starts to fall for him…