In When Da Silva Breaks the Rules (Blood Brothers #3) by Abby Green, Cesar Da Silva lives his life according to his rules.One of them includes avoiding the spotlight and living as a recluse. But everything changes when he shares a passionate life altering kiss with Hollywood actress Lexie Anderson and is caught on camera. To make matters worse,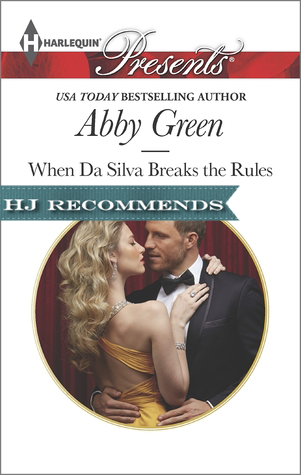 Cesar's family secrets are about to be exposed in the media.
To turn the situation to his advantage, Cesar decides to take the spotlight off his family secrets by giving the media something else to talk about.That "something else" turns out to be his new affair with Lexie. A romance between the publicity shy billionaire and a high profile actress accomplishes Cesar goal to throw the media away from his past. But can the intense chemistry between both of them complicates the situation and it isn't long when both of them are soon falling in love with each other.
When Da Silva Breaks the Rules is the third and final part of the Blood Brothers trilogy by Abby Green and can be easily read as a standalone.
The previous books in the series were good but this one was excellent and my absolute favorite. Abby Green is her usual best in this one and I loved everything about the book. Right from the characterization to the hot romance, everything was perfect. Cesar is on my list of the most awesome heroes ever. He was an awesome combination of everything you want to see in your perfect man and the best part was that he accepted Lexie just the way she was. Lexie was the perfect heroine for Cesar because she was strong yet vulnerable at times. I loved how she rose like a phoenix from the ashes of her past. Both Cesar and Lexie were damaged by their past but they both found their HEA with each other. The romance was set up in Spain and was as beautiful as the country it was set in. With the perfect combination of conversations and intimacy, the romance was enjoyable and believable.
Overall, When Da Silva Breaks the Rules by Abby Green is a must read for every romance addict.
Book Info:

Published May 20th 2014 by Harlequin Presents Series #3243
Is gorgeous billionaire Da Silva finally off the market?
Reclusive billionaire Cesar Da Silva hits the headlines! Not only are his family secrets about to be exposed, but he's been caught kissing Lexie Anderson on the set of her latest movie, being shot at his imposing castillo!
Publicity-shy Da Silva has certainly smashed his own rules by romancing the high-profile actress. A reliable source suggests Da Silva is helping Miss Anderson over her last heartbreak with a string of dazzling dates. And if their chemistry so far is anything to go by, this is one match that's bound to be explosive!