Where I Need To Be  is the third, standalone book in Hollins's McKenna series, and I have loved this sexy and heartfelt series. If you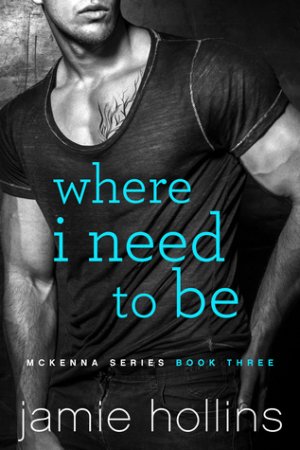 haven't read the prior two books, you'll be fine, but you should definitely add them to your to-be-read list.
Megan McKenna is newly divorced from her jerk of a husband, and she was left with nothing after her although ex is very wealthy. She's struggling financially but doesn't whine or complain about her new situation. She's resilient and finding herself again and starting a new chapter in her life. She has a new teaching job, a new, less-than-posh apartment with a hilarious roommate, and a really crappy car.
Megan takes her car to James Foley's garage and finds herself attracted to the hunky mechanic. He's not to sure about her—assuming she's still rich and possibly snobby—and he also doesn't have time for relations, because he devotes all of his free time to his son. He also had his heart broken when his wife spiraled into addiction forcing him to divorce her, leaving him and his son behind.
Both James and Megan are surprised when they see each other again, because James's son is a student in her class. They slowly and hesitantly acknowledge their attraction and agree to a fling; neither wants a relationship. Both develop unwanted feelings as they get to know each other, and they eventually have to decide if being together in a relationship is worth the risk of opening up their hearts to someone again.
Readers will fall in love with James and Megan. They both have wounded hearts, and it is very endearing to see them take the scary steps to love again. They have great chemistry, hot interludes, and a sweet dynamic, and you cannot help but cheer them on to their happy-ever-after. Where I Need to Be is a sexy and swoon-worthy romance that will leave the reader smiling. Jamie Hollins has delivered another winner.

Book Info:

Publication: 7/18/17 | Self-Published – Jamie Hollins | McKenna #3
When heroin stole James Foley's wife and destroyed his marriage, he poured all his energy into raising his young son and running his auto garage. There's no room in his life for anything else until Megan McKenna walks into his shop. He finds it impossible to resist the sexy school teacher.
After an ugly divorce, Megan lost her home, her job, and a big chunk of her self-respect. With her posh lifestyle now a memory, she starts over by indulging in an unexpected fling with a hard-bodied mechanic.
What begins as something casual turns into something meaningful. But how can their relationship survive when it's built on half-truths?
James and Megan soon discover that being honest with themselves is just as important as being honest with each other. Only then will their relationship fire on all cylinders.