In White Hot (Hidden Legacy #2) by Ilona Andrews, Private investigator Nevada Baylor's struggles to keep her family business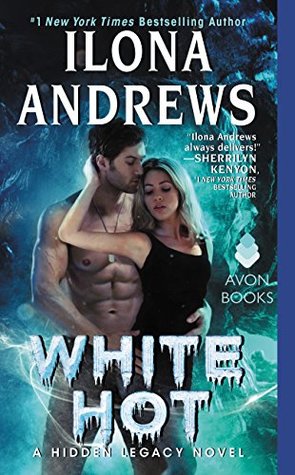 running are finally paying off. Her new client, which promises to be a high profile case, is just what she needs professionally. But personally it puts her back in touch with Connor "Mad" Rogan, a powerful man who everyone fears but who has secretly stolen her heart. And as much as Nevada wishes it wasn't true, Rogan still has the ability to make her feel both safe and out of control with a word or a single touch.
'Suddenly the past two months of normal life tore apart, like fragile paper, and I was right back next to Rogan, about to charge into a fight. And it felt right.'
Fighting against those who are willing to use their magic power for evil, Nevada becomes embroiled in a case that involves heavy hitters in Houston. People who will stop at nothing to eliminate threats. Including her and her family. With Rogan by her side and a few aces up her sleeve, Nevada learns just how powerful her own magic has become and that there are secrets in her family's past that are bound to haunt them. It will take a concerted effort on her part and that of her allies to ensure they come out relatively unscathed and ready to continue the good fight.
"We're in a civilian world. Things are not black and white. They have shades of grey. There are degrees of punishment, depending on the severity of the crime."
He faced me, his blue eyes hard and clear, without a shadow of doubt. "This isn't about punishment. This is survival."
Incredible action scenes and tons of magic made White Hot one sizzling book. With a nice blend of urban fantasy and romance, plus the addition of some family drama, author duo Ilona Andrews did a fantastic job with their newest novel.
'He smiled at me. It was the kind of smile that blazed a trail from your heart to your mind and popped into your head the next time you wondered why you put up with a man who made you want to punch things.'
I should start off by warning that it's probably best to read these books in order as there are a lot of characters involved and it's a pretty intricate world Ilona Andrews has created. I jumped in with this second book (I do have book one, Burn For Me, but haven't read it yet) so it took some time to get acclimated. I'm so glad I did check this one out, though. What a wild ride! I'm a fan of urban fantasy anyway, but this was a unique story in all the best ways. It was well plotted out, the characters were flawed but relatable, and a lot of them had cool kinetic type powers, there was nice emotional depth to the relationships, and there was a slow burn romance between the H/h that totally worked for me.
White Hot was mainly told from our heroine Nevada's POV, with just the epilogue in Rogan's voice, which was fun. I loved Nevada right away and got such a kick out of her snarkiness which fit with her work as a private investigator somehow. She was one tough cookie who was always fighting for what was right as well as perpetually trying to keep her family safe. Each of Nevada's family members had their own powers so it was interesting to see the dynamic there. But I especially loved her relationship with Rogan. He was all grumbly and badass, with everyone afraid of him and his strong, devastating powers. Nevada could see beyond the stories and the face he showed the world and knew Rogan was something special. A guy who had been through a tremendous amount of pain and who, even though she teasingly called him a dragon based on his demeanor, was capable of caring for her deeply.
White Hot was an unbelievably exciting addition to Ilona Andrews' Hidden Legacy series. I think urban fantasy fans are going to latch onto this group of characters and hopefully be as enthralled with this ongoing storyline as much as I was. Highly recommended.
Book Info:

Publication: May 30th 2017 | Avon | Hidden Legacy #2
Nevada Baylor has a unique and secret skill—she knows when people are lying—and she's used that magic (along with plain, hard work) to keep her colorful and close-knit family's detective agency afloat. But her new case pits her against the shadowy forces that almost destroyed the city of Houston once before, bringing Nevada back into contact with Connor "Mad" Rogan.
Rogan is a billionaire Prime—the highest rank of magic user—and as unreadable as ever, despite Nevada's "talent." But there's no hiding the sparks between them. Now that the stakes are even higher, both professionally and personally, and their foes are unimaginably powerful, Rogan and Nevada will find that nothing burns like ice . . .