In Wicked Edge by Rebecca Zanetti, Daire Dunne, an Enforcer for the Coven Nine, is undercover in the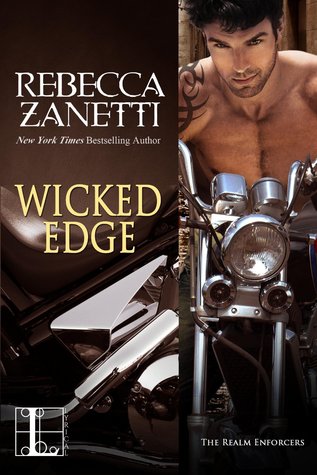 Titans of Fire Motorcycle Club, attempting to find out who was supplying a dangerous drug that's deadly to both humans and witches. At one of the club's parties, he runs into Cee Cee.
Cee Cee is on her own mission; she wants to find information on the man who killed her mate, the father of her three children, to extract revenge. Daire is immediately attracted to her, which is her plan. She goes back to his place with him, drugs him, and takes the information she's looking for. What she didn't count on was how quickly Daire would recover and come after her. When it becomes clear both their missions are related, they join forces.
I loved Cee Cee. She was determined to get revenge for her mate and her children. Even though her son, Zane, is the leader of all the demons, she doesn't turn to him to help. She's willing to find out what she needs on her own without involving any of her sons. She's independent, determined, and not willing to back down.
Daire, a witch, has no hesitation about being with Cee Cee, even when her true identity is revealed He wants to protect her, and he does his best to, but he also allows her to do what she feels she needs to. He doesn't try to convince her to abort her plan or to let him do it for her; Daire admires her and treats her as an equal.
I liked that Daire had been undercover with one of Cee Cee's sons and didn't even realize it. I also loved that we got to see a lot of Zane, who was featured throughout Rebecca's Dark Realm series and had his own story told in Marked. In the Dark Realm series we see how protective and caring he is of Janie, and it was nice to see that he was the same way with his mother. We also get to see glimpses, although brief, of other characters from the Dark Realm series, including Janie, Garrett Kayrs, and Dage Kayrs, who is the vampire king.
This is the second book in the Realm Enforcers series, but it can be read as a stand alone. I do recommend reading book 1 and the books in the Dark Realm series because they're all well written.
Wicked Edge is a non-stop, action packed story that's well written and filled with likeable characters. If you read the first book in series, or have read the Dark Realm series and enjoyed them, you'll most likely enjoy this addition as well. If you're new to the paranormal, you really can't go wrong with a Rebecca Zanetti book.
Book Info:

Publication: November 10, 2015 | Lyrical Press | Realm Enforcers #2
Daire Dunne is more than ready to take a quick break from his duties as a Coven Nine Enforcer. When he spots a sexy blonde across a Titan's of Fire party, it's not long before she's on the back of his Harley on the fast track to his apartment. Unfortunately, one overheated kiss in, the woman drugs Daire and steals valuable files that can't fall into enemy hands. The second he comes to, the hunt is on…
Now that Cee Cee has the information to take down an enemy that destroyed her family, she can implement her perfect plan for revenge. Nothing will stop her, not even a shockingly sexy enforcer barging into her life. Not even the spectacular, fire-branding sex engulfing them. But if Daire ever figures out who her family really is, all bets are off…