Wicked for You by Shayla Black: Mystery has grown up in the spotlight. Her dad's a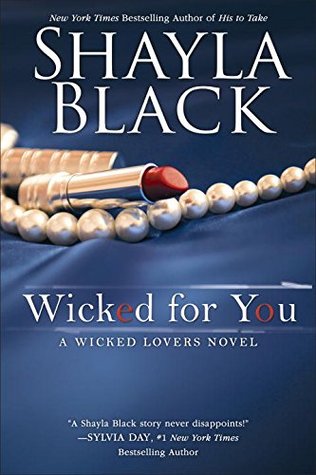 famous director who is well known for his many affairs and her mom died under suspicious circumstances when Mystery was fairly young. While leaving a nightclub, Mystery was kidnapped and then held in the desert. She has very little hope of evading or escaping her captor until Axel arrives.
Axel was sent to get Mystery back. After finding her, they have to work together to make out of the desert together. Axel is pleasantly surprised to find that Mystery is keeping herself together pretty well and doesn't complain with the horrible conditions. Mystery is incredibly thankful for the rescue and she finds herself drawn him. Mystery isn't a diva by any means, but she's also not used to any guy she's attracted to turning her down.
"I like you just find. You're easy to talk to. You learn fast. You've got backbone and a tender hear-an appealing combination."
"Then why-"
"You need to finish growing up. And you can't handle what I'd demand from you in bed, especially after the trauma you've just been through. Besides, you're too damn young for sex."
After the kidnapping and rescue, Mystery and her father move to London and stay there. Mystery finds a new career, but she can't forget Axel and the attraction between them. So six years later, she's determined to finally have at least one night with him. Fearing rejection, she disguises herself and gets exactly what she wanted.
Axel hates that Mystery tricked him, but he's more than ready to pursue her anyway. Just in time too, since Mystery's past comes back to haunt her. She's in danger again and Axel refuses to leave her side. He's determined to show her just how good they could be together, but there's someone out there just as determined to silence Mystery. In order to save her, they need to address their own hang-ups.
"Save your lies. After growing up with my dad, I won't have anything to do with a philandering prick."
"Yeah?" He grabbed her around the waist and yanked her back against him. "After growing up without my mom, I'm not interested in an unreliable flake."
Wicked for You is an intriguing, erotic suspense that keeps you guessing as to who is pulling the strings and who can be trusted. Wicked for You can be read as a standalone in the Wicked Lovers series. Shayla Black continues to write strong-willed and determined female characters who are more than a match for their protective, alpha male counterparts. Ms. Black integrates the past and the present with a number of clues to unravel the current threat. Fans of Lisa Renee Jones and Harper Sloan would enjoy Wicked for You!

Book Info:

Publication: October 6th 2015 | Berkley | Wicked Lovers #10
Another "searingly sexy"* romance awaits in the latest Wicked Lovers novel from the New York Times bestselling author of His to Take.
Ever since he rescued her from a dangerous kidnapper, Mystery Mullins has wanted Axel Dillon. When he returned her to her Hollywood father and tabloid life, she was grateful…and a little in love. Mystery wasn't ready to let Axel go, even after the soldier gently turned her away because, at nineteen, she was too young.
Now, six years later, Mystery is grown, with a flourishing career and a full life—but she's still stuck on Axel. Disguised, she propositions him in a bar, and the night they spend together is beyond her wildest dreams. Mystery steels herself to walk away—except the sheets are barely cold when her past comes back to haunt her.
Once he realizes Mystery isn't the stranger he thought, Axel is incensed and intrigued. But when it's clear she's in danger, he doesn't hesitate to become her protector—and her lover—again. And as the two uncover a secret someone is willing to kill for, Axel is determined to claim Mystery's heart before a murderer silences her for good.