In Wickedly Dangerous by Deborah Blake, Barbara Yager has been called to upstate New York to help find several missing children, using her magical powers as the Baba Yaga. Once a feared part of Russian folklore, she and the other two current Babas in the U.S. are more helpful than harmful these days. As she begins to learn more about the suspicious disappearances, Baba meets the local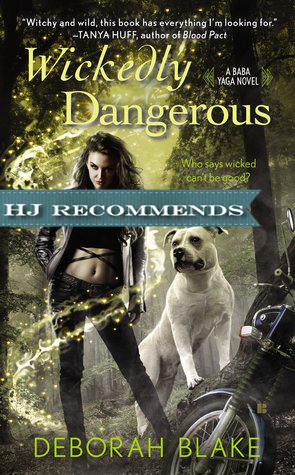 sheriff, Liam McClellan and is instantly attracted to him. That's definitely something new for her, as her human side is usually one she cannot seem to understand as much as she can her magical abilities. Even though Liam seems interested in her as well, he makes it known that he can tell she's hiding something. And he's going to find out what it is for the safety of his county.
"…I am the law here and you are a professor who is very far away from home. Make no mistake; I like you, but that won't keep me from tossing your ass into jail if I have to."
Hiding behind the guise of being an herbalist traveling through the area, Baba must try to figure out who's behind the disappearances before more children are missing, on direct orders from the Otherworld queen. All clues point to it being someone with magical abilities, which makes it tough to hide from Liam. When Baba is forced to disclose to him her true identity, along with that of her dragon-dog Chudo-Yudo, things get even more complicated. Will Liam be able to accept her and believe the truth, or will he run screaming for the hills? Before he has her locked up in a padded cell?
"You're odd, mysterious, and infuriating. What's not to like?"
Baba tried to ignore the heat that flushed her face. He probably hadn't meant those things as a compliment, but she rather like being described that way. At the very least, it was honest.
Wickedly Dangerous is a wonderfully imaginative fantasy novel that has a great sense of humor, a lot of adventure, and a sweet romance that kept me interested through to the very end.
Author Deborah Blake did a nice job taking the tale of the Baba Yaga from Russian folklore and putting a modern spin on it. Classically, the Baba Yaga could change on a whim from being helpful to being a menace to those seeking her out. Here in this story, Barbara/Baba was mainly someone humans would summon when they needed help, although she did have a temper when she was pushed. The way her character was written was a lot of fun, giving us a woman who could battle aside the greatest of warriors, but who was also trying to find her human/feminine side once she met Liam. Finding the balance between those different sides of her personality was a struggle for Baba, but it meant a lot of entertainment for us readers.
I thought Liam was also an interesting character. He had gone through some very difficult times in recent years and he had to continue to prove himself as the Sheriff in town. Baba was the first woman he had taken a shine to since tragedy struck his life, so Liam was leery of trusting anyone. Add to the fact that she was mysterious and hiding something from him, and you have a man who is tied up in knots emotionally. I did love the conversations they had. Baba would intentionally mention something true, like Chudo-Yudo was a huge dog, but was small for a dragon. (Loved him!!) It kept Liam on his toes, never really knowing if she was joking or a little off her rocker. Until he found out about the Otherworld and who she truly was. Then watching his foray into a world of magic was quite charming.
If you love a good tale with fantastical creatures described in vivid detail, and with a lovely romance woven in, I highly recommend Wickedly Dangerous. It was equally engaging and enjoyable.
Book Info:

Published September 2nd 2014 by Berkley
Known as the wicked witch of Russian fairy tales, Baba Yaga is not one woman, but rather a title carried by a chosen few. They keep the balance of nature and guard the borders of our world, but don't make the mistake of crossing one of them…
Older than she looks and powerful beyond measure, Barbara Yager no longer has much in common with the mortal life she left behind long ago. Posing as an herbalist and researcher, she travels the country with her faithful (mostly) dragon-turned-dog in an enchanted Airstream, fulfilling her duties as a Baba Yaga and avoiding any possibility of human attachment.
But when she is summoned to find a missing child, Barbara suddenly finds herself caught up in a web of deceit and an unexpected attraction to the charming but frustrating Sheriff Liam McClellan.
Now, as Barbara fights both human enemies and Otherworld creatures to save the lives of three innocent children, she discovers that her most difficult battle may be with her own heart…