In Wickedly Wonderful (Baba Yaga, #2) by Deborah Blake, Beka Yancy is a witch, more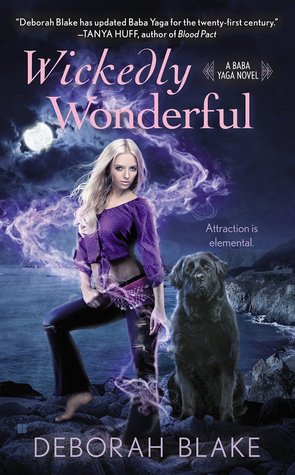 commonly referred to in Russian folklore as a Baba Yaga. She's newly on her own taking care of the Otherworld creatures in the Monterey Bay, California, area since her mentor, the previous Baba, stepped down. Unsure of her abilities, Beka is called in to action when the local Merpeople and Selkies are forced to move closer to the coastline after toxins appear in their underwater trench. She wants to prove herself as a Baba, so she enlists the help of ex-Marine, Marcus Dermott, to take her out on his family fishing boat so she can dive for samples of the toxins. But Beka is being pulled in several directions. She has a Selkie prince seeking to woo her, she's falling for a surly guy who knows nothing of her day-to-day reality, and she's growing more worried about fulfilling her duties as a Baba.
'Somehow, no matter how impractical, no matter how improbable, she had fallen in love with this man. And that meant that she had no choice–she had to tell him the truth. Even if it meant she lost him forever.'
After twelve years in the Marines, Marcus Dermott finds himself home in California, helping his old man on the family fishing boat. News of his father's illness may have brought him back home, but it hasn't mended their non-existent relationship in the least. When Marcus rescues a beautiful blonde woman from their fishing nets, he has no idea she would change his life forever. Beka is a bit of a flake, but she is the only one his cantankerous father will tolerate and listen to. But once she tells him the truth about her "job", Marcus isn't sure he'll be able to handle the type of life she leads. But he's not sure he can let her go, either.
'…He didn't know how to explain to her that something about being with her seemed to ground and calm him–even when she was frustrating the living crap out of him. It was as though the sunlight in her soul shined a light into the dark places in his.'
Wickedly Wonderful was a just a great as the title implies. With a mystery to solve, fantastical creatures running amok in the Human world, and a grumpy hero who doesn't want to fall for a surfalicious blonde-haired heroine, how could it not be entertaining?
"Holy shit–your dog can talk!" He almost fell off the bench, and Beka tried not to snicker.
"Of course I can talk, you twit," Chewie said. "I'm not a dog. I'm a dragon disguised as a dog. Have you ever met a dragon that couldn't talk?"
I'll admit that at first I wasn't really fond of gruff Marcus, with the way he belittled Beka, calling her flaky and hippyish. Okay, so she did have a sunny outlook and a lack of confidence in her abilities. But Beka was a sincerely nice person. So I'm happy that as the story progressed, we found out more about why Marcus had such a prickly attitude. And watching him develop feelings for the Baba Yaga was pretty gratifying. There's nothing like seeing a big, tough, alpha man at the mercy of his emotions and the need to have that woman in his life. Author Deborah Blake did a great job with conveying those emotions in each of their scenes together, as well as with the tenuous relationship between Marcus and his curmudgeonly father.
Beka's transformation as she grew more comfortable as a Baba Yaga was also a lot of fun. She had a more difficult time with her abilities than her fellow Baba sister Barbara did, whom we met in book one. Beka had people she considered friends downplaying her powers and planting the seeds of doubt in her mind, which created a lot of issues. But at least she had her trusty Chudo-Yudo, her dragon-disguised-as-a-dog, Chewie, to keep her on the right path and give her a pep talk when she needed it. Yep…not only was the two-hundred-plus-pound Newfoundland a dragon but he talked, too. And was very sarcastic, which I loved. 😉 The appearance of The Riders, well two of the three Riders, in this story was just as comical as it was in book one, if you've been following along. The storyline also left off with them on the search for the third member of their group, and with Baba Yaga Bella being mentioned. So be on the lookout for her story, hopefully very soon.
If you're looking for an imaginative fantasy with a lot of heart, fun dialogue, and intriguing characters, I think you'll really enjoy Wickedly Wonderful.
Book Info:

Published December 2nd 2014 by Berkley | (Baba Yaga, #2)
Known as the wicked witch of Russian fairy tales, Baba Yaga is not one woman, but rather a title carried by a chosen few. They keep the balance of nature and guard the borders of our world, but don't make the mistake of crossing one of them…
Though she looks like a typical California surfer girl, Beka Yancy is in fact a powerful yet inexperienced witch who's struggling with her duties as a Baba Yaga. Luckily she has her faithful dragon-turned-dog for moral support, especially when faced with her biggest job yet…
A mysterious toxin is driving the Selkie and Mer from their homes deep in the trenches of Monterey Bay. To investigate, Beka buys her way onto the boat of Marcus Dermott, a battle-scarred former U.S. Marine, and his ailing fisherman father.
While diving for clues, Beka drives Marcus crazy with her flaky New Age ideas and dazzling blue eyes. She thinks he's rigid and cranky (and way too attractive). Meanwhile, a charming Selkie prince has plans that include Beka. Only by trusting her powers can Beka save the underwater races, pick the right man, and choose the path she'll follow for the rest of her life…