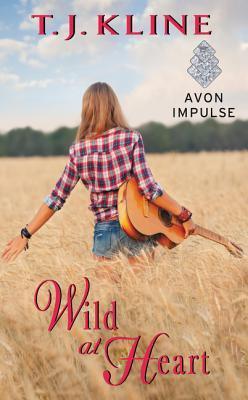 Wild at Heart by T.J. Kline is well worth your time and money.
Chase is back in town after leaving the Oakland Police Department. He's come back a changed man with some bad stuff hanging over his head. Chase has it bad for Bailey but since his best friend is her cousin, he stays away from her and comes off as aloof until he learns of her plans to leave. When Bailey announces that she's leaving for Los Angeles to sign a record contract, tension rises as he tries to convince the woman he loves to stay.
"Bailey was trouble, but she was the best kind of trouble, the kind that made you want to return again and again."
Bailey is such a fantastic character. She has so many layers to her. She's got a smart mouth and quick wit that makes me want to be her best friend. She's also known as the "Wild Hart" and lives up to her name beautifully, but eventually wants to be known as something more. What Bailey really wants is freedom. She wants to get away from the pressure her small town brings. She's haunted by the memories of a mother who abandoned her and her family to pursue fame and in a small town, nothing is ever forgotten. As for Chase, she's loved him for a while but never dreamed he would see her as something more than a "little sister."
Even though this is book four in the Healing Heart series it can be read as a standalone. If you are new to this series, go ahead a buy the whole series because it will be worth it! The banter, sexual tension, and charming characters make this a five star read that you will want to re-read over and over again! I honestly loved everything about this book and can't wait to read more books from this author.
Book Info:

 February 9th, 2016 | Avon Impulse | Healing Hearts #4
Sometimes the place you're trying to run from is exactly where your heart needs to be…
Bailey Hart has never felt like she measures up to her cousins at Heart Fire Ranch. It doesn't help that her rocker attitude has made her a black sheep in her small town. So when her band gets their big break in Los Angeles, "Wild Hart" can't run fast enough…If only there weren't so many reasons to stay.
After a harrowing stint in the Oakland Police Department, sheriff's deputy Chase McKee has returned home a hero, and yet he feels anything but. And when he finds out Bailey might be leaving for good, the feelings he's always harbored for his best friend's cousin just won't stay hidden. He knows she wants to get the heck out of Dodge, but he's hoping to show her where she really belongs—with him.
Will this Wild Hart turn her back on love, or will she realize her heart really belongs closer to home?