In Wild Child by Molly O'Keefe, Monica Appleby used to be a reality TV Star, now she is a best-selling author of tell-all book of her wild adventures as a young adult. To everyone she has a reputation of a "Wild Child" who will never settle down. Now she is returning home to Bishop to write her new book, telling the most sad and difficult story of her life, the murder of her father when she was six years old.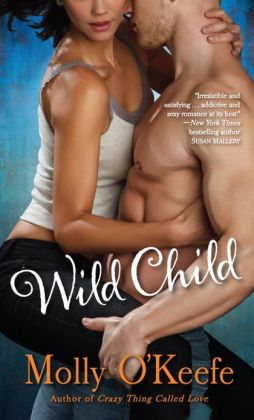 Jackson Davies has raised his sister for the past seven years, since the death of their parents in an accident and had to put his life on hold. Now he is the mayor of Bishop, Arkansas, and he needs money to save his hometown from bankruptcy. His solution, a national TV contest to win a contract to open a Maybrean cookie factory. He knows that he has leadership and drive to convince his people to embark on this journey, but they must keep everything under control.
Unfortunately, the town's most famous citizen, Monica, has returned home and she is about to open a can of worms. Now Jackson must find a way to persuade Monica to leave before she jeopardizes all his plans. But what he doesn't expect are the sparks that fly once they meet in person.
As Monica spends more time in town, she begins to develop friendships and feelings she had not experienced before. When she is with Jackson, she soon learns more about herself and what a difference a caring person by her side can make. But first she must learn to let go of her anger and bitterness developed by her past experiences.
Both Monica and Jackson have a lot of issues to resolve before they can move on and mature enough for a strong and meaningful relationship. The responsibilities and mysteries of the past that they are trying to uncover will help them a lot, but they must first learn to trust each other and those around them.
Wild Child has many layers and dynamics that have to be worked through by Monica and Jackson before they can find and accept true happiness. I loved that the characters were very realistic, with flaws and everything, which made everything feel more real, even the town and the townspeople made everything have more depth. The chemistry between Monica and Jackson is great, even if they will fight it tooth and nail before they finally give in.
If you like a good complex, sweet and fun romance, don't miss Wild Child by Molly O'Keefe.
Book Info:

October 29th 2013 by Bantam
Perfect for readers of Susan Elizabeth Phillips and Rachel Gibson, this sizzling romance tells the story of a sexy small-town mayor and a notorious "bad girl," who discover that home really is where the heart is.
Monica Appleby is a woman with a reputation. Once she was America's teenage "Wild Child," with her own reality TV show. Now she's a successful author coming home to Bishop, Arkansas, to pen the juicy follow-up to her tell-all autobiography. Problem is, the hottest man in town wants her gone. Mayor Jackson Davies is trying to convince a cookie giant to move its headquarters to his crumbling community, and Monica's presence is just too . . . unwholesome for business. But the desire in his eyes sends a very different message: Stay, at least for a while.
Jackson needs this cookie deal to go through. His town is dying and this may be its last shot. Monica is a distraction proving too sweet, too inviting—and completely beyond his control. With every kiss he can taste her loneliness, her regrets, and her longing. Soon their uncontrollable attraction is causing all kinds of drama. But when two lost hearts take a surprise detour onto the bumpy road of unexpected love, it can only lead someplace wonderful.