Wild Nights by Karen Erickson is the final book in the Vegas Night Series. That being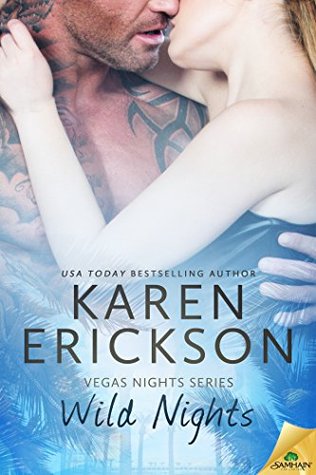 said, readers do not necessarily have to read the previous books to understand Wild Nights. Of course, afterwards you will want to read the other two, just to get a feel of all the characters.
Wild Nights revolves around Natalie and Noah. Natalie and her friends are in Vegas for some much needed down time. It's supposed to be a girl's weekend, but when the others find their Mr. Rights, Natalie is left alone. Not for long though, because Noah, the lead singer of Wild and Wicked takes notice of her quickly.
I enjoyed Natalie as a character. She might have done the whole fan girl thing right when she met him, but she's clearly no groupie. She isn't afraid to call Noah out on his crap. Noah and Natalie's relationship is fast paced and from the moment they saw each other, if was like a light has been switched on, making their feelings come to surface quickly.
Wild Nights by Karen Erickson is a quick read that kept me entertained and anyone who loves their heroes to be rock stars or appreciates when the characters fall in love instantly will love this book.
Book Info:

Publication: July 21, 2015 | Samhain Publishing, Ltd. | Vegas Nights #3
A guy of her own? She's not holding her breath—until he steals it away.
Vegas Nights, Book 3
Natalie's girls-only weekend in Vegas is shot to hell, thanks to her friends ditching her for very sexy, very famous guys. Not that she blames them. She knows what lonely feels like. A nurse's long hours leave little time for a social life.
Then she collides with and spills her drink all over a very fine, very exposed male chest. A chest belonging to Noah Wilde, lead singer for the infamous Wilde & Wicked rock band. Thankfully, he's merely amused as she tries to take care of the mess she made.
Noah sure would like to make a mess of the gorgeous, petite lady with luminous blue eyes. There's no resisting the urge to tempt her along for an adventurous night of gambling, drinking, eating, and sin.
But during the harsh light of day, Noah has a change of heart. Not about the fact he likes Natalie—a lot. He's not sure he wants to drag this sweet lady through his sordid life. Even though sparing her could cost them both a chance at forever.
Warning: Contains a nurse who thought she knew all there was to know about anatomy, and a rock god who's about to show her a few spots she missed. To say they both hit the jackpot would be an understatement.