Wild Ride Cowboy by Maisey Yates: Out of the military and joining his brothers on the family ranch for the time being, Alex Donnelly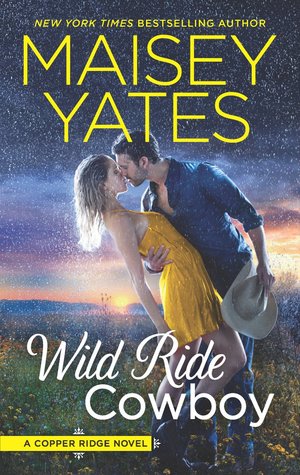 has a promise to uphold. With the death of his best friend and brother-in-arms, Alex has been willed the care of his friend's sister.
Clara has lost both her parents and now her brother. To make matters worse comes Alex letting her know the farm she's been forced to run by herself for years is now under his purview for a year. It was meant to help her, but it only angers Clara to have her life taken over.
Ten years older and far too damaged, Alex knows he should have nothing to do with Clara, no matter how irresistible he finds her. Clara has her heart set on the hipster coffee shop owner in town. The exact opposite of what her life has been. But the more she sees of Alex, the more she knows they're just right for one another.
I enjoyed each internal conflict Clara and Alex were going through, and I definitely thought they were a good fit – although 21 and 31 is a bit much of a difference for me. My annoyance with this story was just how slow it was given the amount of conversation. It felt too repetitive and over-talked. I wanted more to happen. More romance and passion, even as much as I love how truly Yates develops the relationship with their discussions.
The best part was the strength of Clara. She was so strong and so open, and I adored her for it. Alex, too, I liked, but I don't feel his character was as advertised. He was supposed to be the fun guy with the veneer of shallowness. I didn't get a sense of that. Obviously he was, and should be, deeper than that. But overall he was very serious, and I never got the lightheartedness that I wanted from him.
I love Yates' Copper Ridge series and I definitely recommend giving it a read. Wild Ride Cowboy can be read as a standalone, but I would say it's my least favorite of the Donnelly brothers' romances. For those who love their military man, I recommend this romance.

Book Info:

Publication: August 29. 2017 | Harlequin | Copper Ridge #9
He's come back to Copper Ridge, Oregon, to keep a promise—even if it means losing his heart…
Putting down roots in Copper Ridge was never Alex Donnelly's intention. But if there's one thing the ex-military man knows, it's that life rarely unfolds as expected. If it did, his best friend and brother-in-arms would still be alive. And Alex wouldn't have inherited a ranch or responsibility for his late comrade's sister—a woman who, despite her inexperience, can bring tough-as-iron Alex to his knees.
Clara Campbell didn't ask for a hero to ride in and fix her ranch and her life. All she wants is the one thing stubborn, honorable Alex is reluctant to give: a chance to explore their intense chemistry. But Clara has a few lessons to teach him, too…about trusting his heart and his instincts, and letting love take him on the wildest adventure of all.