Wild Wicked Scot: Julia London successfully writes both Historical and Contemporary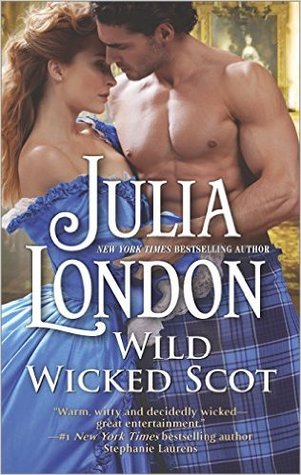 Romances, and I love her books in both settings. She returns to the early eighteenth century and to the Scottish Highlands in Wild Wicked Scot and has created another winner and must have addition to your bookshelf.
Margot Armstrong's father arranged a marriage for her with Scottish Chieftain Arran McKenzie for political and economic gain when she was just eighteen. She was a little boy crazy and enamored with the things that feel important to any genteel, young woman of the times – parties, friends and clothes. She briefly meets Arran twice before they are married and is not happy with her father's choice of husband. She's attracted to him, but he is so different – so rough – from the English men that she knows, and she's not quite sure how to deal him. She's in a state of shock and finds herself feeling distraught when she leaves her childhood home to begin her new life with strangers in the remote Highlands.
When she arrives and sees her new home, she's aghast at the differences in lifestyles and nothing feels familiar. She's like a fish out of water gasping for breath and soon finds herself devastated by the reality of her new circumstances. She doesn't know or understand the cultural differences and this just adds to her confusion and hopelessness.
Arran is baffled by everything about Margot and cannot figure out why she is so unhappy. He does not know what to do or how to solve the problem, and he is a man who is always able to get things done. He tries to please her but nothing seems to help, and Margot cannot seem to stop crying. Their inability to understand each other leaves them both frustrated, and they begin fighting over everything. After a particularly unpleasant exchange, Margot flees Scotland after just four months of marriage to return to her father's home. Arran is devastated and angry by her abandonment but too proud to chase after her.
Margot and Arran do not communicate with each other for three long years when Margot suddenly returns to Scotland claiming she's had a change of heart and desperately wants to reconcile with him. He doesn't believe her or trust her and is convinced there are ulterior motives behind her return, but he cannot figure out exactly what. Margot is actually not being truthful and was forced by her father to return in order to spy on Arran and discover if he is a traitor, but she's older and more mature now and begins to see her husband and marriage in an entirely different light.
She's no longer enamored with the silly and frivolous things that seemed so important three years ago, and she can now appreciate Arran and not be afraid of their differences. As her feelings evolve and she finds herself starting to care for him and considering staying forever, she is distraught that he will discover her deceit, because she knows she could lose him forever.
Wild Wicked Scot begins as Margot returns to Arran but features flashbacks that provide glimpses into their brief time together. She is a bit of a brat, and I can understand why Arran was so frustrated trying to please her, but it is understandable considering her age and the shocking change in lifestyle brought about by marrying a Highlander and moving away from everyone and everything she loves. I believe any eighteen year old might be brought to tears and indulge in the occasional tantrum if she found herself in a similar situation. The three years away gives her the maturity and insight to determine what the truly important things are in life and to value Arran.
Arran is quite swoon-worthy! He might appear to be just a rough and tumble Highlander, but he has a sweet nature and a noble heart hidden under his gruff warrior's exterior. He's so angry with Margot that he can barely think straight, but he cannot help himself from wanting her and wanting to make her happy. He came to care for her deeply during their short time together before she fled, and he cannot seem to stop his feelings for her now even. I loved, loved, loved Arran for his caring and honorable nature, which is delightfully wrapped in an alpha package. When he falls in love, he falls hard, and there is nothing he wouldn't do for Margot.
Wild Wicked Scot is a great second chance romance that will have you rooting for Margot and Arran to lower their defenses, accept their differences and find a deep and abiding love. This is a wonderful romance and shouldn't be missed.

Book Info:

Publication: 12/22/16 | Harlequin | Highland Grooms #1
Born into riches and groomed in English luxury, Margot Armstrong didn't belong in a Scottish chieftain's devil-may-care world. Two years ago she fled their marriage of convenience and hasn't looked back–except to steal memories of moments spent in wild, rugged Arran McKenzie's embrace. But as their respective powerful kingdoms unite and political upheaval rings around them, she's forced to return to her husband in order to interrupt his secret plans to invade her country.
Red-haired, green-eyed Margot is a beautiful threat. The bride Arran lost has haunted him for ages. As the Highlands tremble with whispers of her people's plot to seize McKenzie territory, he must outmaneuver her in games of espionage…and seduction. Yet as their secrets entwine and their lands fall prey to a political war, there's nothing to prevent love from capturing them both and leading them straight to danger.