Win Me Over by Nicole Michaels: Former NFL player Bennett Clark does two things: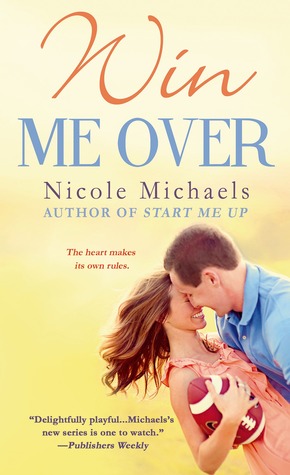 teaches biology and coaches. Callie owns her own bakery and coaches the dance team at the same high school Bennett teaches and coaches at. The principle is convinced the only way Bennett will win a coaching award is if he participates in a community fundraiser, which happens to be a dancing competition. He recruits Callie into being Bennett's partner and tasks her with convincing him it's a good idea.
Callie is a busy woman, running her own business, coaching the dance team, and taking time to hold a clinic to teach little kids how to dance. She's very giving of herself and of her time, always willing to help out those around her. She knows Bennett doesn't talk about himself, and she doesn't push him to do so. Callie gives him the time he needs to open himself up.
Bennett suffered a career-ending injury, leading him to the coaching job, which he loves. He puts himself out there, always willing to help a student that has any questions or a player that's dealing with issues. Beneath it all, though, he hasn't really dealt with his accident and the aftermath. When tragedy strikes his team, he pushes everyone away. Through it all, Callie keeps trying to prove that she's going to be there for him the way he's always there for everyone else.
Bennett and Callie were great together, as were the cast of secondary characters. It was nice to see that when the chips were down, the entire town put aside their differences to help out one of their own.
I liked that there was no unnecessary drama. Everything that happens is only used to push the story forward. There were sections, especially towards the beginning, where the pace of the story felt slow. It does pick up as it goes along though.
Win Me Over by Nicole Michaels is the second book in the series, but can easily be read as a stand alone. It's written in such a way that you don't feel like you're missing anything if you haven't read the first book, which I have not.
If you're looking for a sweet, small-town romance, you should consider giving Win Me Over by Nicole Michaels a chance.

Book Info:

Publication: September 1, 2015 | St. Martin's Paperbacks | Hearts and Crafts #2
WINNING ISN'T EVERYTHING
Callie Daniels is a singular sensation. She owns and operates her own bakery, contributes to a popular lifestyle blog, and is the dance team coach at a local high school. She lives by her own design and is much too busy to consider dating. Mr. Right will have to fit into her life when the time is right…
UNLESS YOU'RE PLAYING FOR KEEPS
Football coach Bennett Clark always plays by the rules. He knows that his new colleague Callie is off limits but she's so beautiful-and irritating!-that Bennett can't get her off his mind. She wants him to participate in a charity dance contest, and won't take no for an answer. Soon, what begins as a festive athletic endeavor turns into a heated flirtation on and off the dance floor. Could it be that the free-spirited Callie has finally found a way through Coach Clark's line of defense?