In Winter Halo (Outcast #2) by Keri Arthur, as a dechet, Tiger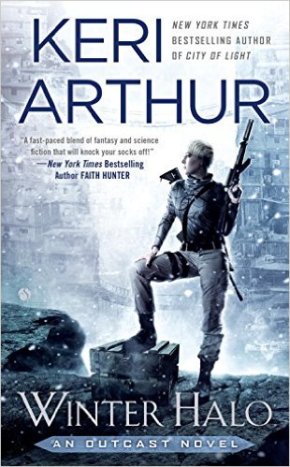 shouldn't have survived the ending of the species war when most of her kind was eradicated. So, finding herself to be one of the lucky ones, she strives to make amends for what her kind did, starting with finding a bunch of kidnapped children. However, inside of the walls of the pharmaceutical company she's investigating, she learns things could be dangerous for her, if she manages to get a job as a guard. Can she learn what is happening to the children before she becomes a target of the kidnappers?
I shrugged. "Seeking isn't an exact science, you know, even for someone like me."
"Someone who was specifically created to seduce and steal, you mean?"
"Yes." I returned his gaze evenly. "You surely can't have a problem with that, especially when it's being used to help save these children."
Books encompassing a Dystopian world aren't a story I'd normally read, but with Ms. Arthur being one of my must-buy authors when it comes to paranormal romance, there was no way I wouldn't give this series a try and I'm so glad I did. The first book, City of Light, introduces readers to Tiger and the support characters as well as the kidnapping of the children. Then this second book of the series carries on from there, as Tiger hunts for leads while defending herself against those that believe she should be dead.
The dialogue was intense due to Tiger's back story and everything she goes through in this book. However, there were some light-hearted moments that had me really enjoying one secondary character in particular — Tiger's love interest, Jonas. He's beginning to really prove himself to Tiger, even though he still doesn't trust her completely. She is a dechet, one of the humanoid supersoldiers.
"So is that what this is?" What I was? "A problem you need to solve?"
"Oh, I think this thing between us is probably a whole lot more than just a problem. But that is neither here nor there, given it is the female of our species who decide which males can or can't court her."
I couldn't help my sudden grin. "You'll have to excuse my amusement, but it's hard to imagine you actually courting anyone."
He raised an eyebrow again and leaned back in his chair. "I'll have you know that it was a rare day when I didn't win a female's favor."
Tiger is a fantastic heroine. She's strong, brave and determined to do whatever it takes to protect those that rely on her as well as take down those responsible for kidnapping the children. Can she find the children in time before whatever the people that took them do something to hurt them? Will she finally give Jonas a chance? He's becoming important to her, even though they don't quite trust each other. Yet, after all they go through in this story due to what happens to them with things called rifts; it seems their bond is only going to strengthen in future books. Together, will they be able to convince others that they can trust her? That she's nothing like the dechet of the past.
Overall, this second book of Ms. Arthur's Outcast series has me looking forward to future books. What else will Tiger go through on her path to a better future? A future where she can live amongst others without being afraid that they'll kill her. The way this story ended was intense due to what happens to Tiger. Yet at the same time, it was also wonderful, as Jonas finally proves to Tiger that she can trust him. That he won't let her down. I would recommend Winter Halo by Keri Arthur, if you enjoy Urban Fantasy, Sci-Fi Fantasy or books that encompass a Dystopian world.
Book Info:

Publication: December 6th, 2016 | Signet | Outcast #2
When the bombs that stopped the species war tore holes in the veil between worlds, they allowed entry to the Others. Now, a hundred years later, humans and shifters alike live in artificially lit cities designed to keep the darkness at bay….
The humanoid supersoldiers known as the déchet were almost eradicated by the war. Ever since, Tiger has tried to live her life in peace in hiding. But in the wake of her discovery that Central City's children are being kidnapped and experimented on, Tiger's conscience won't let her look the other way.
The key to saving them lies within the walls of a pharmaceutical company called Winter Halo. But as she learns more about the facility, Tiger's mission is derailed by a complication: Winter Halo's female security guards are being systematically attacked by an unknown force.
Now Tiger must summon all her gifts to stop those responsible for both atrocities—no matter the cost to herself…