Winter Hopes (Seasons Of Love, #2) by Jennifer Gracen: Sam and Lydia's story continues in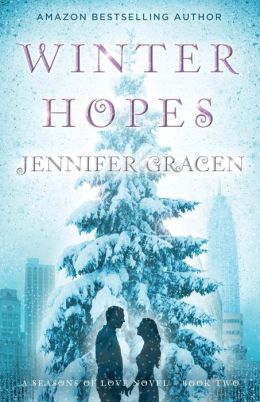 Winter Hopes (Seasons Of Love, #2) by Jennifer Gracen. In Autumn Getaway, we first meet these two incredible people, and in Winter Hope, their journey towards HEA continues.
Winter Hopes picks up where Autumn Getaway left off. Sam and Lydia are heading home after the weekend wedding of their good friends, the weekend that they first met. Now with Sam back in Chicago and Lydia back in New York, they need to figure out how long distance relationships really work.
Sam flies out to visit Lydia every couple of weeks and they get to know each other better, talk about their past, their pain, their fears, and just enjoy spending time together. Sam's brother Alec is still on his case about jumping feet first into a relationship with Lydia so recently after her divorce is final. There is friction there between the brothers, but they both agree to disagree and Alec reluctently agrees to butt out.
Lydia confides in her sister and best friend about her weekend away and about the instant connection that she feels with Sam. Both are supportive and happy for Lydia. Knowing everything that she has been through, they both agree that she is way over due to find some happiness in her life. He Ex-husband, Matt, causes problems with his demands over their son Andy. Then there are her parents. When they find out that Lydia is seeing someone new, they are shocked and her father is really angry, first because Sam is not Jewish,and second because for some reason not yet revealed, he has always looked down on Lydia, treated her poorly, like she was never good enough.
As Sam and Lydia work through their families objections, and start to build their relationship, they each question themselves about if it is too soon, if they are making the right decisions, if what they feel could really be true. But the feelings that they have for each other are so strong, and the more time that they are together, the more it just feels right.
Ok, I have to say that I love this series. I could not put this book down, had it read in less than a day. It just grabs you and keeps you hooked. Now, as much as I love these characters, Sam makes a decision early on, once returning to Chicago that truly upset me. I will not give away secrets, but it made me look at him and think "Really? Seriously? What are you thinking!" , but when he gets together with his two best friends, and they pretty much make him stop and think about the flip side of the situation, is rolls were reversed, he realizes what he really wants.
I can honestly say that I am excited to see what happens next in the this series an I am looking forward to seeing where this journey towards HEA goes for Sam and Lydia.
Book Info:

Published June 26th 2014 by Booktrope Editions | (Seasons Of Love, #2)
Author Jennifer Gracen reunites sexy, sophisticated Sam and sweet but wounded Lydia in Book Two of the Seasons of Love series, "Winter Hopes". Newly divorced mom Lydia is still getting back on her feet, and still reeling from her intense encounter with Sam at a friend's destination wedding. As they tentatively explore the demands and rewards of long-distance dating, their instant connection evolves against the vibrant backdrop of New York City. Each begins to trust again – opening up is difficult, even painful, but the joy and hope they feel in each other's arms demands they lay their hearts on the line. Can their love survive the miles that separate them, and the complexities of nurturing a relationship via email, text and phone? And when Sam finally meets Lydia's family, will old resentments and unspoken biases bring them closer together or driv e them apart? Full of the passion and tension any newly-joined couple experiences, this steamy yet hopeful book lays the foundation for Lydia's budding relationship with Sam, and offers hope for second chances and a deep appreciation for the value of a loyal friend.