In Wish You Were Here by Renee Carlino, Charlotte can't say that she's ever truly been in love. Or that she knows what she wants out of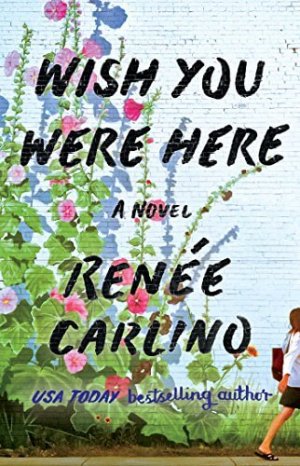 life. But she knows that working as a waitress and going on pathetic dates isn't it. It's funny, though, how meeting one person can change everything. Adam was that person for Charlotte. Even though they only spent one blissfully happy night together, he shook her world to its foundation, showing her the magic and chemistry that can exist between two people. So that's why Adam's bad attitude the morning after surprised and hurt Charlotte. She honestly thought they had something special beginning.
'It was like we already knew each other, like we had met in a previous life. Memories that didn't exist began exploding in my mind like fireworks.'
Floundering even more in her life, later on Charlotte goes out on a date with Seth at the insistence of her best friend Helen. Online dating has never worked for her but she has to admit she does feel a few sparks with hottie Seth. Yet somehow Charlotte can't keep her mind from wondering where Adam is and what was behind his quick turnabout. When she decides she needs to get answers so she can finally put the past behind her, she ends up caught in the middle between two very different men and two drastically different futures. One is sure to be a tragic love story while the other she's not sure how it would end. And Charlotte has a feeling she's not going to pick the one that will be easiest on her heart.
'It doesn't always feel like this, it doesn't always feel easy or right, so when it *does* feel this way, you have to seize it. Love is a wordless secret; it's and inside joke. Only the two of you have to understand it.'
Sad and beautiful, joyous and devastating, Wish You Were Here was another incredibly emotional novel by one of my new favorite authors, Renee Carlino. Just when I thought she had given us the most complicated, tangled romances possible, she upped the ante and gave us Charlotte's unbelievably touching story.
'I wish I could say that it was the most romantic time of my life, but it was so equally tragic that it felt surreal and gut-wrenching at times. Yet, there were still moments of magic.'
Renee Carlino's books just slay me emotionally. And this one? I was full on ugly crying more than once. I'm not even kidding when I tell you I had to put my kindle down to get a hold of myself at one point as I couldn't see the words through my tears. I love, love, love how Carlino can pack so much depth of feelings–and do it so realistically–into each character and each scene. There was such an honesty to how Charlotte reacted in meeting Adam, then Seth, and everything else that happened afterwards. I may not have always agreed with her decisions, but it was obvious why she made them and thankfully she learned from the mistakes she made. And I think that was what touched me most about Charlotte was that she was portrayed as a normal young woman working in a diner, kind of drifting through life and who could have been your friend, sister, roommate, etc. She just came alive on the pages and it made all that she endured that much easier for me to understand.
There is SO much I wish I could discuss but it would give the entire storyline away. I can say that this was a love triangle of sorts but not in a traditional manner. Adam and Seth were both very important in Charlotte's life and things worked out the way they should have. It didn't make it any less heartbreaking, but the moments she had with them both were completely different and absolutely perfectly done by Carlino. In addition to Charlotte's personal journey, there were some wonderful secondary characters who each had their own subsequent issues which we got to see play out by the ending. Her BFF Helen was an absolute hoot (and got her own romance) and her brother Chuck and their parents had such a fun dynamic between them all. I adored the scenes where they were all interacting and thought it was such a cool thing to include, adding a bit of comedy to a story that had some heavy, tear-jerking scenes.
Oh. The. Feels. Wish You Were Here is the type of epic love story that will rip your heart out and put it back together again yet somehow you'll want to thank the author for all she put her characters–and her readers–through. It was that amazing. Highly, highly recommended.
Book Info:

Publication: August 15th 2017 | Atria Books |
Charlotte has spent her twenties adrift, floating from interest to interest, job to job, and guy to guy, searching for a spark but never quite finding it. All she knows is that she won't discover it working as a waitress at a pies-and-fries joint in Los Angeles or living with her fun but aimless best friend in a tiny apartment in the Arts District.
Then Charlotte collides with Adam, a gorgeous and soulful painter who seems just as lost as she feels. Their instant connection turns into a midnight drink… and a whirlwind night of champagne, Chinese food, and the kind of conversation that only happens in romantic comedies. But the next morning, Adam gives Charlotte the cold shoulder, leaving her confused and hurt—and wondering if the few odd moments between them the night before were red flags in disguise.
Months later, Charlotte hasn't been able to shake Adam, so she decides to find out what happened the morning after their magical night together. This fateful decision rewrites their wild love story, but what Charlotte doesn't know yet is that the ending has already been written.