With Every Breath by Maya Banks is filled with strong characters,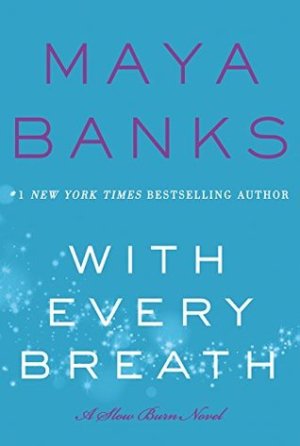 page-turning action, and so much emotion. There's something about a Maya Banks novel that tears me apart then puts me back together again and With Every Breath, does exactly that!
Eliza Cummings is hiding secrets, deep secrets that are coming back to haunt her. In order to save everyone she loves, she goes on a suicide mission. When Eliza's partner becomes worried about her, he enlists the help of Wade Sterling.
Wade and Eliza's relationship is complicated. They bicker, get in each other's faces, and fight over little things. Too bad all that animosity is disguising their true feelings for each other. Eliza is strong, smart, and always willing to protect others, but now she needs someone to protect her and Wade has already demanded that job, whether she likes it or not.
Wade is dark, broody and a total alpha. He's also not what Eliza thinks and when he tells her he can protect her, it's the truth. The man has all kinds of resources at his disposable and he has no intention of Eliza ever getting hurt again. She's his now, his to protect and his to love!
"He'd die before allowing anyone to hurt her and he'd damn sure die before ever allowing anyone to make her cry again."
Eliza has no idea how important she is and how much other people care about her, but don't worry, Wade is out to show her just how important she is. The only issue is, because of Eliza's past, she's not sure she can trust her own emotions. But Wade makes her feel safe and cherished. Something she's never felt before. Will Wade get through to her and show her how much she's loved?
So much feeling with these two. Once Wade finds out Eliza is trouble, nothing can stop him from being there for her and Eliza, gosh, my heart broke for her. Her past is not pretty and it will take a strong force to get past it. This is one book I didn't want to put down, even after I finished it! Highly recommended!
Book Info:

Publication: August 23rd 2016 | HarperCollins Publishers | Slow Burn #4
Eliza Cummings fought free of a monster who terrorized her when she was an innocent teenager and helped put him away for good. She took a job with Devereaux Security Services and devoted every hour to taking down the very thing she'd nearly become. No one, not even those closest to her, know her darkest, shameful secrets. But now the killer has been set free on a legal loophole and it's only a matter of time before he comes for her. Eliza's only choice is to run and lead the monster away from the people she loves.
Wade Sterling has always lived by his own rules, a law unto himself who answers to no one. He's never professed to be a good man, and he's definitely not hero material. Wade never allows anyone close enough to see the man behind the impenetrable mask—but one woman threatens his carefully leashed control. He took a bullet for her and the result was more than a piece of metal entrenched in his skin. She was under his skin and nothing he did rid himself of the woman with the courage of a warrior and who thinks nothing of putting her life before others.
But when Wade sees a panicked and haunted Eliza he knows something is very wrong, because the fool woman has never had been afraid of anything. And when she tries to run, the primal beast barely lurking beneath his deceptively polished façade erupts in a rage. She may not know it, but she belongs to him. This time, Eliza isn't going to play the protector. She was damn well going to be the protected. And as long as Wade breathes, no one will ever hurt what is his.