Worth the Risk by Jamie Beck: Jackson is taking a much needed break.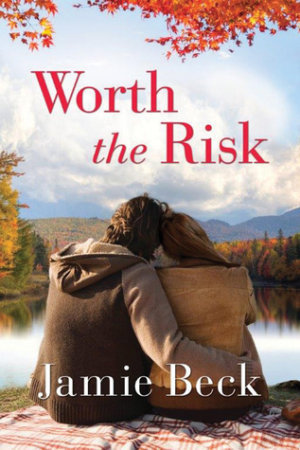 It seems like his life has slowly unraveled since losing his mom. Jackson is very much family-oriented, which is why the secrets and discord have hit him so hard. As a way to appease his family, he's taking some time to reevaluate and take charge of his life again while sober. He's looking forward to getting away from his family's prying eyes and just being alone.
Gabby is a devoted mom to her son, and a dedicated daughter. She enjoys her quiet life, but there's also not much opportunity to meet anyone in her small town. She's set aside some of her dreams, but she enjoys working outside in her and her father's respective businesses.
Jackson is very much surprised to run into Gabby again. They had an interesting first meeting and they definitely left an impression on each other. Both are surprised when Jackson shows up as the new tenant for the garage apartment at Gabby and her father's home.
Finally, he held up his hands, half stunned, half laughing. "I swear, I'm not stalking you."
Her lips quirked before she could stop herself. "So you say."
"Seriously. I'm looking for Jon Bouchard. Is this the wrong address?"
He's our tenant?
Gabby and Jackson clearly are attracted to each other, but both of them have good reasons to keep their distance. While Gabby tends to be impulsive, Jackson is determined to do the right thing and not act on his feelings while his life is in flux. They push each other to take control of their lives and confront their problems.
"You look uncomfortable." She stopped inches in front of him.
"I'm damn uncomfortable. I don't know what you want from me."
She laid her hands on his chest. "Yes, you do."
Worth the Risk is a contemporary small town romance with plenty of family drama. Worth the Risk does pick up storylines from the previous books in the St. James series, but it can be read as a standalone. While Gabby and Jackson were dealing with serious issues, I often found them to be really frustrating. Jamie Beck highlighted a very different side to Jackson as readers get to know him much better. Ms. Beck provided colorful characters, especially Gabby's son. Fans of Tracy Solheim and Mari Madison will enjoy Worth the Risk.
Book Info:

Publication: November 1st 2016 | Montlake Romance | St. James #3
When Jackson St. James decided that six weeks in Vermont's Green Mountains would help him get his life together, he didn't anticipate replacing his craving for whiskey with a craving for his alluring new landlord, Gabby. Now, instead of prioritizing his sobriety and the resolution of the lawsuit threatening his business, he's making excuses to spend time with the spunky young landscaper whose candor is more than a little addictive.
Gabby Bouchard refuses to let her pill-popping mother and unreliable baby daddy turn her into a cynic, so she doesn't fight her attraction to her enigmatic new tenant. Although Jackson's smile rarely reaches his eyes, his generosity and dependability make her willing to overlook his demons. But once she convinces him to give in to temptation, Gabby's jealous ex threatens to disrupt the life she has built for herself and her son.
With so much at stake, Gabby and Jackson must decide if love is worth the risk.