Worth the Wait by Claudia Connor is a spin-off of her The McKinney Brother's series. FBI agent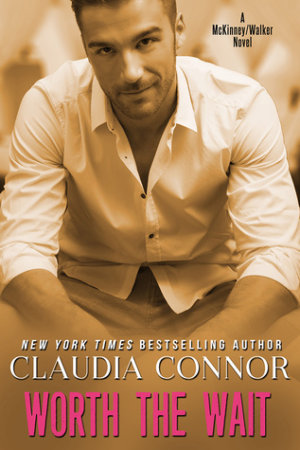 Nick Walker is the older brother of Hannah, who was paired off with Stephen McKinney in that series. Nick still harbors a lot of guilt for Hannah's abduction and torture, but he also places some of the blame on the woman he loved at the time, Mia, who had been late picking Hannah up on that fateful day. Now, ten years later, they're living in the same city, both still trying to help Hannah with the lingering emotional effects of her ordeal, and trying to move on with their lives.
"So we're ten years later and still in exactly the same place."
He shifted on his feet, tilted his head. "And where's that?"
She didn't even hesitate. It couldn't hurt anymore to say it out loud. "Me loving you. You blaming me."
Over the past ten years Mia had dealt with her own share of heartbreak: losing Nick and his siblings, whom she had considered to be family, and having a child she adopted taken away when the biological mother decided she wanted the baby back.
It had all been so methodical, so carefully orchestrated and civil. She'd handed her baby over to a social worker in one room then was escorted out the building before her daughter's real mother was to arrive and receive her baby.
There had been a delay, a blessing and a curse, giving her additional seconds to hold her for the last time. Then more waiting because the biologicals weren't even there. Her heart was ripped from her body, and they weren't even there, waiting.
Some of the chapters were flashback chapters, which I really enjoyed. They helped to lay out Mia and Nick's relationship from the beginning, providing readers a chance to really get to know the characters, both then and now, as well as gaining a deeper understanding of their relationship. It also allows readers to understand the event that occurred and the impact it had one everyone.
Worth the Wait is an emotional story that tugs at the heartstrings. You can't help but feel for Nick, Mia, Hannah, and the rest of the Walker siblings for what they went through. This book is not only about second chances, but finding forgiveness with not only others, but with oneself as well. I highly recommend this book.

Book Info:

Publication: January 10, 2017 | Claudia Connor | McKinney/Walker #1
He broke her heart. When he finds out just how badly, it will break his too.
Nick Walker found the love of his life when he was just nineteen.
Found her.
Loved her.
Lost her.
It's been ten years since Nick watched the only women he ever loved walk out of his life. Now this FBI Special Agent will do anything to win her back.
But it won't be easy…
Mia's heart was shattered by Nick. They'll have to face their painful past if they want a future, including Mia's own secret about that day it all fell apart.
Do you believe in second chances?