Worth the Wait by Jamie Beck: Vivi is fun, creative, and vivacious. She loves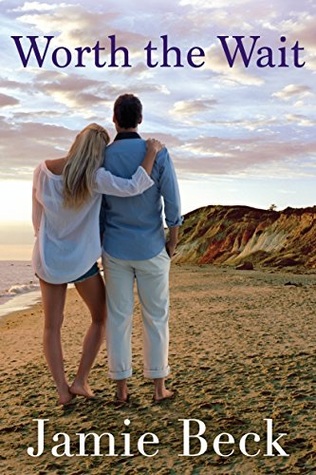 teaching art to elementary school kids and she makes the most out of life. She's also been in love with her best friends' older brother practically since she met him. David is proud, determined, and still reeling from learning a family secret. He has more recently returned to New York after a year in Hong Kong following the death of his mother.
David was looking forward to the vacation on Block Island with his siblings. He's shut out his siblings and Vivi, and planned to use the vacation to reconnect with them. Over the years, Vivi and David have built a close friendship that Vivi has always wanted to become more. But seeing David with a girlfriend changes everything.
"What's the matter with you?" she demanded once she found her voice.
"With me?" David asked incredulously. "What's the matter with you? Every time I turn around you're with another guy-Hank, Franco, Jackson-who's next, Vivi?"
No part of this vacation goes as planned. David struggles with his growing feelings for Vivi, including jealously, while believing that a relationship with her would put too much at risk. The St. James' have become Vivi's family and David has already hurt his family enough with his absence and silence. The tension between David and Vivi seems to continuously mount as their friendship is strained by his seesawing emotions.
"Fine. But don't complain to me about the changes in our relationship and then shut me out whenever you decide something is off-limits. You can't have it all ways and only on your terms. We can be friends, or not. Let me know once you decide."
Worth the Wait is an angst-filled, will-they-won't-they romance. The inner conflict for David seemed somewhat over-dramatic and made it more challenging to relate to him as a character. Jamie Beck created David and Vivi as absolute opposites with strong chemistry. Ms. Beck created an interesting family in the St. James' along with their friends. Fans of Tracy Solheim and Mari Madison will enjoy Worth the Trouble.
Book Info:

Publication: Published March 17th 2015 | Montlake Romance | St. James #1
Thirteen years ago, Vivi LeBrun was sketching a rooster and eating Oreos when she first met—and fell for—her friend's brother, David St. James. Since then, her love for David has only intensified thanks to years of friendship with his family, who rescued her from a lonely, tumultuous childhood. As she travels to Block Island to vacation with the St. James siblings, Vivi daydreams about reuniting with David, hoping he'll finally see her as his soul mate.
After his mother's death, David distanced himself from his siblings, determined to hide a devastating family secret. Now, he's brought a new girlfriend along to his homecoming—one who's pushing for a serious commitment. The last thing he needs on his growing list of problems is his budding attraction to Vivi.
With tensions running high, David's behavior triggers a series of events that might cost him the love he's always taken for granted and Vivi the only real family she's ever known.