Wound Up by Kelli Ireland: Grace Cooper had a rough start of things. She had finally made it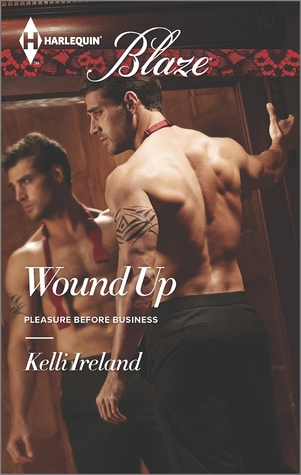 though, a two-week practicum and then everything was going to be behind her, her past and Seattle she was never going to revisit. One last night out with her girlfriends was all that she needed. Then in one moment, one spotlighted moment everything changed.
Justin Maxwell was almost ready to say goodbye to the strippers life. He would finally be able to put his past behind him and have a "respectable" career. He would be able to give back and move forward at the same time. If only he could get her off of his mind. The only problem was in one moment the spotlight shone down on the one thing that could change his course forever.
When Justin and Grace meet in a strip club the heat that had been building for years finally bursts into flames and ignites everything in sight. Like most fires that burn really hot though their flame cools and ignites regularly. In the end will either of them have the desire or the ability to keep the home fires burning regularly?
Wound Up is the second book in Ms. Ireland's Pleasure Before Business series but is strong enough to stand on it's own. This is not a book for the faint hearted. It is a gritty novel about some of the darker parts of life and two children who are faced with choices that no child should ever have to be. Its marks their souls and helps shape them into who they are entering this story and to be honest with you it lends a lot of credibility and buy in to relating with the characters.
Wound Up is a strong story with story characters and should be read for some one looking for a little more than a roll in the sack. Take some time for this gritty romance.
Book Info:

Published December 16th 2014 by Harlequin Blaze Series #828
Temptation 101…
Newly crowned psychologist Justin Maxwell is celebrating his last night as a stripper before he starts his career. Then he spies her in the audience—Grace Cooper. He's wanted her for years, but as his student, she'd been off-limits. Now Justin has only one goal: sweet, irresistible seduction.
Grace is through skirting around her fierce attraction to Justin. She's leaving Seattle in two weeks, so why not allow herself one mind-meltingly hot night with Justin? But no pleasure comes without cost. And indulging in their insatiable desire for each other could cost both of them their futures…