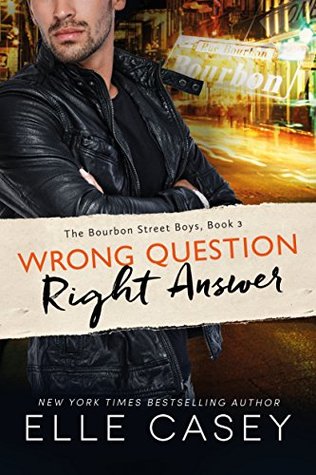 Wrong Question, Right Answer by Elle Casey: For ten years, Toni and Lucky have been good friends and both members of the Bourbon Street Boys team. But for ten years, Toni has been pushing away her feelings for Lucky and running towards all that is bad, including her now deceased ex whom she killed out of self-defense, spent several years in prison for, and now feels unending guilt about.
But one drunken night, the feelings between Lucky and Toni spiral out of control, especially as Toni has come to realize she hasn't been as good a friend she thought to Lucky who's been dealing with the guilt of his sister committing suicide.
Out of their night together comes pregnancy. Lucky's over the moon, but Toni doesn't know what to do. She doesn't believe she deserves happiness after all that she's done and she has no idea how to find it with this new future ahead of her.
I can't say I liked this story, but I do appreciate that the struggle Toni went through was developed. She struggled the entire story finding peace and she did find it which is always lovely to see. But, beyond pregnancy, nothing really happened in the story. It was just Toni dealing with emotions and realizing – through her pregnancy hormones, I believe – that she can create stronger bonds and open up to those around her.
I didn't particularly like Toni, however. She wasn't nice, at all, and every emotion felt overblown and overly dramatic. We never got Lucky's POV, but he seemed like a sweetheart who just wanted to be able to love Toni. Although, he was a bit weak about it. Unable to actually say anything, and instead choosing to be first overbearing and then backing off completely.
Honestly, it barely felt like a romance. It was far more about Toni dealing with her past and emotions, so if the more women's fiction romance style – with some very dark pasts – are your thing, I recommend Wrong Question, Right Answer.
Book Info:

 August 23, 2016 | Montlake Romance | The Bourbon Street Boys
As a member of the Bourbon Street Boys private security firm, Antoinette "Toni" Delacourte is one strong woman, but despite her reputation for being tough as nails, she is haunted by her past mistakes. Now they're catching up to her, and throwing her for a loop.
Ten years ago, Toni kissed Lucky, her brother's best friend. Worried it would break apart the group she'd come to see as family, she walked away—straight into the arms of Charlie, and an abusive relationship.
For the past decade she's tried to keep her feelings for Lucky platonic—he's her friend, her colleague, and he's got his own past to deal with. Free of Charlie but unable to shake his memory, Toni finds herself feeling vulnerable and unable to deny her attraction to Lucky any longer.
She's always thought that kiss was her first mistake, but now she's wondering whether the real mistake was running away.