In Wrong Time for Mr. Right (Barefoot Bay Kindle World) by Nicole Flockton, becoming the guardian of her brother's son is an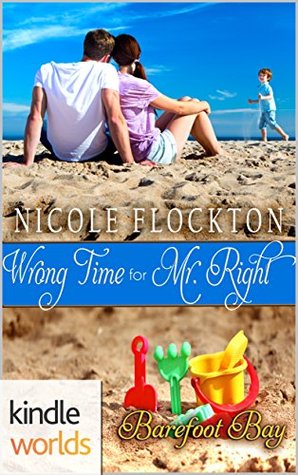 honor for Sienna Fairley, even though she was forced to walk away from everything she's worked so hard for as an actress. Moving to Mimosa Key, a place where she's guaranteed her privacy is perfect, or so she thought, until she runs into the man that managed her career – her agent, Aaron Madison. Afraid he'll threaten her chance in the battle for custody of her nephew, Sienna does her best to keep her distance from Aaron. Except it's not that simple, especially when Aaron isn't willing to let her go so easily. Will Aaron be able to win Sienna's heart, or will he lose the one woman he wants forever with?
He's my brother's son."
"Right. So why did he call you 'Mama'?" At the reminder, the tears she hadn't allowed to enter her eyes gathered full speed-ready to spill down her cheeks. Nope, she wasn't going to do that in front of Aaron. No way.
"That was the first time he said it to me," she started softly. "Because that's what am to him now."
"What? I don't understand."
"For a supposedly savvy businessman, you're a bit slow on the uptake. My brother and his wife are dead. They made me Caleb's guardian. They entrusted me with his care, and I will honor my brother's wishes to my dying day."
The pages of this book really flew by and I found I was finished this story within half an hour, as Ms. Flockton again pens a fascinating and enchanting novella for the Barefoot Bay Kindle World. Really, right from the beginning, this story had me amused because of the opening line and what Aaron's friend needs him to do. Will Aaron come to Tom's rescue? However, it was from the moment the hero and heroine met that this story had me charmed by the characters back stories and their history. Sienna must have been a real diva when Aaron knew her, and now, she's completely different and determined to do everything in her power to prove she's the best guardian for her nephew. Will she be able to prove to the young boy's grandparents that she's the best choice to care for her nephew?
As for the dialogue, it was intense due to the main characters back stories, as Sienna was one of his biggest clients and losing her was hard to deal with for Aaron. Will he understand why Sienna left Hollywood behind to take care of her nephew? However, the dialogue wasn't all intense. There were certainly some wonderful light-hearted moments between Aaron and his friend Tom that had me smiling, because Tom knows just what to say to get Aaron to open up about whatever is bothering him. Furthermore, the hero has done well for himself over the years and I liked how determined he was to prove to Sienna that she could trust him, even though it's palpable she already does since he was good to her as her agent. I also liked how protective he was of Sienna, especially in the moment when the custody battle the heroine is facing rears its ugly head. Will Sienna lose her nephew?
While the heroine, she's resilient, courageous and I liked how determined she was to provide a great life for her nephew since he's already lost so much. I also liked how protective the heroine was of her nephew and that she would do whatever it takes to prove that her brother and her sister-in-law made the right choice in giving her guardianship, even though it isn't easy to stay under the radar because of her fame. Yet, what I liked most of all about the heroine is the bond she shares with her nephew and how determined she is to show him she's not going anywhere. Those moments were hard not to get a little emotional over, especially when her nephew talks about his parents.
Aaron understood she and Caleb were a team. "You're almost too good to be true, you know that? How have you remained so real, working in the world of smoke and mirrors?"
"After a while, you get immune to it. You learn to recognize the good ones."
Aaron stood and pulled her up with him. "So whadda ya say? Yes or no?"
Overall, Ms. Flockton has penned a delightful and satisfying read in this book where the chemistry between this couple was intense; the romance wonderful; the secondary characters bring that little extra something special to the story; and the ending had me absolutely charmed by what Aaron does for Sienna that shows he's a good guy that would never betray her. Since the hero believes there's no one better to take care of Caleb (Sienna's nephew) than the woman he's fallen for. However, it was the epilogue that wrapped this story up beautifully, because of how far Aaron and Sienna have come in their relationship and how good they are for Caleb. I would recommend Wrong Time for Mr. Right by Nicole Flockton, if you enjoy the friends to lovers trope; Hollywood romances; or books by authors Roxanne St. Claire, EmKay Connor, Jules Bennett and Karen Ann Dell.
Book Info:

Publication: September 13th, 2017 | Self-Published | Barefoot Bay Kindle World
At the peak of her career, Hollywood star Sienna Fairley turns her back on it all when she finds herself the guardian of her brother's son. Wanting to give the boy some stability she uproots them both and moves to Mimosa Key. The last person she expects to see is her handsome former Agent, Aaron Madison—the man she's hidden a massive crush from since the moment she met him. But Aaron's presence could threaten the new life she's created.
Aaron Madison never thought he'd see the woman who caused him no end of grief when he arrived at the world famous Casa Blanca Resort, in Barefoot Bay, to be best man at a friend's wedding. Sienna Fairley's diva attitude was legendary, her tantrums memorable, but they're nowhere to be seen now. In fact, her role as a mother shockingly seems to be one tailor made for her. An inconvenient attraction long buried bursts to life.
With the threat of a custody battle hanging over Sienna's head, it's the wrong time for Mr. Right to resurface in her life. Or is it the perfect time?