In Xenaki's Convenient Bride (The Secret Billionaires #2) by Dani Collins , accepting to be Stavros Xenakis temporary wife gives Calli the chance to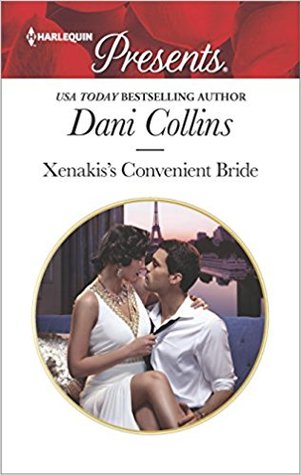 find the son that was taken from her by the child's father. However, she never imagined she would find herself falling in love, knowing their marriage is only for a limited time. Will Stavros be able to convince Calli that happy ever after is worth fighting for, or will they walk away from the one person their meant to be with forever?
"You three go two weeks without your credit cards and I'll do it."
"Starting when? We all have responsibilities." Alejandro reminded.
After considerable pause, Sebastien canted his head. "Fair enough. Clear the decks at home. But be prepared for word from me – and two weeks in the real world."
"You're really going to wager half your fortune on a cakewalk of a challenge?" Alejandro said.
"If you'll put up your island. Your favorite toys?" He took in all three men. "I say where and when."
I always find Ms. Collins books entertaining, and this one was no different. Although, in saying that, I wish I had read the first book of this series to get to read what the hero's friend, Antonio, went through to win his bet, as it sounded very interesting. The way this story started had me hooked because of the bet, which had me wondering what Sebastien would choose for each man to do. Would the men be able to hack the rules and the circumstances Sebastien chooses?
As for the dialogue, it was intense due to the main characters back stories. Having what happened to her son done to her was horrible, and I could understand why she was determined to find the truth behind the father of her child's actions. How could he be so cruel? Will she find the answers she wants, or will the truth devastate her? Will Stavros be able to help her, if she tells him the truth of why she agreed to his proposition? While Stavros, he's had his fair share of tragedy that has made him a risk taker. Will Calli help him heal from the hurts of his past? Will he realize that what happened to his father wasn't his fault?
"You're really offering a marriage on paper so you can—"
"Oh, Calli," he cut in. "Don't be naïve. We'll share a bed. That's why I'm choosing you."
Both the main characters were entertaining, and I could understand why the heroine would agree to the hero's proposal. Because it gets her one step closer to her goal; a goal she hasn't given up hope of achieving ever since her son was taken away from her. She's also strong and brave in having been able to recover and continue on after such erroneous actions by those she thought she could trust. How could someone deny a child their mother just to avoid a scandal? I also liked the heroine's persistence when it came to finding her son and the decisions she made about her child's future. It definitely proves she's selfless and has everyone's best interests at heart.
While the hero, he's confident, arrogant, determined and I liked how he won the heroine's trust. She's had it tough with her parents doing what they did to her and then everyone believing the rumors going around about her and the man she lives with. Seriously, she needed someone on her side besides her employer and his daughter, and I liked that the hero was that person since he needs her just as much as she needs him when it comes to his grandfather's decisions for the hero's life. Moreover, I liked how Stavros helped the heroine deal with the final outcome when she learnt the truth about her son. That moment tugged at my heart strings and made me want to cry for the heroine, because she may never be able to tell her son the truth about their bond.
"You want me to sleep with you for personal gain." She choked on the words as she said them.
"We're going to sleep together either way."
"Do you have a subscription for that level of confidence? Because I'd love to know where it comes from."
Overall, Ms. Collins has penned another really good read in this book where the chemistry is heady and effective and made me want this couple to express their feelings way before they do. Because the hero is so confident that he's going to have the heroine in his bed, even though their arrangement is one of convenience. Will she fully succumb to his desires? The way this story ended was wonderful, because of the words Stavros says to Calli to make her realize that she's worthy of love. However, it was the epilogue that wrapped this story up beautifully with Calli's wishes finally coming true, which is good because both the hero and heroine deserve the happiness they've achieved by the end of this book. I would recommend Xenaki's Convenient Bride, if you enjoy the fake relationship trope, the marriage of convenience trope or books by authors Rachel Thomas or Jennifer Hayward.

Book Info:

Publication: May 23rd, 2017 | Harlequin Presents | The Secret Billionaires #2
The challenge: two weeks without your billionaire fortune!
Greek magnate Stavros Xenakis must go undercover to win a bet–and escape his grandfather's demands that he take a bride. Until encountering deliciously tempting housekeeper Calli proves that a wife is exactly what he needs!
Calli's baby being taken away robbed her of the ability to trust anyone. Now Stavros's offer to marry her gives her the chance to finally find her son. But Calli doesn't expect their honeymoon to be so sinfully sensual–and for life as the temporary Mrs. Xenakis to be so exquisitely satisfying…