You Really Got Me (Rock Star Romance #1) by Erika Kelly: Emmie is the daughter of a rock star and while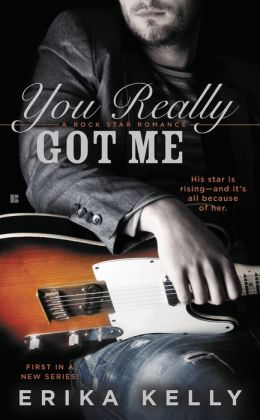 working as a personal assistant for one of the most well-sought after A&R guys in music, she's well used to feeling on the outside of the industry. Emmie is determined to finally get the promotion she wants even if it means standing up to her boss. Slater is the front man and songwriter for a band, along with Emmie's guitar-playing brother. Slater wants to finally get the band to the next level. He has certainly enjoyed all of the perks that come with being the lead singer.
When Emmie takes a leave of absence, she heads for Austin where she can live with her brother while taking the time to find the next up-and-coming band for her boss. She also takes the opportunity to help guide her brother's band. While Slater is sexy and charming, she's had enough of musicians for boyfriends. Living with Slater turns out to be more than she expected, since they bond over their need to prove themselves to their fathers and succeed. Slater also shows how much he values and respects her ideas and opinions.
She shrugged, looking away from the approval beaming in his eyes. "My dad wasn't exactly Mr. Fix It. We had to be pretty resourceful."
"First you're all wide-eyed over Post-Its, then you're turning into sex on a stick in a lingerie dressing room, and now you've got a fix for a leaky pipe? Are you for real?" He laughed as he headed back into the garage. "Be right back with an inner tube."

She watched him go, so caught up in the happiness of his approval that it took a few moments for the meaning of his words to register.

"Wait, you saw me in the dressing room?"
Neither expect the attraction to burn so brightly between them and they attempt to ignore what's happening. Emmie and Slater actually become really good friends. Slater gives Emmie really great advice. Finally giving in to their attraction, especially with the timing, brings out all of their respective fears and insecurities. Each is trying to build the career they've always dreamed of while trying to maintain their relationship. I loved his persistence when he finally acknowledged how much Emmie meant to him.
He ran a hand through his hair. "Listen, I'm not something. And what's the point of loving someone if your feelings are dull enough to way you're willing to let them free? I want you to want me so completely you'd engage in hand-to-hand combat with a pack of sex-starved groupies to hold on to me. I don't believe in fate. I believe in working hard for the things I want, and I want you more than anything I've ever wanted in my life. So I'm not going to set you free in the hope fate means for us to last. We're going to last because we take hold of each other and hang on with all we've got. Jobs come and go, money doesn't bring happiness, and when I die, the only think I know I get to keep is my love for you. Are we clear?"
You Really Got Me is an entertaining and wild ride as Emmie and Slater learn what's important while fighting their fears. Erika Kelly created an interesting portrayal of the music industry and some lovable characters. Ms. Kelly found a great balance between how Emmie and Slater grew as individuals and as a couple.
Book Info:

Published January 6th 2015 by Berkley | (Rock Star Romance #1)
The first irresistible novel in a hot new series about a rock star on his way up—and the woman he wants to take all the way…
Emmie Valencia has what it takes to be the music industry's hottest band manager. She just needs to prove it. Determined to discover a killer new band, Emmie is ready to make her move. First stop: Austin, Texas.
As a sizzling-hot lead singer, Slater Vaughn has no trouble raising heart rates—but his band's been flat-lining for years. When Emmie, his bandmate's sister, crashes with them in exchange for some free management, her industry know-how lands them a spot in the biggest music festival in Texas. But it isn't just her business acumen that catches Slater's attention. Emmie is sexy and warm, and—for the first time in his life—he wants more.
But as irresistible as Slater is, Emmie is done with musicians. In her experience, a man can't be a rock star and someone to trust with your heart—but Slater is determined to show her he's both.