You Really Got Me by Kelly Jamieson is a romantic suspense novel with some erotic BDSM added to its varietal blend. The book opens with one of the hottest and steamiest scenes I have ever read. So much so, that I didn't even realize I was holding my breath throughout most of the captivating chapter.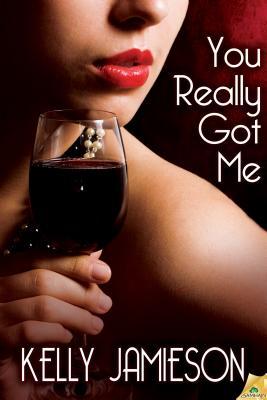 Kendall Vioget and her younger brother Kevin, lost their parents in an auto accident when Kendall was only about eighteen or nineteen. Thus, they only had each other. Instantaneously, she became a parent and owner of her family's winery. She made some mistakes along the way, including overprotecting her rebellious brother on a regular basis, but she now seems to have everything under control. In her heart and soul, she craves submission to one man, local police chief Jason Holloway.
Due to a hostage situation gone bad, former Los Angeles FBI agent Jason Holloway decided to seek a calmer law enforcement position in Las Colinas, California. Most recently, his need to dominate in the bedroom has him questioning his morality, when Kendall leaves his bed after a particularly vigorous sexual encounter, she apparently was not ready for. After being a part for about a month, their paths cross once again when Kevin's fiance disappears a week before their wedding and Jason has to investigate.
This novel is chock full of intrigue, twists and realizations. When it comes to Kevin, Kendall will do everything and anything in her power to protect him, no matter how it will affect her or their winery. Sisterly love and support is everlasting. Kendall's caring nature extends to all those she has contact with.
Although Kendall and Jason have a strong bond, I did not truly feel their passion for each other. Their sex scenes are scorching, but I felt their time together lacked some emotion and the element of seduction.
Romantic suspense is not something I usually gravitate toward, but a book authored by Ms. Jamieson is always worth a read. This story is a bit lengthy, but it is well-written and the characters are solid. If you enjoy a suspenseful romantic mystery with some BDSM, definitely give this book a chance.
Book Info:

Publication: January 28th 2014 by Samhain Publishing
"There will be pain but only if she asks nicely. "
Kendall Vioget fell hard for Police Chief Jason Holloway, until the best sex of her life became something more, something she wasn't ready for. Afraid of what he asked of her, afraid of her own desires, she walked away.
Now her brother s fiancee has gone missing a week before the wedding, bringing Jason back into her life. She needs his help, but her body is losing the battle to resist the hunger to satisfy the dark cravings he can set free.
Jason understands what she needs, and when her increasing submission banishes the self-doubts he s been carrying around, he knows a perfect match like this comes along only once in a lifetime. Until the missing persons case becomes a murder investigation, and suspicion falls on her brother.
Kendall will do anything to protect the only family she has left, and Jason will do anything to make sure a killer is put behind bars. If he doesn't handle this case right, the most precious gift she could have given him her trust will be destroyed. Permanently.
Warning: This book contains bondage, spanking, a sexy police chief determined to catch a killer, a woman determined to protect her family, and wine lots of wine.