Your Alluring Love by Layla Hagen: It's no secret that I love a family-centric series, and Layla Hagen's The Bennett Family series is one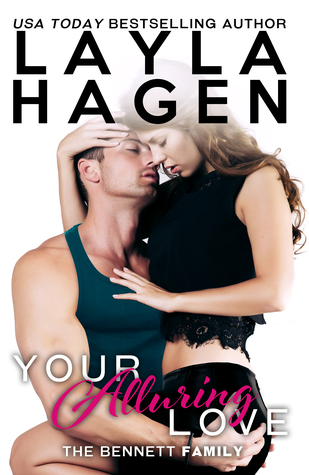 of the best. Your Alluring Love is the sixth book featuring one of the nine Bennett siblings, and I am happy to say that means there are at least three more books in the series! They are stand-alone reads, so you can jump in at any point.
Alice Bennett has known and crushed on family friend Nate Becker since he saved her from a disastrous prom date more than thirteen years ago. She hasn't seen him much since high school, because he is older and an accomplished television producer who travels extensively for his job. When he comes home for an extended stay prior to a move to London, she discovers that she is just as attracted to him as she was when she was younger. She senses that he's attracted to her now, too. Sounds like a great recipe for romance, but Nate's career and imminent move are a big roadblocks in considering a romantic relationship. He wants Alice, but he also cares for her as a friend and loves her entire family. He knows getting involved with her could be problematic since she is very close with her family and owns restaurants in San Francisco; she probably would never be willing or able to leave the are. He can only offer her a brief affair, and he doesn't think she is the type to have a fling.
No matter how much Alice likes Nate—she agrees that they should ignore the intense sexual tension and avoid jeopardizing their long-standing friendship. They both try to resist each other, but—now that they have acknowledged their mutual feelings—the pull between them is too strong to deny. They become lovers, and things get as complicated as they had feared when they both begin to want more and neither believes more is an option.
Alice and Nate's relationship builds slowly and sweetly. I loved that they admit their attraction early in the book, and they are both realistic about dealing with it. The sexual tension between them is smoldering, and they are adorable in their efforts to ignore it. They connect on every level, and their relationship is one of mutual respect. Your Alluring Love isn't my favorite of The Bennett Family series, but it is a romantic and entertaining friends-to-lovers romance that will leave you smiling and anticipating the next Bennett book.

Book Info:

Publication: 5/3/17 | Self-Published | The Bennett Family #6
Alice Bennett has been holding a torch for her older brother's best friend, Nate, for more than a decade. He's a hotshot TV producer who travels the world, never staying in San Francisco for too long. But now he's in town and just as tempting as ever… with a bossy streak that makes her weak in the knees and a smile that melts her defenses.
As a successful restaurant owner, Alice is happy with her life. She loves her business and her family, yet after watching her siblings find their happy ever after, she can't help feeling lonely sometimes—but that's only for her to know.
Nate has always had a soft spot for Alice. Despite considering the Bennetts his family, he never could look at her as just his friend's little sister. She's a spitfire, and Nate just can't stay away. He loves making her laugh… and blush.
Their attraction is irresistible, and between stolen kisses and wicked-hot nights, they form a deep bond that has them both yearning for more.
But when the chance of a lifetime comes knocking at his door, will Nate chase success even if it means losing Alice, or will he choose her?