In Your Ranch…Or Mine? by Kathie DeNosky, professional poker player Lane Donaldson wins 50 percent interest in the Lucky Ace Ranch. But his partner's granddaughter and the owner of the other 50 percent of the ranch, Taylor Scott is not willing to let her grandfather's heirloom go into some stranger's hands. She wants complete ownership of the ranch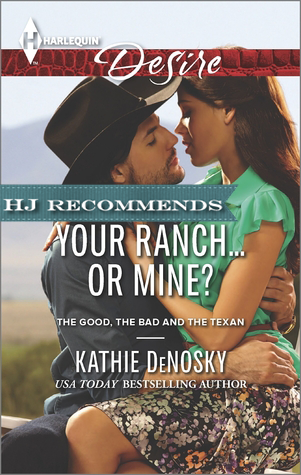 and she is staying until she has got what she wants.To solve all their problems, Lane challenges her to a poker game for complete ownership of the ranch.
The stakes just got a lot higher with sparks flying all around them.
Your Ranch…Or Mine? By Kathie DeNosky is the third installment of The Good, the Bad and the Texan series and can be easily read as a standalone. I loved the whole concept of the story along with the steamy romance the characters shared. Lane is a likable hero with a charming personality and it was delight to read his POV in the story. He has an unfortunate past before he came to live with his foster brothers at the age of fifteen. Taylor has some prejudices about Lane at first and is determined to take back the ranch from him but slowly she begins to trust him. The story is written in both the characters POV and therefore it is easy to understand the characters.
The romance and story is smooth for the majority of the time. The conflict comes towards the end and was kind of unexpected. I did not get Taylor's reasons for behaving the way she did when she learned about Lane's past. It was decades ago and I believe he deserved a chance to explain himself. Lane's brothers and the adorable relationship between them took up the story a notch higher. I can't wait to read their stories.
Overall, Your Ranch…Or Mine? By Kathie DeNosky is a well written and adorable story which does not fail to make you smile.
Book Info:

Published May 6th 2014 by Harlequin Desire Series #2299
Know when to hold 'em…
One winning hand of poker and the Lucky Ace ranch was his—half his, at least. The only thing standing in the way of Lane Donaldson making it his permanent home is the ranch's other owner.
Taylor Scott sure is something fine to look at, but she's adamant about running the ranch herself. And then she moves in—with him! So Lane challenges Taylor to another game of poker for the ultimate prize—winner takes all.
But who's to say they can't have a little fun while they wait for fate to deal their hand…