Please Welcome Harlequin Desire author 

Yvonne Lindsay

to HJ!
Yvonne is here to tell to us about her newest release 

'A FATHER'S SECRET'
A FATHER'S SECRET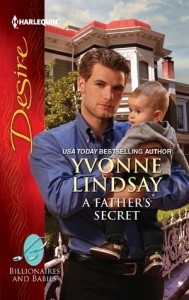 When I first started writing this story I had several story ideas I'd been mulling over to choose from, but this one really felt as if the story and the characters could go really deep. And I mean deep, deep.
IVF is always a tricky subject to handle. I've known couples who've taken that journey and succeeded and I've known couples who failed. Every step, for every couple, was fraught with worry, hope and love—and those were the elements I most wanted to bring to A FATHER'S SECRET.
I originally set this story here in New Zealand, beside a beautiful lake called Lake Tarawera. The day I was last there the weather was moody and wet, just look at the photo and you'll see what I mean, and the area just lent itself to the isolated yet beautiful feeling I wanted to portray in the book. Unfortunately, New Zealand law, much like British law, threw a complete spanner in the works regarding child custody issues and I thank my lucky stars that I had a wonderful support person working in a family law background here to guide me away from making a terrible mistake. So cue finding a new location for my characters. The lake that made the biggest impression on me while visiting the US in recent years was Lake Tahoe and I knew, after circumnavigating its shores with friends, that there were plenty of delightful bays where I could set my story. Luckily, I was able to draw on further legal advice, this time on US family law, and I knew my story would work.
Threading through the complexities of Sam and Erin's tale was very challenging and at every turn there was another question to ask, another answer to find. By the time I finished writing I was wrung out, but happy, and I hope you, as readers, will be happy with the ending too.
Giveaway: Share with me and
three

(my favourite number!) comments will be drawn to win

a signed book of your choice

(stocks permitting) from my backlist and some New Zealand candy!
To Enter to Win: Please complete the Rafflecopter form below and post a comment to this: 

As a Piscean, I am always happiest when I'm near water and I'm curious, where are you happiest in nature? Sea, fresh water, mountains, city, country, plains? Why?
About the Book:
There'd been a mistake at the fertility clinic. Now widow Erin Connell has to face the possibility that her baby son is not her husband's child. And worse, that Connell Lodge, her son's legacy and the only real home she's ever known, may be lost to them both.
But billionaire Sam Thornton's arrival at her bed-and-breakfast changes everything. Erin is stunned by the ferocity of her sudden attraction. Sam, too, is thunderstruck…and tormented. He's come here for one reason only, and falling for the pretty owner isn't it. He's not leaving without her son—his son….
About the Author
New Zealand born, to Dutch immigrant parents, Yvonne Lindsay became an avid romance reader at the age of 13. Now, married to her 'blind date' and with two children, she remains a firm believer in the power of romance. Yvonne feels privileged to bring to her readers the stories of her heart. In her spare time, when not writing, she can be found reading a book, reliving the power of love in all walks of life. She can be contacted via her website www.yvonnelindsay.com
Copyright © 2012 by Harlequin Enterprises Limited
Cover Art used by arrangement with Harlequin Enterprises Limited
® and TM are trademarks owned by Harlequin Enterprises Limited or its affiliated companies, used under license.
Yvonne Lindsay head shot by Deborah Hillman Photography