Today it is my pleasure to welcome back  author and friend
Taryn Elliott
to HarlequinJunkie!
I asked Taryn about the inspiration behind her Entangled release Ashes and Wine, here's what she had to say…
Inspiration and music.
One song can become an earworm for me. Even if the song doesn't completely match the end product of the story, the power of it is what makes music the most amazing tool in my arsenal.
I have no musical ability. And I do mean none. I sing flat, wouldn't know the difference between a chord in A minor from a C sharp. But I'm drawn to music like nothing else in this world. Even books.
I can't believe I actually typed that, but it's true.
A single song can whip me into a frenzy. Whether it's an obsessive listen-nineteen-times-in-a-row song or so bad that I want to toss my radio out the window…music has power.
The most amazing songs to me are the story songs. There are so many talented artists out there. The first time I paid attention to a song for more than just a good melody was Livin' on a Prayer by Bon Jovi. I was fourteen and in lust with the outrageously gorgeous Jon Bon Jovi. When I actually turned off the video, and stopped myself from being distracted by his fantabulous blue eyes, I realized that there was a really great story inside those lyrics. Then I found Wanted Dead or Alive and my obsession with story songs was born.
I still love Bon Jovi. Their songs about brotherhood, love and friendship are a staple in my musical library. But my sphere of music has grown. Bruce Springsteen's gritty and heartbreaking stories about the working class, Matt Nathanson's tongue in cheek tales of falling in love, Kenny Chesney and Brad Paisley's coming of age songs, and most recently an actor that I had no idea was a singer on the side.
Some people know him from his various television shows like, Angel and Leverage—and I admit that's why I first tried his music. I'm shameless when it comes to research when I'm interested in any topic. (Ahhh, the craziness of being an author) Hot actors are no different.So, when I heard that he was also a singer I had to check out his music. And man. THIS song got to me.

It's one of the main reasons ASHES AND WINE was born.
Let Me Go talks about a man who thinks he has nothing to give a woman.
Girl, you got it good here—you don't need to mess with a guy going nowhere…
He thinks that by being selfless and letting her go, he's going to give her a better life. And the woman is strong enough to make him see that he's worth the sacrifice. I love how she turns things around at the end of the song.
We both know you're that not as strong as you think you are. Let me go, take me with you baby—I belong where you are. Don't you know that I'm so good for you that it'll only break your heart down the road if you let me go…
That is exactly the lesson that Royal Andreas learns in ASHES AND WINE.

I twisted the story a bit, but the gist of it is there. Royal Andreas is dealing with heavy family problems. His father is dying from cancer and being the eldest son, he's now responsible for his family's winery. When you're a thirty-two year old man you're just starting to come into your own—you still have time to make mistakes. At least you're supposed to.
But when you're shoved into the role of leader, father-figure, and caretaker years ahead of schedule there's going to be some times when you falter.

Throw falling in love with a head strong, Tessa Winter into the mix and what man wouldn't want to cut one of those things out of the equation?

Tessa, being the force of nature that she is, has no problem telling him that he's being an idiot. She's strong enough to fight for him and for them. If he wasn't already in love with her to start with—well, he's toast now.
The story poured out of me during a writing challenge that comes around every November—NaNoWriMo—National Novel Writer's Month. You write an entire novel at breakneck speed. 30 days to be exact.
Christian Kane's "Let Me Go" got A LOT of play during those crazy days. And two of my favorite characters were born.

Thanks so much for having me, Sara!

[divider_advanced color="#993366″]
Book Info: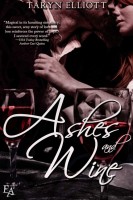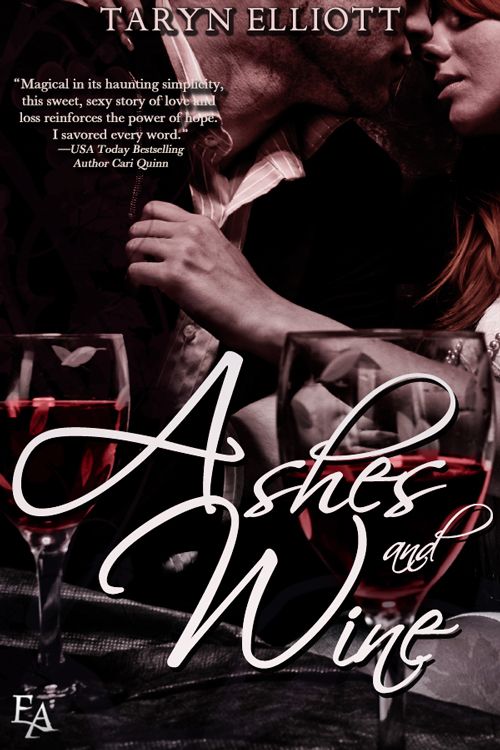 Before Tessa met Royal Andreas, her bookstore was on the verge of sinking. And before Tessa met Royal Andreas, she didn't mind being single. But Royal brings in business with monthly wine tastings featuring his family's signature vintages–and brings Tessa's heart to a standstill with intense gray eyes that look on her with nothing but cool indifference.
Yet one searing kiss between the stacks gives Tessa a glimpse of the passion smoldering beneath–and a secret pain further revealed when Royal fills in as the musician at a tasting event. Every note of Spanish guitar tells a story of family tragedy, loss, and ongoing suffering that's made Royal afraid to lean on anyone…even if he needs Tessa's sweet flavor more than the richest wine. Only her strength can save him when his world crumbles to ashes. But has Royal learned trust too late to claim Tessa as his own?

Information:
Title: Ashes and Wine
Author: Taryn Elliott
Genre: Contemporary Romance
Length: 190 pages
Release Date: June 2012
Imprint: Ever Afters
About the Author:
Taryn Elliott is from the great state of New York—upstate NY, thank you very much. Her family consists of a brother who takes care of keeping the snarky side of her alive and a dog that is more spoiled child than mutt. She counts her writer-friends as the glue that keeps her crazy ideas more in the sane category, and her non-writerly friends as the reason she's not a complete hermit.
She can't go a day without laughing, and falls in love with each and every one of her leading men as she's writing their book. Music is life and every story has its own soundtrack.
Taryn is shamelessly addicted to the internet and adores hearing from readers. You can email her at taryn@tarynelliott.com or find her on most social media outlets via her website, www.tarynelliott.com.
Author Website:  http://tarynelliott.com/
Twitter: https://twitter.com/TarynElliottFic
Goodreads: http://www.goodreads.com/author/show/5456168.Taryn_Elliott
Facebook: http://www.facebook.com/TarynElliottAuthor
Giveaway: In addition to the Mega Design giveaway, Tara will also be giving away a copy of 
"Ashes and Wine" to one Lucky Winner on HJ

– HJ Contest ends 10/06/12
To Win answer this:
So, HJ readers…are you a fan of music? I love music and ADORE finding new artists. Tell me your favorite band (or bands if you can't choose just one).