Today it is my pleasure to spotlight

Barefoot In The Rain

by Roxanne St.Claire.
Thanks to the gals at Grand Central/Forever Publishing I have 10 copies of this book to Giveaway.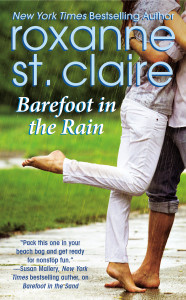 New York Times bestselling author Roxanne St. Claire has returned with her second book of the contemporary romance, Barefoot Bay Quartet, BAREFOOT IN THE RAIN. (October 2012; $7.99)
Famous "Lifecoach to the Stars" Jocelyn Bloom is entangled in scandal and desperate to go into hiding away from sunny California. When her friends offer her refuge at Barefoot Bay, Jocelyn doesn't even hesitate… even though Barefoot Bay is the one place that she wishes that she could forget.
Years ago, she left Barefoot Bay with a broken heart and a promise to stay away from Will Palmer to keep him safe. Now, nothing about the tiny island off the coast of Florida is quite how she remembers it, especially Will.
To Will Palmer, Guy Bloom is more than the elderly, senile neighbor he looks after – he is the last connection to Jocelyn, the woman Will loved and lost. After Will reunites with Jocelyn again for the first time, it doesn't go smoothly. Shocked by the change in her father's personality, Jocelyn struggles to reconcile her dark childhood with her father who has grown close to Will.
Jocelyn has guided countless clients to happiness – but can she do the same for her own?
International Giveaway: I will be giving away

10 copies

of Barefoot In The Rain by Roxanne St.Claire.
US & Canada Winner will receive a Paperback and International Winners will receive a ecopy through Netgalley.
To Enter Giveaway Please complete the Rafflecopter form below and Post a comment: 

Everyone needs a refuge… Someplace, Someone or something that makes us  feel welcome and sheltered…. What is yours?
Excerpt

When "Life Coach to the Stars" Jocelyn Bloom is embroiled in scandal, the only place she can hide is the one place she wishes she could forget. She left Barefoot Bay—and the boy next door who knew all her secrets—years ago. Now nothing about the tiny island off the coast of Florida is quite how she remembers it, especially Will Palmer. He's even more gorgeous and tempting . . . and still capable of turning her world inside out. 

To Will Palmer, Guy Bloom is more than the elderly, senile neighbor he looks after—he's the last connection to Jocelyn, the woman Will loved and lost. But the reunion with Jocelyn doesn't go smoothly. Shocked by the change in her father's personality, Jocelyn struggles to reconcile her dark childhood with the sweet, confused man who has grown close to Will. Jocelyn has guided countless clients to happiness—but can she escape the rainy days of her past for a new sunny future with Will?

Will nudged the door closed with his hip and finished his coffee, intrigued enough by the tire prints to follow them after he tossed the empty cup in the trash.  He strode along what would eventually be the Casa Blanca's scenic walkway, canopied by green and lined with exotic flowers from Africa, each villa named for a different bloom.

He passed the partially-built villas, mentally reviewing each construction schedule, but his thoughts stopped the instant he rounded the foliage that blocked Rockrose, the only fully finished villa.

That's what was different.
He squinted into the sun that backlit the vanilla-colored structure, highlighting the fact the French doors along the side were wide open, the sheer curtains Lacey had installed fluttering like ghosts.  There was no breeze, so someone had to have the overhead fan on in there.

Shit.  Vandals?  Squatters?  Maybe Lacey's teenage daughter or one of her friends taking advantage of the place?

There was no other explanation.  Rockrose had been given a CO two weeks ago.  But a certificate of occupancy didn't mean actualoccupancy, and Lacey kept the secluded villa locked tight so that none of the construction workers traipsed through or decided to use the facilities.

He took a few steps closer, instinctively flexing his muscles, ready to fight for the turf of a building that somehow had become "his."

He took cover behind an oleander bush, slipping around to get a better view into the bedroom.  He could see the sheer film of netting Lacey had hung from the bed's canopy, the decor as romantic as Morocco itself.

If anyone defiled one inch of that villa, there'd be hell to pay.  Especially Rockrose.  He'd laid the marble in the bath, shaved the oak wood crown molding, and hand-carved the columns on the fireplace mantle from one solid piece of rosewood.  The whole job had given him more satisfaction than picking off a runner trying to steal second ever had.

Irritation pushed him closer to the deck, another damn thing he made with his own two hands.  If some stupid kid had –

The filmy gauze around the bed quivered, then suddenly whisked open.  Holy hell, someone was sleeping in that bed.   He bounded closer, sucking in a breath to yell when one long, bare, shapely leg emerged from the clouds of white.

His voice trapped in his throat and his steps slammed to a stop.  The sun beamed on pale skin, spotlighting pink-tipped toes that flexed and stretched like a ballerina preparing to hit the barre.

The other leg slid into view, followed by an audible yawn and sigh that drifted over the tropical air to make the hairs on the back of his neck stand up.  He took a few stealthy steps, wanting to keep the advantage of surprise but, man, he didn't want to miss what came out of that bed next.

The feet touched the floor and a woman emerged from the netting, naked from head to toe, a dark hair falling over most of her face.  Not that he'd have looked at her face.

No, his gaze was locked on long limbs, a narrow waist, and subtle curves that begged to be handled.  Her breasts were small, budded with rose-colored nipples, her womanhood a simple sliver of ebony that matched the hair tied up in a sloppy, sexy mess on her head.

Finally, she stretched, widening her arms, yawning again, giving him a centerfold-worthy view as her breasts lifted higher.  Every functioning blood cell careened south, leaving his brain a total blank and his cock well on its way to being as hard as the planks of African wood in his truck.

Son of a bitch.  He backed up, ducking behind the oleander and cursing himself for being some kind of pervie peeping Tom.  He had to get back down the path, and return — noisily, in his truck — and find out who the hell she was.

A footstep hit the wood deck and Will inched to the side, unable to stop himself from looking.  At least she had a thin white top on now, and panties.  And she'd drawn up her hair to —

His heart stopped for at least four beats, then slammed into quadruple time.

Jocelyn.

Was it possible?  Was he imagining things?  Was this a mirage spurred by a couple of lousy pictures in the paper and three days of fantasies and frustration?

She let go of her hair, shaking her head so that a thick, black mane tumbled over her shoulders like an inky waterfall.  Then she closed her eyes and turned her face to the rising sun.

Any doubt disappeared.  Along with common sense and years of rationalization and a decade and a half of telling himself he had no choice…even though he knew differently.

Everything suddenly changed at the sight of Jocelyn Mary Bloom.  The sun was warmer.  The air was cleaner.  And his heart squeezed in a way it hadn't for fifteen years.

She turned, rubbing her arm as if a sixth sense had sent a chill over her.  "Is someone there?"

Make a joke.  Say something funny.  Walk, smile, talk.  C'mon William Palmer, don't just stand here and gawk  like you've never seen a female before.

"It's me."

She squinted into the bushes, then reared back in shock as he stepped out and revealed himself.  Her lips moved, mouthing his name, but no real sound came out.

"Will," he said for her.  "I thought someone was trespassing."

She just stared, jaw loose, eyes wide, every muscle frozen like she'd been carved out of ice.

He fought the urge to launch forward, take the three stairs up to the deck in one bound and…thaw her.  But, whoa, he knew better with Jocelyn Bloom.  One false move and poof.  Out at the plate.
Praise for New York Times Bestseller

ROXANNE ST. CLAIRE

"St. Claire writes books that keep the reader engrossed in the story from cover to cover."
    — Booklist

"On the fast track to making her name a household one."
       — Publishers Weekly

"When it comes to dishing up great romantic suspense, Roxanne St. Claire is the author you want."
       — Romantic Times BOOKreviews Magazine
ABOUT THE AUTHOR:
Roxanne St. Claire is a New York Times bestselling author of more than twenty novels. She currently writes romance for Grand Central/Forever, including the popular "Guardian Angelinos" series and also penned an eight-book award winning series called The Bullet Catchers. Next year, Delacorte Press will release her first Young Adult novel, which has been optioned as a feature film. She resides in Florida. Visit her website: www.roxannestclaire.com