Please welcome

Heather Thurmeier

the author of

'Falling for You'

to HJ
Heather, would you please introduce yourself for the readers here… 
Thank you so much for having me on your blog today! I'm not sure what to tell you about myself. I love reality TV and strawberry lime margaritas, but I do not love spiders. I was born and raised on the Canadian prairies (read: flat) but now I live in the States with my hubby and 2 awesome girls. Indy is my adventurous dog who lives up to his namesake, Indiana Jones. I write mostly contemporary romance though I may dabble a little into the paranormal romance someday soon. My books are lighthearted and funny, or at least I think they're funny. And I promise to always leave you with a happily ever after.
 What was the first romance novel you read that made an impression on you?
I don't remember the title, but I know the first romance I ever read was a Harlequin. They were always lying around the house from my mum and sisters reading them. The first romance that really made a big impact on my life was The Notebook by Nicholas Sparks. I love every aspect of that book: the romance, the conflict, the characters, and even the ending, which I didn't see coming!
 Your favorite reality TV show?
I have a few favorites: The Amazing Race, Survivor, Bachelor Pad, The Bachelor/bachelorette and Top Chef.
 If you were stranded on an Island….
I would scream for help until I passed out. Then I would pray that Jeff Probst, host of Survivor, would show up to tell me who my tribe was because as much as I would hate to be on that show (I hate bugs!!) I would be thrilled to have production people nearby!
Let's talk about your new release 'Falling for You'
 If you had to sum up 'Falling for You' what would you say?
I'd say that Falling for You is about a girl who puts herself in an uncomfortable situation in the hopes that she will find love. And she does, but not at all where she expected.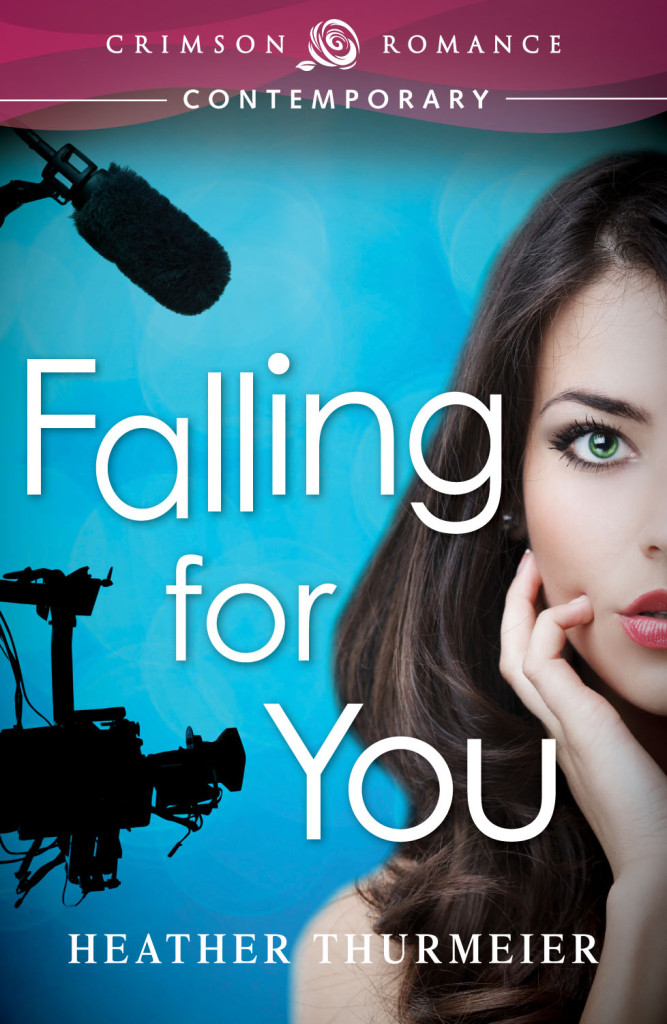 What sparked the idea for your novel 'Falling for You?'
I think I had been watching a season of Bachelor/Bachelorette –though I can't remember whose season it was — and I started wondering why these people went on the show to begin with. Was it really to find love? Did they really have no other options in their regular life to find love? Or where they there for some other reason? And that got me to thinking that what if a girl was there to find love but didn't find it with the bachelor… What if she found it with a member of the crew instead? What would happen? And the idea just snowballed from there.
 Words that best describe Cassidy & Evan?
Cassidy: Beautiful, clumsy, and charismatic.
Evan: Hunky, outdoorsy, and loyal.
As a couple: Sensual, loving, and complete.
 If you had to pick your favorite scene in the book…
There are a lot of scenes in the book that I just love, but one of my favorites is the hot tub scene where all the girls are hanging out after a long of filming. There's great tension and drama between Cassidy and Zoe. We get a little hint into Zoe's devious nature and a peek at Cassidy's feelings for Evan as they develop. So many great things to love about that scene including the very ending of it with Cassidy and Evan alone in her room…
 Who would play your Cassidy & Evan in the movie version of your book? And why?
I think Evangeline Lily would make a great Cassidy and I love her acting. She was amazing in LOST.
As for Evan, hmmm… might have to consult my hero hotness board on pinterest… hold just one second…
Okay, I'm back. Whew. Is it hot in here? *ahem* After much deliberation, I've narrowed Evan's role down to Channing Tatum, Josh Holloway, or Mark Deklin. I don't even know who that last one is but I'm pretty sure he'd fit the part of Evan just fine. Yup.
Do you have any other upcoming releases?
Yes, the sequel to Falling for You is coming Feb 2013. Stuck on You is Paige's story and it takes place on another reality TV show. Although this one isn't a dating show, there is lots of on and off camera romance between contestants.
Thank you so much for having me today, Sara! Now I have a question for readers:

If you had to pick one reality TV show to go on (even if you hate reality TV!) what show would you pick and why?
Heather Thurmeier
Giveaway: One lucky Winner will win a copy of "Falling for You' plus $5 GC
For your chance to win, please complete the Rafflecopter form below and answer this: 
If you had to pick one reality TV show to go on (even if you hate reality TV!) what show would you pick and why?
Would you please share an excerpt from the book
"Stay still, Corona," she pleaded, patting the horse on the shoulder. She swung her leg over the horse, determined to successfully complete one dismount before the challenge ended.

Her arms shook as she lowered herself carefully from the saddle, finally giving up their fight part way down. Gravity took her the last few feet and she hit the ground with both feet, stumbling backward a step before bumping into something solid.

"How, Cassidy? How do you always end up in my arms?" Evan's voice rumbled in her ear, his warm breath on her earlobe making her girly bits tingle.

She found her footing and turned in his arms. She could see the dust and dirt clinging to his five o'clock shadow, his brow beaded with sweat. He desperately needed a shower and there was nothing she could have fantasized about more than being in one with him. Instead, she pushed herself back from him and swallowed her urge to climb him like a jungle gym.

"What can I say? I guess I just keep falling for you," she said, before her brain caught up to her mouth and she was able to censor herself.
Author Info:
"Heather Thurmeier's hunky heroes and feisty heroines will have you laughing out loud, falling in love … and coming back for more!" ~ Carly Phillips, NY Times Bestselling Author
"Heather Thurmeier writes sweet, funny romances that capture your heart!" –NYT and USA Today bestselling author Jennifer Probst Love and Lattes, Love on Landing, Love or Luxury, Bunny Hills and Bikinis, Falling for You ~ Available now!
Stuck on You, Lost without You ~ Coming Soon!
Website | Twitter | Goodreads|