Today it is my pleasure to welcome NY Times bestselling author 

Kim Barnouin

to HJ!
It's hard to choose my favorite scenes from Skinny Bitch in Love when I love the whole book so much, but I will try!
My first favorite part is the book opener when Clementine is cooking for the food critic and the chef has left her in charge of the kitchen. It's the dinner rush and she is trying so hard to impress not only the food critic but the chef as well. A back-stabbing co-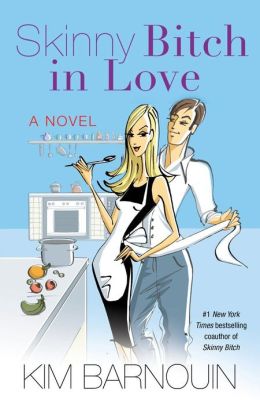 worker puts real butter in a vegan dish that is for the food critic and gets Clementine fired, and she gets a bad reputation for the "butter" incident. The scene reminds me of my days as a waitress and the chaos that goes on in the kitchen.
My next favorite part is in chapter 3, when Sara, Clementine's roommate suggests that Clementine start her own vegan personal catering business and cooking classes. Just when Clementine is down in the dumps about getting fired Sara lifts her up by inspiring her to work for herself. I like how Skinny Bitch is brought to life in the book that way, it incorporates my brand with my fiction book. It reminds me of the time I got dumped by a boyfriend and my best friend came to my rescue and inspired me to get myself together and start a business for myself. Clementine pushes through getting fired by getting her cooking school together and cooking for her ex.
I love Chapter 10 when Clementine needs more money to rent the space for her cafe so she decides to start baking treats for local restaurants. It's a Saturday morning and she cranks up the Red Hot Chili Peppers and spends the day baking some really fantastic treats. Her kitchen is a mess but smells like heaven. She goes with her friend Ty to different restaurants and sells her goodies. Days like her baking Saturday are a treat for me, I love baking so much and I love when I have the time to do it. I actually might do that for real one of these days.
Lastly, I love chapter 21 when Clementine gets asked to participate in a cook off on a tv show called Eat Me. She has to make eggplant Parmesan and beat the obnoxious host and make a better dish than his. Her roommate Sara is her assistant and together they try to make the better dish and woo the nineteen judges to win the cooking contest for the prize of $25,000, what Clementine needs to open her own cafe. It's an exciting chapter that makes you root for Clementine and is a pretty realistic example of some of the reality cooking shows we have on tv today.
Giveaway:
2 print copies of Skinny Bitch in Love by Kim Barnouin 
To enter giveaway: Please complete Rafflecopter form and post a comment and tell me
If you were competing in a cooking contest for the prize of $25,000 what would you cook / bake? Why?  Share the recipe will ya 😉  
About the book:
Clementine Cooper is a born vegan, com­mitted in every way to the healthy lifestyle she was raised with on her father's organic farm. But how bad could a little butter be? Bad enough to get the ambitious and talented sous chef fired when an influential food critic discovers dairy in Clem's butternut squash ravioli with garlic sage sauce. Though she was sabotaged by a backstab­bing coworker, Clem finds herself unceremo­niously blackballed from every vegan kitchen in L.A.
Like any vegan chef worth her salt, however, Clem knows how to turn lemons into delicious, cruelty-free lemonade cupcakes. She launches the Skinny Bitch Cooking School in hopes of soon opening her own café in an empty space near her apartment. But on the first day of class, sexy millionaire restaurateur Zach Jeffries puts a fork in her idea with his own plans for the space—a steakhouse. Clem is livid. For a carnivore, Zach is more complicated than she anticipated. He's also a very good kisser. But could dating one of the most eligible bachelors in the city—and a meat-eater—be as bad for Clem as high-fructose corn syrup? Shouldn't she fall instead for a man who seems to be her perfect match in every way—like Alexander Orr, a very cute, very sweet vegan chef?
Clem thought she was open-minded, but as she confronts the challenges of budding entrepre­neurship, old rivals, ex-boyfriends, and tempting suitors, she begins to wonder if she can ever say "I love you" to a man who hates tofu.
About the Author
Kim Barnouin lives in California with her husband and son. Kim coauthored the #1 New York Times bestselling Skinny Bitch series, which includes such hit titles as Skinny Bitch,Skinny Bitch in the Kitch, Skinny Bastard, Skinny Bitch: Ultimate Everyday Cookbook, and Skinny Bitch Book of Vegan Swaps.