Today it is my pleasure to welcome Harlequin Romance author

Donna Alward

to HJ!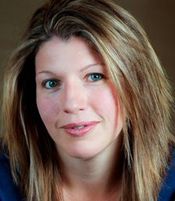 I love friends to lovers stories. When my editor and I talked about this book, I seriously had trouble coming up with an idea. Funny thing though. I'm surrounded by teenagers a lot of the time, both my own and their friends – complete with the romantic minefield that they have to navigate between the ages of twelve and seventeen or eighteen. I've seen young love flame up and burn out, I've seen sweet love last longer than I thought it might, and I've definitely seen lots of the unrequited kind where one person likes someone who doesn't like them back. And I've seen how hard it is when that person is a good friend.
Friends to lovers!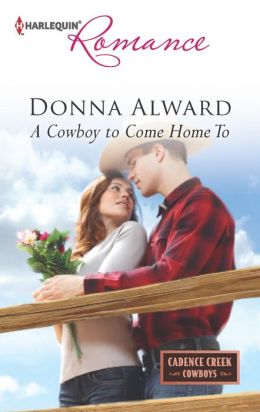 So I had a basic premise, and then my girls helped me brainstorm a bit. I totally owe the flower shop idea to them. It was a lot of fun hashing out the details with them last summer!
Once I knew why Melissa was so angry with Cooper, it all came together. My favourite scene to write was the opening, I think. It all started with the first line and it was really the first time they'd spoken since their big blow up three years before.  And Coop is charm itself. No wonder she got her back up. I love writing that kind of tension-filled dialogue!
Giveaway: I'm giving away
a kindle copy of A COWBOY TO COME HOME

TO

to one winner who answers that question in the comments section!
To enter Giveaway: Please complete the Rafflecopter form and post a comment to this Q:
Do you like friends to lovers stories? What's your favorite romantic hook?
Here's an excerpt:
COOPER FORD WAS six foot two of faded denim and plaid cotton, accessorized by an insufferable ego.

The smile slid off of Melissa Stone's face as Coop pulled the door to the flower shop closed behind him, the little brass bell dinging annoyingly as he reached up and took off his hat. Oh, wasn't he all charm and politeness. Melissa's replacement smile was plastic and somewhat forced. Just what she needed at five o'clock on a Friday afternoon. To be face-to-face with the one man left in Cadence Creek who she wished would simply dry up and blow away.

"Afternoon, Melissa."

She gritted her teeth at the sound of his deep voice, somehow musical even when saying the most mundane things. "Cooper."

She refused to call him Coop like everyone else in town. Like she had years ago when they'd all hung out together, having a few beers around a campfire after a Sunday-night softball game. When he'd been the sort of guy she'd been proud to call friend. Now he was Cooper. If she thought he'd let her get away with it, she'd call him Mr. Ford. He deserved it.

But that would be a little too obvious. A very stiff "Cooper" sent the same message with a touch more subtlety—even if he did remain Coop in her head. The old days were gone. They weren't friends any longer. To her recollection, this was the first time he'd ever deigned to darken the flower shop door.

He smiled at her. "Nice day out there. Cool, but sunny."

Oh, this was positively painful. The weather? Seriously? She blinked, trying to ignore Coop's big frame, which fit perfectly into his dusty jeans and the worn denim jacket that looked as if he'd had it for at least a decade. The edges of the collar and cuffs were white and slightly frayed. The jacket gaped open, revealing an old plaid shirt with a streak of dirt smeared across his chest.

One positive thing she could say about Coop: he wasn't lazy. From the look of him he was straight off the ranch. From the smell of him, too—the pungent but not unpleasant scent of horses clung to his clothing.

"Forecast says frost maybe tonight." She resisted the urge to tap her nails on the counter. The weather, she realized, was a safe topic. "What can I do for you, Cooper?"

He bumped his hat on the side of his leg. "I need some flowers."

His gaze dropped to the green apron she wore when she was in her shop. The words Foothills Floral Design were embroidered on the left breast. Pockets lined the bottom, where she could keep her scissors and pocket knife and anything else she needed as she worked around the store.

Her cheeks heated. No big surprise that Cooper was staring at her breasts. He liked women, did Cooper Ford. When she'd been married, Coop had a new girl hanging off his arm every other month, it seemed. A real love-'em-and-leave-'em kind of guy. She took a deep breath. "What kind of flowers?"

His gaze lifted to meet hers and she found herself drawn to the golden flecks in the hazel depths. He had lashes that were too long to be decent for any self-respecting man, which made his eyes quite pretty.

Pretty enough for him to get away with just about anything in this town, she reminded herself with disgust. Except with her. She knew exactly what kind of guy Cooper was. He'd definitely shown his true colors the day he'd betrayed their friendship.

"I don't know," he confessed with a sheepish grin. "Something big. Something that says I'm really, really sorry."

Acid soured her stomach. Ugh. Apology flowers. And she could just imagine what the combo of Coop and a big bouquet would do to some silly doe-eyed girl who didn't know any better. "Who'd you do wrong now, Coop?"

The words were out before she could think better of them and she couldn't take them back. His gaze sharpened, but he merely raised one eyebrow. It made her feel small, as she always did when she was reminded of what a fool she'd been three years ago.

Walking in on her husband, Scott, and his girlfriend had been the most humiliating moment of her life. It had made her one big cliché.

She'd thought it couldn't get any worse, but then she'd discovered that Coop had known all along. He'd been aware that her husband—his best buddy—was having an affair. And he hadn't said a single, blessed word to her about it. No heads-up. No…nothing.

The joke had totally been on her, and she'd never forgotten it. Even now, as she took the steps to truly move on—alone—his betrayal stung. There was sticking by your friend and there was doing what was right. Cooper didn't choose right.

"I missed my mother's birthday," he replied, putting his weight on one hip and hooking a thumb in his jeans pocket. "I was out of town all week. But it was her sixtieth and so now I'm trying to make it up to her."

Once more Melissa felt foolish. She didn't like Cooper. Actually, the truth was more that she didn't trust him. She didn't respect him. She should just let it go, like water off a duck's back, as the old saying went. She definitely should not let him get to her, especially after all this time.

"Oh," she answered. "Then I'm sure I can help. Do you want it in a vase or paper?"

"Paper," he answered. "She's got a million vases around the house. And no roses. They're too formal and old-ladyish. Something mixed."

Melissa tended to agree. Not that roses weren't great, and they were definitely a classic—elegant and timeless. But she secretly preferred something simpler, more wildflowerish and whimsical. "Colors?"

"Yellows. Maybe with some red and blue in it? Colorful and, well, large. It's a big apology."

He smiled down at Melissa and she nearly smiled back before catching herself. "Give me fifteen minutes or so," she replied, jotting the order on her notepad. "You can come back and pick it up, yeah?"

He nodded. "It'll give me time to go to the pharmacy and get a nice card."

"Gee, nothing says 'Happy Birthday, Mom' like a last-minute card," she replied drily.

He didn't answer.

"Okay," she said, putting down her pen. "Fifteen minutes."

"Thanks, Mel," he said, putting his hat back on his head.

Mel.

No one had called her that in ages. Certainly not Cooper, who she avoided as often as possible, which took some creativity in a town the size of Cadence Creek. Thankfully, he felt the same way, and even if they ended up at the same functions, they steered well clear of each other. Opposite ends of the room sort of thing. Definitely no eye contact or chitchat.

But hearing the shortened version of her name—Mel—took her back to the old days. The days when she'd thought she was happy, and she'd really been living in a fantasy world.
Book Info
Friendship?
Melissa Stone has done a fine job of avoiding her former best friend
Cooper Ford. She was devastated when she discovered her husband was cheating on
her, and felt doubly betrayed that Cooper had known all along….

Forgiveness…

But she can't ignore him forever–especially now that they're working together
on a charity project! And as she and Cooper get closer again, she confides in
him her plans to start a family–alone.

Fatherhood!

Cooper wants to be there for her this time–but would he really consider being
the father of her baby…?