Today it is my pleasure to Welcome romance author
Kris
to HJ!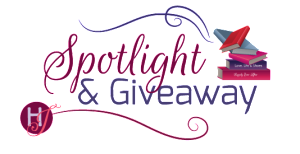 Hi Kris and welcome to HJ! We're so excited to chat with you about your new release, A Family Come True!

Hello! It's so good to be back!

Please summarize the book a la Twitter style for the readers here: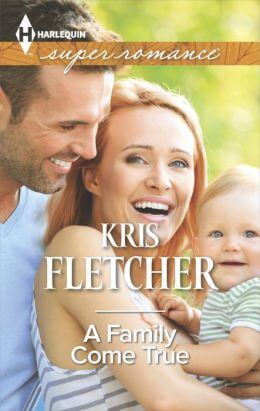 A Family Come True: Best friends, a semi-secret baby, a fake relationship, unexpected kisses, and a dog.

Please share your favorite line or quote from this book:
Every time Ian thought that this trip home had already grown as unbelievable as possible, the stakes ramped up again. Like now. Sitting down to dinner with his folks, his meddling grandmother, his former fiancée, his brother who had married and knocked up his former fiancée, his fake lover, her baby and the baby daddy. They were a freakin' reality show in the making.
Please share a few FUN facts about this book…
The first version of the book had Darcy and Ian running away together to elude a potential dognapper.
This originally started as a Christmas book. Scheduling made that impossible, but that worked in my favor, because June and Father's Day was the perfect fit.
The playlist of songs that helped me get into the story can be found at https://www.youtube.com/playlist?list=PL7REcYQiIYAqeLiqlZ0qn2O9jIjaL_a2s
Please tell us a little about the characters in your book. As you wrote your protagonist was there anything about them that surprised you?
Darcy, a single mom carving a new life for herself after unexpected motherhood tipped her life sideways.
Ian, who spent the last two years renting Darcy's garage apartment and putting his life back together after his fiancee left him for his brother.
Xander, Ian's friend and the biological father of Darcy's daughter.
Cady, Darcy's daughter.
And of course, Lulu the wonder dog.

What kind of research did you do for this book?
Computer crimes. Parole in Canada. Dog breeds. The Stratford Shakespeare Festival. The Ben and Jerry's Foundation. Maternity leave in Canada. The daily life and abilities of a one-year-old. Canadian paternity rights. The tasks of a virtual assistant (which led to extreme longing on my part, but that's another story …)

The First kiss…
Ian paused, considered and then—before he could talk himself out of it—brushed a quick kiss against her mouth.

He kept it light. Fast. Barely long enough to register the hint of ginger on her breath, nowhere near hot enough to account for the rush of God, yes that hit him even as he reminded himself that it was all for show…

But damn, she tasted good.

And, whoa damn, when her lips parted—purely from shock, he knew—he had to drag himself away.

And, hot damn, but if this was a mistake, it was the best one he'd made in a long time
Was there a scene in this book that was harder to write than others?
Oh, I had horrible problems with the big blow-out breakup scene. There was so much happening, and so many emotions to keep straight. I was so worried about it that as soon as I finished revising it (because I totally blew it in the first draft), I sent it to my editor and begged her to tell me if it worked this time around. I was SO relieved when she gave it a thumbs up!
Excerpt:

"Hold on. I'm stubborn?" He leveled a finger in her direction. "What gave you the right to set me up that way?"

Love, that was what. Love and watching him hurt for two years and knowing in her gut that Carter had hurt him far worse than Taylor had, and that until he realized that, there was no way this family was going to heal.

But she'd be damned if she'd tell him she loved him when she was ready to toss him in the river.
If your book was optioned for a movie, what scene would be absolutely crucial to include and why?
Um – all of them? But it would be essential to include the scene when Darcy tells Xander that he is the father of her baby.
"So…" She sandwiched her hands between her bent knees. If she couldn't see them trembling, she might be less nervous. "I know you must have a lot of questions, but this will probably be easier if you let me talk first, okay?"

Xander's slow nod was chased by a swifter shake of the head. "Wait. First. I— Is she— That baby. She's really…?"

His question hung in the air between them, unfinished but no less decisive. Once she answered him, she knew the life she had built—her and Cady with a big side of Ian—was all going to change. And most of it would depend on Xander. Someone not family. Someone she knew far less than she should.

It was a feeling she knew all too well, and it was no more welcome now than it had been in the past. Except now it was worse, because it was going to impact Cady.

She took a deep breath. Facts first. Future later.

"Yes." Damnation, her hands were still quivering. Clamping her knees tighter—right, Maguire, now you remember to keep your knees closed—she forced out the words she'd been dreading for the past year and eight months. "Yes, Xander. She's your daughter."

Somewhere nearby a bird let loose with a delighted trill. Talk about surreal. First Xander reappeared, now her life was turning into a frickin' Disney princess adventure complete with animals performing on cue.
What do you want people to take away from reading this book?
I'd like people to come away feeling that there are degrees of hurt and degrees of healing, and that love really is the most powerful healer.

What are you currently working on? What other releases do you have planned for 2015?
I'm working on another Comeback Cove story, but nothing is definite yet so I can't say anything more. Don't want to jinx it!
Thanks for blogging at HJ!
Giveaway:

I'm giving away two copies of Dating a Single Dad, the book which precedes this one and sets up Ian's story. I can do print or electronic – winners choice – but print is open only to residents of the US and Canada.
To enter Giveaway: Please complete the Rafflecopter form and Post a comment to this Q:

Ian's family was thrown into crisis two years earlier, when his fiancee left him for his brother. Time and distance have helped, but there is still an undercurrent of tension. Do you think it's possible for a man to forgive this kind of hurt? Do you feel a family could ever recover from it?
Excerpt from A Family Come True:
Xander and I need to talk.

Xander and I.

The words had pounded through Ian as he'd carried Cady into the house, leaving Darcy and Xander alone in the driveway. Alone together.

Xander and Darcy.

He had walked blindly into the kitchen, where he'd come to a sudden stop. Cady had grabbed his chin and Lulu whined at his feet. A distant corner of his brain had whispered reminders about food, water and diapers, but another, more urgent voice had had him perching Cady on the edge of the counter, where he'd held her tight around the waist and stared at her.

Xander.

He could see Xander in her now. The pale blond hair pulled into one ponytail on top of her head like a platinum exclamation point above her rosy cheeks. Legs that were starting to shed their baby fat in favor of lean length. That crooked twist to her lips that he and Darcy had laughed over, calling it her Elvis impersonation. How many times had he picked her up and touched that mouth and sung "Heartbreak Hotel" to her? Her first real laugh had happened during one of those moments.

Turns out the laugh was on him.

"Mum mum mum." Cady wriggled within his grasp, a familiar unhappy edge creeping into her voice. He shook his head.

The best way to cure your worries is by helping someone else. His grandmother's voice was so clear in his head he almost expected to see her walk through the door. She'd drilled those words into him all his life. He had to admit, she had a point. Doing things for Darcy, especially once he had figured out she was pregnant—well, he'd certainly felt better after shoveling her driveway than he had after time spent mulling the mess his life had been.

Though even Grandma Moxie probably would cut him some slack right now.
Excerpts. © Reprinted by permission. All rights reserved.

Book Info:
It Started With A Kiss …
Ian North is the one person Darcy Maguire can always count on. So when her daughter's biological father shows up unannounced, she knows Ian will do whatever it takes to help. A kiss, however, is the last thing she expects.
Suddenly their little white lie is out of control. They're spending Father's Day with Ian's family and lying about being a couple. Only pretending isn't enough for Darcy anymore. Ian is the best father her daughter could have, and she's ready to make it official. But how can she know for certain where the lie ends and reality begins?
Meet the Author: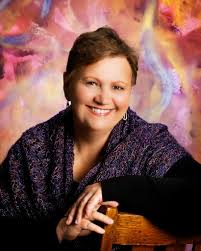 Kris Fletcher has been to five of the seven continents, can speak about a dozen words in Russian, and can fold a fitted sheet without swearing (though not always on the first try). She holds a Master's degree in Child and Family Studies which she puts to work every day in her dual careers of raising children and writing fiction. She is an adoption advocate, a semi-recovered volunteer, and the proud possessor of Harrison Ford's autograph on an article she wrote about him.
Kris grew up in southern Ontario, went to school in Nova Scotia, married a man from Maine, and now lives in central New York. She shares her home (fondly known as Casa Chaos) with her husband, an ever-changing number of their kids, and the occasional grand-hamster. Her greatest hope is that dust bunnies never develop intelligence.
Website | Facebook | Twitter |