Today it is my pleasure to Welcome author
Katee Robert
to HJ!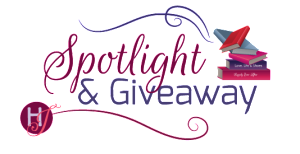 Hi Katee and welcome to HJ! We're so excited to chat with you about your new release, A Fool For You!

Thank you so much for having me!

Please summarize the book a la Twitter style for the readers here: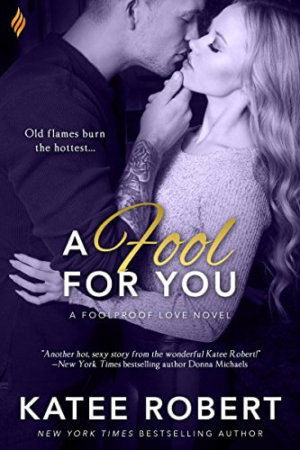 They thought one night up was a way of saying goodbye…until she got pregnant.

Please share the opening lines of this book:
Hope Moore held her breath as she passed the sign declaring Welcome to Devil's Falls. She hadn't crossed the town boundary in thirteen years, not since she sat next to an open grave as they lowered her brother into the ground. Not since she turned her back on her entire life here, whisked away by her parents to the best medical facilities Texas had to offer.

She touched her knee. She'd never cheered again, never run track, never done any of the things she'd had planned when she was eighteen and had graduated high school with stars in her eyes.
Please share a few Fun facts about this book…
Daniel's name was originally Richard…VERY glad to have changed that.
I didn't realize Hope's leg had been injured until I actually started writing the book.
The name of the town, Devil's Falls, is partially a nod to my totally irrational love for Jennifer's Body (the name of the town in that movie was Devil's Kettle)
I let my reader group name Daniel's dog, and they settled on Ollie.
What first attracts your Hero to the Heroine and vice versa?
They were high school sweethearts, so they have SO much history between them. He's always been attracted to her strength and her drive. No matter what life throws at her, she lands on her feet.
She's always loved his optimism, which is something that changed quite a bit during the time they were apart, and so her helping him find it again was a treat to explore.

Using just 5 words, how would you describe Hero and Heroine's love affair?
Combustable, angsty, magnetic, angry, peace.

The First Kiss…
"When you look at me like that, I forget all the reasons I promised to leave you alone."

Why the hell would he promise to leave her alone? That was the stupidest thing she'd ever heard. She clenched her teeth together to keep from telling him so and ruining the moment. There would be plenty of time to rip Daniel a new one…later. "Then don't." She grabbed the front of his T-shirt and pulled him against her, stretching up to kiss him. He resisted for a grand total of one second.

And then he took control.

Daniel brought his hand up to yank her ponytail holder out and tangle in her hair, simultaneously picking her up and backing them up against the house. And then he was there, his body pinning her in place, his thigh wedging between her legs, proving providing a delicious pressure against where she felt most empty. He took possession of her mouth, his tongue teasing her lips open and stroking against hers in a way that had to be designed to make the top of her head explode.

He used his grip on her hair to tilt her head back and kiss down her neck. "If I was a better man, I'd leave you alone."
Without revealing too much, what is your favorite scene in the book?
It's actually one of the first scenes in the book between Daniel and the heroine of the previous book, Aubry. I think, given time, those two would end up being besties, and the scenes where they end up in the same room are a treat to write.
He stared. "I don't want a surprise birthday party." The fact that it was no longer a surprise said a whole lot about Aubry's priorities, and he couldn't blame her for that.

"Look at my face. This is the face of a woman who doesn't give two fucks what you care about. What I care about is Jules, and that means you're going to go shower off the smell of that animal and show up at their house in an hour, right on time." She paused, her brows slanting down in an expression that was downright forbidding. "You helped me out not too long ago, so I'm going to do you a solid and give you the lowdown. Ready?"

Fuck, no. "Sure."

"Jules is worried about you. Really worried. If you don't show up tonight, she's going to take that as a sign to go forward with plan B."

He knew he was going to regret it, but he still asked, "What's plan B?"

Aubry gave a tight smile. "A full-scale intervention with everyone in your life, including your parents. The kind where they sit you down in a circle and each speak their mind in the most uncomfortable way possible until you're ready to beg the ground to swallow you whole."
If your book was optioned for a movie, what scene would be absolutely crucial to include?
It would be the first time Daniel sees Hope after so long apart. They have such a complicated history and there's so much good and bad and ugly wrapped up in that split second. It would be amazing to see it acted out.
For one eternal moment, Daniel considered shouldering past his friends and walking out the back door. Whatever put that look on Quinn and Adam's faces wasn't something he wanted to deal with. They almost looked like they'd seen a ghost.

But his dad hadn't raised a coward, so he took a deep breath and turned around.

And froze.

She looks the same.

He blinked, but Hope Moore didn't disappear. She just stood in the doorway, her blond hair pulled back in an effortless ponytail, her face older than when he'd last seen her but more beautiful for the years written across it. Her body had filled out, her hips and breasts curvier than they'd been at eighteen. She didn't look like a girl anymore. No, Hope was full woman.

And then, because he couldn't help it, his gaze dropped to her left leg. Her skirt was too long to see the scar he knew must wind down her leg, the scar he'd put there. Knee replacements weren't pretty, and her bones had already been mangled by the time she made it to the hospital, her entire future ruined in the space of a single heartbeat.

Because of him.

She flinched, which was answer enough. He hadn't imagined it, and the handful of surgeries, the months and months of recovery, the loss of her cross-country scholarship, all of it, had really happened to her. What's the ability to run compared to a brother? You fucked everything beyond recognition. He dragged his attention back to her face, determined not to look at her leg again. He'd been the one responsible—the least he could do was avoid making her feel uncomfortable.

She recovered quickly, offering him a small, sad smile. "Hey, Daniel."
Readers should read this book …
If they like reunited lovers stories with a dash of accidental pregnancy.
What are you currently working on? What other releases do you have planned for 2016?
I'm currently working on Hidden Sins #2 (the first book, The Devil's Daughter, comes out in January), which should really be titled "Why Katee Will Never Camp. EVER."
A Fool For You is my final book out this year, but I have five currently scheduled for next year, so the good times keep on rolling!
Thanks for blogging at HJ!
Giveaway:

$25 gift card to either Amazon or B&N
To enter Giveaway: Please complete the Rafflecopter form and Post a comment to this Q:

Do you like books about old flames reunited? What's your favorite book featuring that? I'm always looking to add to my TBR pile!
Excerpt from A Fool For You:
He set the pup down in the yard and crouched next to her, watching her run back and forth, still in the awkward stage where her paws seemed too big for her body. She really was a cutie. She was also going to need a name. "How about Ollie?"

"I like it."

He turned to find Hope standing behind him. Again. "You sure move quiet when you want to." Especially for a woman with a bum leg. Not that he could say as much without sounding like a jackass.

"You mean since I had my knee replaced." Of course she knew what he meant anyway. Apparently damn near reading his mind was one annoying habit she hadn't outgrown.

"I didn't say that."

"You didn't have to." She leveraged herself down next to him, the move not quiet as smooth as it'd been when she was eighteen.

Daniel almost cursed. He had to stop doing that. Comparing her now to how she was then wasn't fair to either of them. It was another lifetime completely, and thinking about it was just fucking depressing. "Hope—"

"Are you seeing anyone?"

"No."

"Why not?"

He was so surprised by the question that he answered honestly, "Why the fuck would I bother?"

"Oh, I don't know, because you don't want to be a creepy old man who lives in the middle of nowhere and has to run off silly high school kids with his shotgun because they tell ghost stories about him?"
He looked at her, half sure that she was the one who'd lost her damn mind. "That's not a thing."
"It is most definitely a thing." She leaned back on her hands and stared at the sky. The most move arched her back and pressed her breasts against the fancy tank top she wore. It was made of some kind of drapey fabric that looked soft and shiny, and it highlighted the fact that he seriously doubted she was wearing a bra. "You're too young to just give up."

"It's not about giving up." Though he didn't expect Hope to understand that. He'd checked up on her a few times since the accident, and every single time he was amazed at the things she'd accomplished. Life had kicked her in the teeth and she'd come back swinging. She'd taken two years off and then attended the University of Texas and graduated with honors. She ran her own successful consulting business to work with companies that wanted to set up scholarships and nonprofits.

She shifted to look at him. "It looks like giving up from where I'm sitting." She continued before he could respond, not that he knew what the fuck he was supposed to say to that. "Are you happy?"
What the hell kind of question was that? "I'm getting by."

"That pretty much answers that." She gave him a bittersweet smile. "I should have come back before now to check on you—or at least knock some sense into you, since apparently you need some tough love."

Check on him like he was her responsibility, when the truth was he was the one to blame for everything bad that had happened to her. "You worry about your own life and leave me to worry about mine."

"Because you're doing such a stand-up job of living it?"
Excerpts. © Reprinted by permission. All rights reserved.

Book Info:
It's been thirteen years since Hope Moore left Devil's Falls, land of sexy cowboys and bad memories. Back for the weekend, she has no intention of seeing the man she never got over…or the two of them getting down and dirty. It's just a belated goodbye, right? No harm, no foul.
Until six weeks later, when her pregnancy test comes back positive…
Daniel Rodriguez hasn't forgiven himself for how things went down with Hope all those years ago. He knows she's better off without him, but when she shows up on his doorstep, panicking because she's pregnant with his baby, he can't help seeing it as a chance to make up for the past.
Too bad Hope has no intention of going along with his plans.
Book Links:

Meet the Author:
New York Times and USA TODAY bestselling author Katee Robert learned to tell her stories at her grandpa's knee. She found romance novels at age twelve and they changed her life. When not writing sexy contemporary and romantic suspense, she spends her time playing imaginary games with her children, driving her husband batty with what-if questions, and planning for the inevitable zombie apocalypse.
Website | Facebook | Twitter |