Today it is my pleasure to Welcome romance author
Melissa McClone
to HJ!

 Hi Melissa, Welcome to HJ!
What would you say are the 5 best things about being a writer?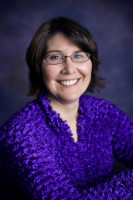 The five best things are working in my pajamas, being able to work at home (or anywhere else I need to be), the ability to live other lives through my characters, meeting other writers and holding a book I've written in my hands.
Let's talk about your newest release: A Little Bit of Holiday Magic
If you had to summarize A Little Bit of Holiday Magic for the readers here
A Little Bit of Holiday Magic is the story of a single mom gets stuck on Mount Hood in a blizzard with her three year old son. A firefighter comes to her rescue and invites her and her son to spend Christmas with him. She is tempted but after the death of her Army Ranger husband, the last thing she needs in her life, or her heart, is another hero.
Please tell us about the characters in your book?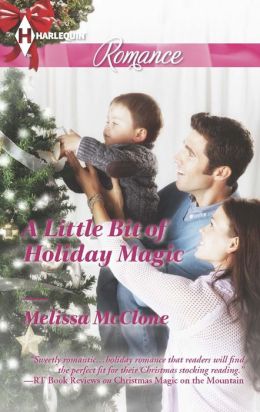 Bill Paulson is a firefighter and a volunteer mountain rescuer. An only child, he struggles with his hovering mother even though he's in his thirty. He's a player who enjoys dating women. Well, as long as they don't have kids. His father failed as a parent and Bill fears he'll do the same if ever in that position.
Grace Wilcox is an Army Ranger's widow with a three year old. After getting her accounting degree, she wants to make a fresh start in Astoria, Oregon. Her life revolves around her young son. She's not interested in having a relationship yet. She's afraid of loving and losing again.
Was it love at first sight for your characters? If not what was the pivotal moment of change?
It was not love at first sight for Bill and Grace. He thought she was attractive but needed to loosen up. She thought Bill was good-looking, but was afraid she'd stumbled onto the house of an axe murderer. The pivotal moment of change was as they got to know one other. She was first taken by how good he was with her son, then with her. Bill thought she was hot, but as she and Liam turned his house into a home, Bill soon realized his emotions were more than physical.
If your characters could go back in time and change one thing what would it be? Why?
Bill would want to go back so he would know to call for help sooner so his mother wouldn't miscarry. He's always blamed himself, even though he was a child, for the baby dying and not being a good enough son.
Grace would go back and tell her late husband Damon not to go on the patrol where he was killed. She still wishes he were alive.
What scene did you have the most fun writing? Why?
I had so much fun writing the scene where the hero, heroine and her son are out playing in the snow. That scene had been with me when I first came up with the idea for this story. This is the day after they meet so still getting to know one another, but I thought it would give the reader a glimpse of the family they could be someday.
Bill enjoyed this afternoon's interlude from reality more than he thought he would. He'd liked being called Daddy, and liked having the kid look up to him. For a few hours, Bill could be the kind of father he wished his dad had been. And no one would be hurt when he went back to being a fun-loving, womanizing bachelor. A win-win for all involved.

Liam stuck out his tongue, trying to catch a snowflake.

Grace held up a camera. She wore one of his soft shell jackets over her zip-up fleece. Strands of brown hair stuck out from under the colorful stripped wool beanie, also his. A pair of black gloves kept her hands warm. She looked wintery cute, like a photo from a Hood Hamlet Visitors Center brochure.

"Got it." She focused the lens on Bill. "Your turn."

He struck a serious pose, if pretending to be an artist sculpting snow could be deemed serious.

Liam jumped into the picture. Not easy with knee-high snow and so many articles of clothing he looked like the Michelin Man. The poor kid had to be sweating beneath all the layers Grace had made him wear.

The condensation from her sigh floated away on the air.

Bill had to laugh. "Photo bomb."

"I don't think he knows what that is." She lowered her camera. The cold had turned her cheeks rosy. Her eyes were clear and bright. "At least I hope not."

"Then the kid's a natural." Bill patted Liam's fleece cap. "Because he's got the method down."

"It's nice to see him clown around."

Grace's lighthearted tone thrilled Bill. Emptying her pickup and watching the truck be towed away had seemed to release the remaining grip she held on herself after decorating the tree.
What scene was the hardest to write? Why?
I think the hardest was when Bill had to go off on a mission and Grace realized he'd be putting himself into danger. It brought back all her baggage from her first marriage and her fears. The hard part was making sure the past wasn't overwhelming the present if that makes sense. But I needed her ex-husband in there to show how things with Bill were similar, yet different.
"It's just…Watching you get ready…"Grace chewed the inside of her lip. "I didn't know when Damon was going into danger. I never knew how he prepared for a patrol or what he was thinking when he headed out. He never talked about the details, what he saw or what he did. And I couldn't ask."

"You can ask me anything. Anytime."

She looked down. "I don't want to distract you. I'm sorry if I have."

"Hey, don't be sorry. I asked about you because I wanted to know."

"Damon rarely asked. If he did, he didn't press when I wouldn't answer." She rubbed her neck, thinking about their long-distant conversations. She'd been thankful for each minute. "I never wanted him to be distracted. I wanted to make sure he came back. But he…didn't."

Bill cupped her face with his callused palm. He stroked her cheek with his thumb. "I'm coming back, Gracie."

Her worry didn't disappear, but his confidence eased some concerns. "You better."

His hand was on her face, a half smile on his. "Trust me."
How did your character spend the week just before the story starts?
Bill Paulson spent the week working at the fire station and having fun on Mount Hood when he was off. He'd gotten fit for a tuxedo an upcoming wedding where he's a groomsman. He also stopped dating because he doesn't date during the holidays.
Grace Wilcox spent the week packing, selling furniture and donating items to a local charity. She poured over maps to find the best route from Columbus, Georgia to Astoria, Oregon. She and her son Liam also said goodbye to their friends.
Who would you cast in the role of your characters if your book was optioned for a movie?
Paul Walker for Bill Paulson and Anna Kendrick for Grace Wilcox.
What are you currently working on? What other releases so you have planned for 2013 into 2014?
I have a Christmas novella called Home for Christmas out now with Montana Born Books, an imprint of Tule Publishing. It's set on a dude ranch in Montana. I hope to write more stories for Tule in 2014, but nothing is firmed up yet. A Little Bit of Holiday Magic was my final book with the Harlequin Romance line. I am moving to Harlequin's Special Edition line. As of now I have 2015 release dates, but I've got my fingers crossed a slot opens up in 2014.
Thanks for blogging at HJ!
Giveaway:

$10 Amazon gift card.
To enter Giveaway:

Please complete the Rafflecopter form and Post a comment to this Q: What are you looking forward to most this holiday season?
Except
FIVE MINUTES LATER, Bill took the phone from Grace, who held onto his pajamas with her other hand. The lines creasing her forehead had disappeared, but the wariness in her eyes remained. He hoped that look wasn't due to something the sheriff had said. "All good now?"

"The sheriff said Liam and I would be safe with you." Her voice sounded stronger, but her words had a nervous edge. She rubbed her fingertips against the pajamas. "He's going to take care of my truck."

"Truck," Liam repeated. "I like trucks. Big ones."

"Me, too." The kid was cute. So was the mom. If she would quit acting as if Bill was a murderer. She shifted her weight from foot to foot. At least her toes weren't frostbitten. "Something's still bothering you."

Her hands stopped fidgeting with the pajamas. "You're perceptive."

"Sometimes." Bill wasn't about to play games with Grace after what she'd been through. "Tell me what's going on."

She looked at Liam, looked at his EMT and wilderness first aid books on the shelf, a snowboard, an old fire helmet, looked at everything in the living room except Bill.

He took a step closer. "Something's got you wigged out."

Grace rubbed her lips together. "The sheriff thinks you should, um, check me. See if we…I…need to go to the hospital."

That would do it. "Good idea."

"No. I don't. Need to go, that is." Her gaze still avoided his. "I'm a little sore. Nothing else."

Liam played with Peanut, seemingly oblivious to everything else.

"Most people are sore after an accident." Bill didn't know if she was afraid of going to the hospital or of him. He'd guess the latter, but wished she'd look at him so he could try to see if something else was going on with her. "The rush of adrenaline can mask injuries. You should be examined."

Grace nodded, but looked as if she'd rather face a dentist and gynecologist at the same time than be checked by him. She ran her teeth over her lower lip.

"I promise I don't bite," he teased.

She blushed. Her bright red cheeks made her look like a teenager.

He motioned to a chair. "Do you want to sit?"

"I'd rather stand."

Figures. When Bill was on a call or out in the field on a rescue mission, he tried to keep the patient at ease. Joking around with Grace wasn't working. He'd try talking to her. "Where do you live in Georgia?"

"Columbus."

"You don't sound Southern."

"I grew up in the Midwest. Iowa."

"Cornfields and the Iowa Hawkeyes."

Her amber eyes twinkled. "And country fairs."

"Let me guess. You were the Corn Queen."

Her grin brightened her face. Not only pretty, unexpectedly beautiful.

Air stuck in his throat. He struggled to breathe.

She struck a royal pose, lifting her chin and shifting her shoulders back. "Corn Princess."

Bill had no idea why he'd reacted to her. Must be tired. "Sash and tiara?"

Corn-on-the-cob scepter, too."

"Real Iowan corn?"

"Only the finest." She gave Liam a royal wave. "I was the envy of the corn court until an unfortunate incident with one of the 4-H goats."

"Poor goat."

"Poor corn." She made an exaggerated sad face. "After the goat encounter, I was a princess without a scepter."

Okay, this was more like it. Smiling and joking and raising Bill's temperature ten degrees. "So what brings her highness out of the land of sweet tea and juicy peaches across the Mississippi River and over the Rockies to the verdant Pacific Northwest?"

She stared at Liam. Her eyes softened. "Astoria."

"Ah. Nice little coastal town, if you don't mind being at sea level." Bill preferred living in the mountains. "Do you have family there?"

"No, but I thought why not try something different."

Her voice sounded shaky. Nerves?

Or something more? "That's a big move."

She shrugged, but tight lines formed around her mouth. "I've moved a lot."

"I've moved twice, not counting my stint at the fire academy. Once from my parents' house to an apartment, then into this house." Bill stood next to Grace. The top of her head came to the tip of his nose. "Show me where you're sore."

She pointed to her left shoulder, where the seatbelt would have hit.

He touched the spot. "Does this hurt?"

"Slightly tender." She glanced at his hand on her, then looked away. "I can't remember all the moves we've made. My husband was in the army."

Was. Past tense. She hadn't said ex-husband, but she wasn't wearing a wedding band.

Bill knew some folks didn't wear rings. Others lost them. Or pawned them. "Is your husband waiting for you in Astoria?"

She bent down and stroked Liam's hair. "He's…dead."
Book Info:
A new family…for Christmas?
All widow Grace Wilcox wants is a fresh start for her and her young son, Liam. When her truck spins off the icy road, her rescuer turns out to be the hottest firefighter in Hood Hamlet, and even wary Grace can't say no to his offer of help!
Bill Paulson has stuck to his no-dating rule so far this Christmas, but having Grace in his home is testing his chivalrous side to the limit! Her little boy is melting his heart, even asking for a new daddy from Santa…
But Grace has already loved and lost one hero. Can she really let herself get close to another?
Book Links:
Author Bio
Melissa McClone's degree in mechanical engineering from Stanford University led her to a job with a major airline where she traveled the globe and met her husband. But analyzing jet engine performance couldn't compete with her love of writing happily ever afters. She has published over twenty-eight romance novels. She writes for Harlequin and Tule Publishing's Montana Born Books. She's been nominated for Romance Writers of America's RITA award. When she isn't writing, she's usually driving her minivan to/from her children's swim and soccer practices, 4-H meetings and dog shows. She also supports deployed service members by sending care packages and fosters cats through a local non-kill rescue shelter. Melissa lives in the Pacific Northwest with her husband, three school-aged children, two spoiled Norwegian Elkhounds and cats who think they rule the house. (They do!)
Website | Facebook | Twitter |