Today it is my pleasure to Welcome author
Miranda Liasson
to HJ!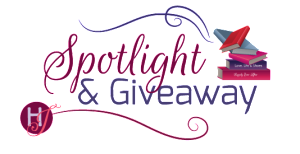 Hi Miranda and welcome to HJ! We're so excited to chat with you about your new release, A Man of Honor!

Hi Sara. Thanks for having me to talk about my new Entangled Indulgence release!

Please summarize the book a la Twitter style for the readers here: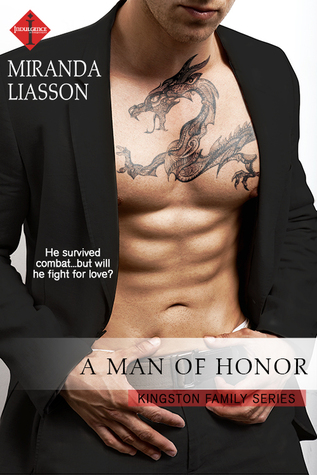 This is a story about a war hero who returns injured, inside and out, and the woman he's loved forever. Themes of forgiveness, moving on from the past, and having the courage to go after what you want are strong. (Sorry, that was longer than 120 characters ☺!)

Please share your favorite line or quote from this book:
"And in that moment, he knew one thing. If it was possible to slay his dragons, he'd do it. For her."
Please share a few FUN facts about this book…
Oh, it's all about the tattoo! That came about because Preston, my hero, really does have dragons to slay. When I was filling out the sheet about the cover, I said, if you do a naked chest shot, don't forget the tattoo! And the Entangled art department came up with the rest. Wow! I've been drooling over it for several months now. Who needs the book with a cover like that? ☺
Also, have you ever looked up the lyrics to the classic rock song Louie Louie? Do that some time. In polling my friends, EVERYONE knows that song but NO ONE can sing the lyrics!
Please tell us a little about the characters in your book. As you wrote your protagonist was there anything about them that surprised you?
Cat, my heroine, was the faithful sister of the heroine of my first Entangled book last year, Heart and Sole, who gave her desperate sister $5000 of her wedding money to bet on the hero, and who got dumped by her (very boring) actuary fiancé.
I knew she'd been through a lot. I knew she was faithful to the core and that Preston would need someone like her to peel off all those tough layers and finally get down to his true inner vulnerable self.
Cat also just got let go from her journalism job, which she hates. With her, it's all about having the courage to stand up for what and whom she really wants.
Preston was always an across-the-tracks guy. If it weren't for Cat's family, his life could have taken a much darker path. But for him, it's always been hands-off of Cat, his best friend's sister. Until he reached a point in his life where he felt he'd truly overcome a lot. But then he got deployed, and when he was overseas, he was badly wounded. He didn't want to saddle her with all of his problems. He has a lot to deal with–but part of it is to learn to lose some of his pride and realize that if we wait for everything in life to be perfect, we'll be waiting a long, long time.

What kind of research did you do for this book?
I spoke with several servicemen about their experiences abroad. I was extremely worried about not being able to adequately represent Preston in an authentic manner, or do anybody's suffering justice. In a strange twist, I also learned a few things about King Louis XIV candlesticks!!! And kindergarten classrooms. And as I mentioned above, I finally learned the words to the classic rock hit Louie Louie!

The First kiss…
…actually occurs when Cat seeks Preston out to find out answers for why he dumped her and ghosted on her. ..
He'd meant to blow her cover, outrage her, and send her storming out his door. But life got complicated. Against his own usually iron will, he pushed his hands deep into the silky thickness of her hair and pulled her closer. Her warm, rapid breaths tickled his face. She swallowed hard as her head tilted back, her soft pink lips begging for his touch. Feeling the fine curve of her skull under his hands, he lowered his lips and kissed her.

And oh, God, what a kiss. Catherine Kingston's kiss was a lethal weapon, one he'd imagined every day of his dark existence. Now that he started indulging, he couldn't stop.

She parted her lips, more in shock and surprise, and he took full advantage, crushing his own on hers, thrusting in his tongue and plunging deep. For a moment, she went still as the fight in her drained. In one quick movement, she wrapped her arms around his neck and clutched at him, her hands tangling in his hair. Her soft breasts pressed into his chest, her heat penetrating his T-shirt and lighting him on fire. She entwined her tongue recklessly with his, matching each stroke with her own.

The taste of her shocked him, sweet, tinged with wine, as familiar to him as his own shoe size and yet forbidden. Off-limits. He knew this, but he was too far gone. Kiss after wet kiss, he devoured her, almost a full year of pent-up desire unleashing in one terrible flood.
Was there a scene in this book that was harder to write than others?
It was difficult for me to write Preston grappling with his worst fears. I was very afraid I would not do justice to his suffering or the suffering of all of our heroes who return from combat wounded.
There was not a Guthrie curse. Or a predestination for badness. Just because Preston shared blood with a man who had ruined his own life and his relationships with alcohol did not mean he was headed down the same path. Logically, Preston understood. He tried to summon Cat's practical tone, and that way she looked at him, without judgment, like he could do anything he put his mind to.
Then he looked at his achy, ugly leg. Would he ever run again? Do all the things he loved without hobbling along like a cripple? Be able to hold her in his arms and sail with her across a dance floor? Pick her up and carry her across a threshold? Not think that a ringing phone signaled a full-scale terrorist attack?
She had said it was all right not to carry all your burdens alone, but how long would she have to suffer with him? Was it ever fair to make someone do that? Maybe his father was right. It was better not to care for anyone, to get through your shit by yourself so you didn't drag anyone who cared down with you.
"Mr. Guthrie, are you all right?" Preston looked up to see the doctor, her hand on his shoulder and a worried look on her face. He hadn't heard her come in. "I just wanted to tell you we're going to move you to another room down the hall where you can spend the next couple of hours. I can't help but notice you don't look very well."
He straightened up. Scrubbed a hand over his face. "I—I'm fine." His problems could wait. He wasn't about to leave Jared's side. And Cat. How was he going to call Cat back here when he was like this?
"Are you sure?" she asked. "You look pale and sweaty. We don't want you passing out, too."
She was smiling. A kind doctor, one he might trust. He didn't want any of this to be about him, but she was right. He did feel about to pass out, and if that happened, it sure wouldn't do Jared any good. He blew out a big breath and caved. "I'm an ex-vet with a chronic knee injury. I've been at a wedding all weekend, and I think I did something really bad to it."
"Let me have a look, all right?"
He nodded and undid his brace. As she examined his knee, Preston tipped his head back in the chair and glanced at the TV screen mounted high in the corner of the room, struggling not to focus on the pain. An action movie played, with guys running and jumping, bombs blowing up and vehicles catching on fire. He grabbed the bedside remote and turned the volume to mute. He had enough noise rolling around his brain. His dad might be long gone, but his voice had taken up living in Preston's head.
If your book was optioned for a movie, what scene would be absolutely crucial to include and why?
The opening scene, when my heroine changes places with a club dancer Preston's friends have hired to play a joke on him. This is completely out of character for Cat, but it leads to an interesting (and sexy) interaction…
Whoever this woman was, he was certain she was not a prostitute. His friends weren't that tacky. But no reason he couldn't play along for a bit. Even with his bum leg, he'd had plenty of offers from sympathetic young things pining to do their patriotic duty for a fallen soldier. He'd never been that desperate. Still wasn't. But he'd love a distraction. Love to forget everything for just a few moments: the pain, the hell, the woman he'd left in the dust.

The lady in black sashayed across the room to stand directly behind him, where he couldn't easily turn to see her face. She looped cool hands over his eyes, leaning her elbows on the top of his chair. Raindrops rolled off her jacket and landed on his neck, sending a slight shiver cascading down his back. A clean, delicate fragrance he couldn't quite place enveloped him in a cloud of scent.

"What would you like tonight, soldier?" Her voice was smooth as silk, but her hands trembled, making him think she must be young, inexperienced. She brushed her lips softly along his neck. He would put a stop to this nonsense in a minute, but God, it felt too damn good to be touched.

The image that played before his eyes, stabbing his heart with the same immutable pain as his worthless leg, was of another woman, not vampy, not sultry. Soft blond hair, a smile as sweet as homemade sugar cookies at Christmas. More slender than curvy, but just right for his tastes. There'd been a time before his injury when he'd almost believed he could make up for his shitty upbringing and be the man she needed. But not anymore. And not ever.

The war had changed all that.

That scent. Lavender, that's what it was. Sweet and old fashioned, a huge contrast to her provocative behavior. Familiar. And that voice, too, once you peeled off the layers of that phony lilt.

His heart accelerated, his senses sharpening with suspicion. "Why are you here?" he asked as casually as he could manage while he reached up his hands and curved them around her wrists. Slender, just like hers.

"Your friends sent me to show you a good time," she said. He ran his hands lightly up her arms, stopping just below her elbow.

His heart pumped equal parts dread and anticipation through his body. Too many coincidences had raised his spy sense. Her timidity, the disguise, the sweet smell that had permeated his dreams every bloody night in the hot, arid desert. This was no stripper. Or dancer. Or whatever masquerade she was playing at. He didn't know how or why, but he'd recognize Catherine Kingston if he was blind and deaf.

His hands stilled at her elbows. For one moment, he stroked the soft skin, enjoying the forbidden feel of her. Then he tightened his hold, pivoted his shoulders, and sent her tumbling into his lap. The hood tipped back, and he found himself staring into a pair of angry eyes the color of a September sky.

"What the—"

She struggled against him, but he didn't ease up. His leg might be just about useless, but everywhere else, he was lock-grip strong. He'd pinned her as easily as a judo master's takedown.

"What the hell are you doing here?" he asked.
What do you want people to take away from reading this book?
The minority of us actually go to war, but all of us go to war with something in our lives. The message is that sometimes we've got to forgive ourselves the mistakes of our past in order to move on, and love is often that vehicle of mercy and forgiveness. That's why I love romance so much!

What are you currently working on? What other releases do you have planned for 2016?
The third book in my small town Mirror Lake series from Montlake arrives July 19. This is Sam and Lukas's story. If you've read the other books, she's the baby sister of the Rushford family…now all grown up and confronting the guy who left town to become a singing sensation after using the words from a poem she wrote for his breakthrough song.
I just turned in the fourth Mirror Lake book, which releases in December. It's probably the most emotional book I've written so far, and it was difficult to write. I seem to gravitate toward writing stories that have humor but also heartbreaking events as well.
Thanks for blogging at HJ!
Giveaway:

2 e-copies of A MAN OF HONOR from Amazon
To enter Giveaway: Please complete the Rafflecopter form and Post a comment to this Q:

Do you like tortured heroes? And if yes, tell me why or who your favorite tortured hero is!
Excerpt from A Man of Honor:
A ring. Prim, proper, Catherine Kingston had a belly button ring. That realization must have short-circuited his brain, because before he knew what he was doing, he'd touched it. Her abdominal muscles tensed when his fingers grazed her abdomen and her stomach went hollow with her sudden intake of breath. She went still and turned her head toward him.
Somehow his entire body froze in place. He was totally transfixed by the feel of her beneath his hand. "W-what is that?" he managed to say.
She placed her small hand over his large one. Her pale skin was a huge contrast over his naturally darker tone. "A belly button ring, and don't act like you've never seen one."
"I have. Just not on you."
"You don't like it?" she asked, still not moving her hand.
"No, I-I like it. Just surprised is all."
"I could surprise you about a lot of things," she said. He looked at her in alarm. Was she flirting with him, or about to tell him off? Her sunglasses were too dark, and he couldn't read the expression in her eyes.
"You always surprise me," he managed.
"How's that?" she asked.
She'd surprised him during those first few months in Afghanistan, when she'd always been there for him, sending him letters and crazy things in care packages. Like pens with pink feathers and her romance novels with pages of love scenes marked and little sticky notes that said, "Read this! And think of me." She'd sent him crazy patterned socks and gum and instant Starbucks coffee that was as close to being fresh-ground as it could get. She'd been open and honest and giving, and she still was, regardless of how shitty he'd treated her. And that was the most surprising thing of all—her inability to give him up.
"You stood up to your family the other night," he said. "Life's too short to not do what you want."
She sat up, and this time she completely took off her glasses. His hand fell to his side. "If you mean that, really mean that, what is it that you want?"
"Cat, I—"
"No." She put a hand on his arm. "Tell me, Preston, what is it that you want? Because you could have it. You could have all of it just for the asking."
Blood pounded in his ears. Had he heard her right? She was offering herself up, not to Brady, but to him. And he wanted her, every blessed part of her. He wanted to run his hands all along her smooth, sun-warmed body. He wanted to peel off those scraps of what she called a bathing suit and explore every part of her. With his tongue. Including that belly button ring.
Excerpts. © Reprinted by permission. All rights reserved.

Book Info:
He survived combat…but will he fight for love?
Former Army Captain and venture capitalist Preston Guthrie has always had a thing for Cat Kingston, but he never felt like he could date his best friend's sister. Plus, he's a wrong-side-of-the-tracks guy and she's a white-picket-fence kind of woman. Yet when they met again just before he was deployed, sparks flew. A fire ignited. And the heat was hot. For the first time, he thought a relationship with her might be possible…until an injury in the war changed everything…
Journalist Cat Kingston had a rough couple of years, surviving a broken engagement and the loss of her job. But connecting with Preston last fall seemed right. They shared steamy Skype sessions while he was overseas—until he was wounded, and cut her off without explanation. Now he's back in town to be the Best Man for her sister's wedding…and she wants answers.
Preston's struggling with a leg wound, but the war scarred him on the inside, too. When Cat pays him a surprise visit and her brother catches them in a compromising position, Preston tells him they're dating. He's not sure how he can spend the entire wedding week fake-dating her when the chemistry between them feels anything but…
Meet the Author: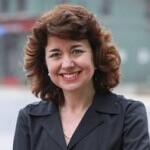 Miranda Liasson loves to write stories about courageous but flawed characters who find love despite themselves, because there's nothing like a great love story. And if there are a few laughs along the way, even better! She's a former Golden Heart winner who writes series romance for Entangled Publishing and lighthearted contemporary romance for Montlake Publishing. She lives in the Midwest with her husband, three kids, and Posey, a rescue cat with attitude.
Website | Facebook | Twitter |