Today it is my pleasure to spotlight the release of 

A MATCH MADE ON MAIN STREET

 by Olivia Miles

This kitchen isn't big enough for both of them . . .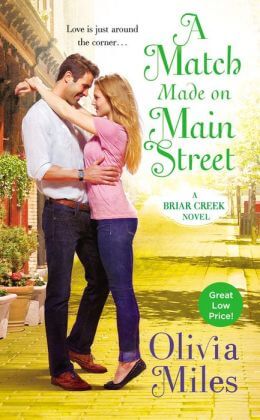 If there's anything Anna Madison knows, it's how to turn life's lemons into a lemonade cocktail served in a vintage glass. So when her beloved Briar Creek café burns down, she sees it as an opportunity to start fresh. But the only kitchen available to her is in the diner down the street-owned by her sinfully sexy ex.

If Anna thinks she can take over his greasy-spoon kitchen with her high-end cuisine, Mark Hastings is about to set her straight fast. Their breakup is his biggest regret-not that he'll ever admit it to her. Nope, he'd rather show her exactly what she's been missing. With desire set on a high simmer, their menu is about to get a whole lot spicier . . .

Read an excerpt from A Match Made on Main Street:
Ever so lightly, his lips were on her cheeks, kissing the wet stains of her tears. He released her hands, wrapping his hands around her waist, pulling her close to the hard wall of his chest. She wanted to resist him, to push him, to beat on his chest for what he'd done to her, the horrible, awful position he'd left her in, but the fight was gone. The walls had come down, and everything she'd been holding inside her, all this time, was finally released.
She curled into his chest, letting the heat of his body envelop of her. He stroked her hair, whispering into her ear, saying the words she'd longed to hear–words she hadn't thought she ever would. Not from him. Not after this.
His lips skimmed hers softly, and she parted her mouth, lacing her tongue with his, finding warmth in his touch. He kissed her slowly, stroking her face, and held her close when they finally broke free.
"You're cold. Let's go inside." He took his hand as they stood, leading her the short distance back to the hotel in silence. It was Saturday night, and Cedar Valley Village was alive and bustling; couples walked hand in hand in search of a romantic restaurant, and a few teams of chefs she recognized from the contest strolled down the path. The hotel was lit with glittering lights: a beacon against the stark, dark mountain range towering above them. Inside, the hotel lobby was quiet and relaxed, and they retraced their steps to the elevator. Anna pressed the button for her floor, and Mark made no signs of doing the same.
They'd learned to communicate without words, and she was grateful for the understanding. She wasn't ready to be alone right now. Too many thoughts and memories had come to the surface. She'd tried to distance herself from them, but now there was nowhere to hide. The only person who could understand, the only one who stood a chance at making any of it better, was at her side.
Anna slid her keycard in her door and flicked on the light. An audible gasp released from her lips when she took in the sight.
The king-sized bed she'd slept in last night had been made, but covering its crisp white duvet were dozens upon dozens of red rose petals. On the table near the window, where the damask curtains had been drawn for privacy, was a silver-plated pitcher containing what appeared to be a bottle of champagne. The expensive kind. Next to it was a platter of strawberries, and two crystal flutes, at the base of which sat a single long-stemmed rose.
Anna froze, her eyes darting from one object to the next. They were in the wrong room. But no–wait. They weren't. There was that silly bottle of massage oil on the nightstand–she could have sworn she'd set it on the bathroom counter after she'd fished it from her handbag yesterday…
"It wasn't me!" she blurted, whirling around to Mark, who stood behind her, his hand still on the doorknob, her jaw slightly slacked.
Mark frowned and stepped deeper into the room. He picked up a rose petal, studying it with curiosity, and let it fall. It danced through the air before quietly drifting back in place.
Anna marched to the table, lifting the lid on a metal pot. Chocolate fondue. She thought she'd smelled something!
Her pulse began to hammer, and her face flamed with heat. She blinked, looking around the room in dismay, until she spotted Mark out of the corner of her eye. He was laughing.
"They must have made a mistake! They must have sent it to the wrong room."
"Or someone sent it up…" Mark grinned.
Her face fell. "You didn't–"
"No," he replied, and the heat in her cheeks rose a degree. "But since it's here…we may as well enjoy it."
"Oh." She looked at the champagne, wondering if she should uncork it or let him do the honors, but when she turned back to ask, the look in his eye told her he wasn't talking about the chocolate covered strawberries.
He closed the distance between them, setting his hands on her waist, blinking as he leaned into her, pulling her close against the hard wall of his chest. She breathed in his scent, the familiar strength of his body, as he kissed her neck, circling his tongue on her earlobe, tracing his finger down the arch of her neck.
Her body warmed quickly with the heat of his, and she waited with growing need for his lips to move to her mouth. She craned her neck, inhaling the musk of his skin, until his lips again found her earlobe and he began nibbling, softly at first and then slightly harder, letting his teeth take hold of her soft flesh. His cheek brushed hers as his mouth moved to hers, and his hands slid over her hips, and lower. She sighed into him as his tongue probed deeper, sending a rush of heat coursing through her.
Excerpt. © Reprinted by permission. All rights reserved.

Giveaway: 
2 Print copies of A MATCH MADE ON MAIN STREET by Olivia Miles
To enter Giveaway: Please complete the Rafflecopter form and 

Leave a comment for the author with your thoughts on the book…
Meet the author: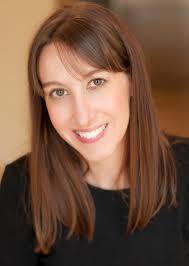 Having grown up in New England, Olivia Miles attended McGill University in Montreal, Quebec before settling in Chicago where she lives with her husband, their daughter, and two ridiculously pampered pups. When she is not chasing after her little ones, she is hard at work creating feisty heroines and alpha heroes with a heart. A city girl with a fondness for small town charm, Olivia enjoys highlighting both ways of life in her stories.
Olivia's SM:
https://www.goodreads.com/author/show/7126529.Olivia_Miles?from_search=true
https://www.facebook.com/AuthorOliviaMiles?fref=ts
http://oliviamilesbooks.com/
@MsOliviaMiles

Buy Links:
Amazon – http://amzn.to/1QrtEIL
BAM – http://bit.ly/1EpMXgk
B&N – http://bit.ly/1I5X63f
IndieBound – http://bit.ly/1Pxna9H
GooglePlay – http://bit.ly/1bCde0d
iTunes – http://apple.co/1PxhkoP
Kobo – http://bit.ly/1JDtA36