Today it is my pleasure to Welcome romance author
Jennifer Faye
to HJ!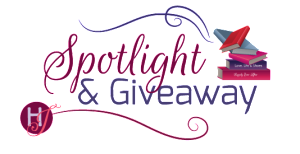 Hi Jennifer and welcome to HJ! We're so excited to chat with you about your new release, A Moment to Love (A Whistle Stop Romance, book1)

!


Hi. Thanks so much for having me back to visit and share this very special book series launch. I've been daydreaming about Whistle Stop for a long time now and at last I get to share my dream with the readers. 🙂

Please summarize the book for the readers here: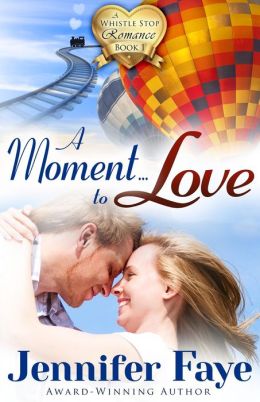 Can two very different people from totally different world find happiness together? Alexis Greer has just arrived in Whistle Stop. She has one thing on her mind–protecting her sickly father by saving his company. But there's a BIG problem in her way and it goes by the name of Cord Lawson. He isn't about to sellout his family's legacy–no matter how beautiful the buyer might be.

Please share the opening lines of this book:
Alexis Greer had always been a little superstitious.

She especially believed the adage that bad things came in threes. So far today, her originating New York flight had been delayed, causing her to miss her connecting flight, leaving her stranded for hours, and when she'd finally arrived in New Mexico, her luggage had gone missing. At last count, that accounted for only two unfortunate events.
Please share a few Random facts about this book…
A MOMENT TO LOVE is the first book in the Whistle Stop series.
It is set in a small fictional town in New Mexico.
Beware: the town contains some quirky & offbeat characters.
The book comes complete with a happily-ever-after.
The heroine has a chocolate addiction. The more she craved it–the hungrier I got for chocolate. So much for that diet. 😉
Please tell us a little about the characters in your book. As you wrote your protagonist was there anything about them that surprised you?
Alexis Greer and Cord Lawson star in the first Whistle Stop book. Alexis is a career woman following a path laid out for her by her father. She does her best to make her father proud of her–even if some of the choices aren't ones she'd have chosen for herself. Cord Lawson is a cowboy who has faced his own challenges and has made his own share of regrets. He better hold on tight because Alexis is about to turn his life upside down.
As for surprises, though I plot out each book, the hero and heroine are forever taking detours that surprise and delight me. With this particular book, it was the secondary characters that surprised me the most–mainly because I didn't even know half of them existed until they stepped on the page. And now I'm anxious to know their stories.

What, in your mind, distinguishes this book from other books out there in the same genre?
The Whistle Stop series isn't necessarily about cowboys. It's about the residents of the town. Some are definitely cowboys, some business owners and yet others are following their dreams wherever it leads them. It's a town facing hardship but refusing to give up. It's a tight knit community of fascinating people that have the hope, the heart and the determintion to keep Whistle Stop alive.

The First kiss…
Alexis is really starting to appreciate the Southwest and the cowboy who is giving her an unexpected tour…
"I think it's the most amazing place I've ever been. I can see why you're so protective of this place."

Cord's gaze jerked back to her. "You really mean that? You think this place is special?"

"I do." Alexis's pulse started to race as he continued staring at her. "This place is loaded with a rugged charm and rare beauty."

He lifted his bottle to drink. When a trickle of water trailed down his chin, she longed to reach out and run her finger over his damp skin, over the place where his vein pulsed. She wondered how he'd react if she gave in to the impulse.

"There's a far more beautiful sight." His voice was deeper than normal. The sweet words drizzled over her like thick, rich caramel.

"Where would that be?"

Their gazes connected and held. "The woman standing right in front of me."

Her gaze searched his. Could he read the desire in her eyes? Did he know how much she'd been longing to feel his lips pressed to hers? The heat was definitely affecting her now. There was no other acceptable explanation for her overwhelming yearning to have him kiss her.
Did any scene have you crying or laughing (or blushing) while writing it?
A MOMENT TO LOVE had me smiling, laughing out loud and sniffling. I love being able to explore these characters in greater depth and to follow the lives of secondary characters. The book was a delight to write and now I'm anxious to share Tony and Ella's story with you. It'll be available soon. 😉

If your book was optioned for a movie, what scene would you use for the audition of the main characters?
I'd use the scene when Cord and Alexis come head to head about her reason for being in Whistle Stop…
"But you are interested in the acreage I have for sale, aren't you?"

"The thing is…" Alexis hesitated, searching for just the right words.

"If it's the price, it's non-negotiable."

"It's not that."

Concern flickered in Cord's dark eyes. "You do want the land, don't you?"

"Yes, I do." Alexis strove for a strong, confident tone. "The thing is, I'm not interested in buying it for personal reasons. I'm a land developer."

"What?" A whole host of expressions filtered across his face. "You mean, like those people who divvy up huge tracts of land to turn it into residential property?"

"Well, yes, but that's not what we want to do here." She reached into her purse, pulled out one of her business cards, and handed it over.

"What do you want to do here?"
If you could have given your characters one piece of advice before the opening pages of the book, what would it be and why?
Don't measure yourself by other's expectations.

What are you currently working on? What other releases so you have planned for 2015?
2015 is a very busy, very exciting year for me. I have A MOMENT TO LOVE (A Whistle Stop Romance, book 1) coming out in February. Come March THE PLAYBOY OF ROME (The DeFiore Brothers, book 1) releases. And what would April be without a wedding? Join Jules and Stefano in BEST MAN FOR THE BRIDESMAID. And that's not all…
Currently I'm finishing up A MOMENT TO DANCE (A Whistle Stop Romance, book 2). Expect it to be available sometime this summer. I also have other releases planned for 2015. You can sign up for my newsletter on my website to be informed of upcoming releases and special giveaways. You can find the signup form at www.JenniferFaye.com (look in the top right corner).

Thanks for blogging at HJ!
Giveaway:

An autographed copy of A MOMENT TO LOVE (A Whistle Stop Romance, book 1) plus swag.
To enter Giveaway: Please complete the Rafflecopter form and Post a comment to this Q:

What's your favorite part of a small town?
Excerpt
"Cord, you all right?" Mr. Forbes sent him a concerned look.

"Yeah, I'm fine." He couldn't let himself get distracted. The most important thing was saving the land. "You know I'm in the process of applying to have Haggerty listed with the National Register of Historic Places."

"I totally understand." The Realtor patted him on the arm.

"Do you?" Because the history of his family's land wasn't something people talked about, but Cord's grandfather had spent years teaching him about his ancestors. "As long as I'm alive and kicking, no one but a Lawson will own Haggerty."

Mr. Forbes's round face grew red like an heirloom tomato. "We have solid interest in the ghost town."

This news struck Cord like a sharp blow to the solar plexus. He didn't need this complication. What if the bank got wind of this and twisted his arm to force the sale? Those bankers wouldn't care about his heritage so long as they got their money. The thought soured his stomach.

Just then, Ms. Business Suit strolled out of the store. When their gazes connected, he noticed the deep-blue depths of her eyes. Okay, maybe she wasn't so bad. In fact, she was pretty hot. She flashed him a broad smile, and he forced himself not to smile back. He didn't have time to waste with flirting—that was a thing of his past.

He and Mr. Forbes moved aside to let her pass. Cord turned his head, allowing his gaze to linger on her, catching the sway of her rounded hips. It didn't hurt to look. And, oh boy, was Ms. Business Suit a fine sight.

Mr. Forbes cleared his throat. "About the ghost town—"

Cord turned back to find amusement in the man's eyes. "Yes…how far did this inquiry go before it became clear your office had made a mistake?"

"Well…information was forwarded about soil samples and water supplies."

"So you didn't bother to inform this person that Haggerty isn't for sale? You didn't take the time to tell them the listing is only for the two hundred acres on the eastern border of the Brazen H?"

"C'mon, Cord." Mr. Forbes grabbed a hanky from his pants pocket and dabbed it across his brow. "The property may have been in your family for generations, but selling it would keep you from losing everything. It's perfect."
Book Info:
Welcome to Whistle Stop…where anything can and most likely will happen.
The notorious cowboy meets his match…
Cord Lawson instantly distrusted the young woman in a smart suit who'd just arrived in Whistle Stop. She was very pretty and clearly a city girl–but with memories of his failed marriage still darkening his mind, he's determined to steer clear! But she's sniffing around his land–land that has been in his family for generations. There was no way he'd let it go–even if the bank was threatening to foreclose, and even if selling could give Whistle Stop a new lease on life.
Alexis Greer had one mission–close the deal on the Lawson ranch; without it, her father's land development company would go bankrupt. But the word around town is to keep clear of Cord and to stay away from his precious land. What had happened to cause such a handsome cowboy to live such a solitary existence? However, determination was Lexi's middle name. She just had to keep on trying to breach Cord's barriers, to appeal somehow to his head and heart–even if it put her in danger of losing both of hers…to him.
Meet the Author: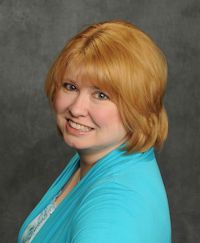 Award-winning author, Jennifer Faye pens fun, heartwarming romances. Step into the pages of exciting destinations with rugged cowboys, sexy tycoons & enchanting royalty. Jennifer has won the RT Book Reviews Reviewers' Choice Award, named a TOP PICK author, and been nominated for numerous awards. Now living her dream, she resides with her patient husband, amazing daughter (the other remarkable daughter is off chasing her own dreams) and two spoiled cats. She'd love to hear from you via http://JenniferFaye.com
Website | Facebook | Twitter |