Today it is my pleasure to Welcome author
Anna Sugden
to HJ!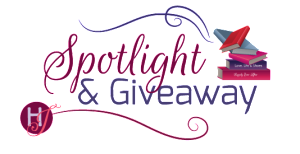 Hi Anna  and welcome to HJ! We're so excited to chat with you about your new release, A Perfect Compromise!

Hi Sara and HJers! So thrilled to be back with you all.

Tell us about the book with this fun little challenge using the title of the book: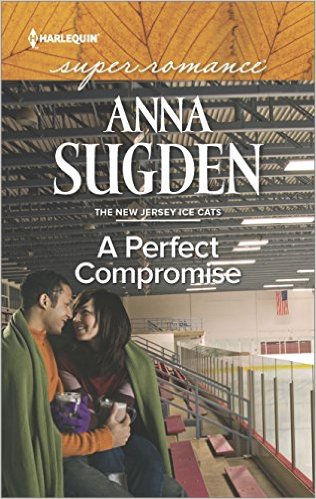 A – Are you ready? The Ice Cats are back!
P – Player. JB Larocque is a player, both on and off the ice.
E – English teacher – Issy's job, and she can't afford to lose it
R – Romance – the last thing Issy and JB are looking for.
F – Fling – what JB and Issy intend to have
E – Emerald necklace – the prize in the limbo dancing contest that Issy wins
C – Caribbean – Where Issy and JB meet
T – Time's up – the end of the holiday
C – Cup – Lord Stanley's chalice
O – Oh dear – food poisoning!
M – Marriage – not on the cards … or is it?
P – Pregnant – Not what Issy or JB planned or wanted.
R – Responsibility – not JB's thing.
O – Out of work – Issy loses her job
M – Mother – Issy won't give up her baby
I – Ice Cats – JB will have to choose between his career and his child
S – Sophia – Their baby
E – Ending – happy, of course!
What's your favorite line(s) from the book?:
This is my homage to 'How to Lose a Guy in Ten Days':
The uncertainty returned to her eyes when she spotted the unmistakable bulge in his shorts.
"I know you're desperate to get your hands on my magnificence, but you'll have to wait. It's still your turn."
She giggled. "Your 'magnificence'?"
He feigned offense. "I assure you it lives up to its billing."
"I'm sure," she soothed. "Can I call it Mag for short?"
And there was another intriguing contradiction. She was nervous, but she was making jokes. That was more of a turn-on than any seductive move.
"Lady, there is nothing short about it," he growled.
Her eyes widened. "So I see."
Please tell us a little about the characters in your book. What first attracts your Hero to the Heroine and vice versa?
Jean Baptiste 'JB' Larocque is a star forward for the New Jersey Ice Cats and, as I said earlier, a player off the ice too. Having grown up on a farm and seen the pressures of responsibility on his family, he's determined to be commitment-free for as long as he can. Added to which, he has his eyes firmly fixed on hockey's ultimate prize, having come oh so close last season. This is not the time to think about getting serious with a woman.
Isabelle 'Issy' Brandine has always been the responsible one. After a tough childhood – in which she had to play the adult in her family and make sure there was food on the table and a roof over their heads – she's sworn her future will be stable and secure. She has a steady job, with good prospects, her own home and a carefully worked-out plan for the future, which hopefully involves marriage to a dependable man, and then children. A man like JB doesn't figure – although what harm could there be in a vacation fling?
For Issy, JB is gorgeous, charming and so far out of her league, she'd need a space launch to get close. Like that forbidden, delicious treat, even though she knows it's wrong, she can't help wanting him.Learning that there are hidden depths to JB only makes him more intriguing and appealing.
For JB, Issy is full of contradictions. Shy, but sassy. Uncertain, yet confident. Sultry and sexy, yet clearly innocent. The more he's with her, the more he wants to find out which is the real Issy.
When you sat down to start this book, what was the biggest challenge you faced? What were you most excited about?
I know you're not meant to have favourites, but JB Larocque stole my heart the moment he skated onto the page in A Perfect Distraction. He wasn't meant to have his story for a while yet, but my editor at the time, the fabulous Wanda Ottewell, asked for it! Of course, coming up with the perfect story for JB was tough because it had to be right for the kind of guy he is. And I didn't want to water him down in any way either. Hopefully I got the balance just right in A Perfect Compromise.
As soon as Issy popped into my head, I knew she was the right woman to put JB through his paces. But I also knew he was the man to encourage her to take a walk on the wild side. And, of course, because the path to happy ever after can't be too smooth, I gave her the moment we all dread when we step outside our comfort zone – the worst that could happen happens! All good fun for a writer!
What, in your mind, makes this book stand out?
Aside from hot hockey players , I think it's the women who have been through some tough times in their life and have an inner strength that they often don't realise they have.
I also like to think that I provide an insight into the world of hockey that goes beyond the stereotypical games and fights – whether it's the issues faced by a player who gets seriously injured (Ike in A Perfect Catch) and has to spend time away from the team, a player who faces the possibility of being traded from the team he's been with man and boy (Tru in A Perfect Trade) or, as in JB's case, the impact that being touted as a good player from when he was young has on him (sent away from his family to live in billets), especially when his family isn't supportive of his career.
The First Kiss…
"Issy, I'll see you later. Okay?"
Suddenly, being alone and reading didn't appeal quite so much.
Damn it. Why couldn't she be as casual about a holiday fling as Sapphie?
Issy smiled brightly at her friend. "Have fun."
As the pair walked arm-in-arm down the beach, Issy turned back to J.B., who was watching her, his expression thoughtful. Issy wished she had more experience with men so she'd know how to read him. And know what to do next.
She blurted out the first thing that came to mind. "Let's get some champagne."
"I thought you didn't drink."
She wasn't a teetotaler, but her family's weakness had made her cautious. "I only drink on special occasions and I think this qualifies, don't you?"
"Okay. Let's get you some bubbly."
His ready acceptance lifted her spirits. They soared when he rested his hand in the small of her back as they walked to the bar.
Once he ordered their drinks he said, "Giving Sapphie the necklace was nice."
"She liked it more than I did." Issy shrugged.
"Still, that's a generous gift."
"An expensive necklace is nothing compared to what she's done for me."
"Sounds like a fascinating story." He handed her a champagne flute.
Issy didn't want to spoil the evening by talking about her past. She wanted to enjoy the moment. And, if she could pluck up the nerve, live a little dangerously.
She sipped her drink. The bubbles went straight into her blood, giving her the courage she wanted. "Another time, maybe. Right now, I want to dance."
"Then let's dance." He linked fingers with her as they walked through the palm trees toward the makeshift dance floor.
When they put their glasses on their table, J.B. said, "I hope I don't embarrass you. My moves won't match up to yours."
Issy laughed. "I'm afraid you've already seen the best of my moves." She lowered her voice conspiratorially. "Sapphie and I used to limbo when we were kids. Except it was usually under a barbed-wire fence and the prize was apples from the farmer's orchard."
He grinned. "I bet Kent wouldn't be happy to hear he was beaten by a ringer."
She leaned forward and pressed her finger against his lips. "Shh. It's a secret."
"Your secret's safe with me." He kissed her finger.
Just as before, her knees went weak.
Maybe it was those bubbles, but Issy'd had enough of being teased. Of fleeting little kisses that left her wanting more. Much more. Time for payback.
She traced his mouth with the tip of her finger, lingering over his full lower lip.
The fire she'd seen earlier in the depths of his dark eyes sprang back to life. He caught her finger between his teeth and licked the tip.
Need pulsed through her. Before she could
second-guess herself, Issy stood on tiptoe and replaced her finger with her lips.
* * *
J.B. was in trouble again.
That internal warning—the feeling in his gut when he was about to be blown out by an opposition D-man—was flashing. Still, he refused to back out of this woman's kiss.
He'd only known Bella for a couple hours and she'd already managed to keep him off balance with those damn frustrating, damn intriguing contradictions. She definitely had an uptight streak, but instead of putting him off, it enticed him to dig deeper. To see if he could loosen her up.
Even her kiss was a contradiction. He sensed her inexperience, yet the way her tongue teased his lower lip was anything but innocent. She tasted of champagne and chocolate-dipped cherries with a hint of Caribbean spice. Sweet yet intoxicating. Slightly wicked.
J.B. took her up on the invitation she so blatantly offered and deepened the kiss. When his tongue touched hers, she sighed softly. He could feel her smiling. That made him smile, too.
A bump against his shoulder brought him back to reality.
"Oops. Sorry. Carry on." A tipsy blonde waved a hand with hot-pink nails.
Bella stiffened in his arms and blushed as if suddenly realizing what they were doing.
"Perhaps we should take this somewhere a little more private," he suggested.
"Oh." She bit her lip.
Sensing she might bolt, J.B. gave her an easy out. "Or we could dance, like we planned."
Bella brightened and reached for her champagne. "Dancing sounds good."
J.B. grabbed his drink, drained the glass, then took hers and put both flutes on the table. "Sounds like they're playing our song."
She tilted her head, arching an eyebrow. "'Thriller' is our song?"
"For sure." He lifted his hands, fingers curled into claws, and waggled his eyebrows like an old movie villain.
Bella fluttered her hand against her chest. "Hey-yelp. I'm so scay-urred."
Her damsel-in-distress voice made him grin. "Come with me, my pretty, and I'll make sure you're safe."
If your book was optioned for a movie, what scene would you use for the audition of the main characters and why?
While it would be tempting to use one of the scenes from Issy and JB's time together in the Caribbean — hello, shirtless man? — I would use a scene later in the book, when Issy goes to dinner with JB and ends up telling him that she's pregnant. The scene runs the gamut of emotions — from anticipation and sexual tension, underlined with nerves on Issy's part, to the reveal and its shocking aftermath — and would show the versatility of the actors!
"Penny for your thoughts."
Her gaze shot up to meet his. There was nothing but mild curiosity in his dark eyes.
"Oh…they're not that important," she hedged.
"You look like you're doing some pretty heavy-duty thinking there." He pulled a handful of change out of his pants' pocket. "I can up the ante to a dime or even a quarter."
His teasing smile only made her feel worse. "Really, it's nothing you want to know about."
He quirked an eyebrow. "Now you have me intrigued."
Her laugh was a little shaky. "You'll be disappointed, trust me."
"Let me make up my own mind on that."
Damn it. She should have made something up. School worries. Decorating worries. Anything.
Instead she'd painted herself into a corner. He wouldn't give up until she told him.
If your hero had a sexy-times play list, what song(s) would have to be on it?
JB is definitely the kind of guy who'd have a soft rock playlist, full of meaningful lyrics that he can use to make his woman feel special. But, as you see in the First Kiss snippet above, he can make anything work in his favour!
What do you want people to take away from reading this book?
That love and relationships require compromise, from both people. Also that compromise doesn't mean being subservient to the needs of the other person. Nor does it preclude achieving your goals and dreams.
And while I don't believe in a grand plan, I do believe things happen for a reason. It's just that sometimes we can't figure out what that reason is and it may take time, even years, to see.
What are you currently working on? What other releases do you have planned for 2016?
Several things! First and foremost, I'm working on the next Ice Cats book – tentatively titled A Perfect Plan – which features recently retired Ice Cats' captain, Scott 'Scotty' Matthews and Sapphire Houlihan, Issy's best friend from A Perfect Compromise. I don't want to give too much away, but this book will take you into the front office of the Ice Cats – so sparks will fly in the board room as well as the bedroom!
As some of you are aware, in the months leading up to Christmas I gave away some holiday-themed Ice Cats' short stories on my website. I'm working on one more – a Valentine's story – and then I hope to release A Perfect Selection – an anthology of all the short stories – in the spring.

Thanks for blogging at HJ!
Giveaway: 1. A signed copy of A Perfect Compromise
2. A signed copy of A Perfect Catch
3. A signed copy of A Perfect Trade
4. A signed, limited edition set of the Ice Cats' short stories.
All are open internationally.

To enter Giveaway: Please complete the Rafflecopter form and Post a comment to this Q:
Who would you like to have a holiday fling with? Why?
Excerpt from A Perfect Compromise:
It didn't take long to slip into the laid-back, Antiguan tempo. The rhythmic tinkling of the resort's steel band by the pool bar seeped into her blood and gave her hips a subtle swing. The warm sea breeze, fragrant with lush tropical flowers, caressed her skin. The water was so clear and blue it looked fake. If she hadn't been here, her toes sinking into the soft white sand, she'd never have believed it was real.
They managed to find two beach loungers in the shade of some tall palm trees. Sapphie had put their cooler under the table, shimmied out of her flowery beach shorts and settled onto her chair before Issy had straightened her towel.
"Stop dithering, Issy."
She inhaled deeply then undid the wrap and draped it over the back of the lounger. When no one fainted at the sight of her scantily-clad, too-curvy body, she applied sunscreen and lay on the towel. But she found it hard to relax.
"You're as stiff as a board." Sapphie sighed. "Don't worry—the chances of anyone from Farlingdale Academy being on this beach are slim to none."
"I'm not worried." Though the school had a strict morality clause, she doubted it applied to a tiny swimsuit. "It feels odd to be doing nothing."
"So read your book." Sapphie whistled softly under her breath. "Don't look now, but a couple of prime examples of manhood are walking this way."
Issy glanced up and caught her breath.
"Dibs on the one on the right and please don't let him be gay."
Both men were tall with finely honed bodies. Walking barefoot through the lapping water at the sea's edge, they wore mirrored shades, ball caps with a logo that featured a snow leopard's head and long, brightly colored swim shorts. Sapphie's choice was dark-haired and good-looking with a nice smile. Totally her friend's type.
But it was the somber man walking beside him who caught Issy's attention. So handsome, he was almost beautiful. His straight nose, high cheekbones and angular jaw were so perfectly formed they could have been carved by a sculptor, and his lips were full, without being feminine.
How would they feel pressed against hers?
Shocked by her thoughts, she lowered her gaze. But only as far as his shoulders and broad chest. Her fingers tingled with the urge to stroke the man's caramel-brown skin to see if it was as smooth as it looked. To trail over the ridges of that amazing six-pack.
He was clearly an athlete. Hardly the kind of dependable, responsible man she wanted in her future.
Issy snapped up her book and forced herself to focus on the text. She hoped Sapphie would put her heightened color down to the tropical temperatures and not…him.
Still, she couldn't resist sneaking another peek as he came closer. Grateful that her sunglasses hid the direction of her gaze, her heart kicked when his head turned toward her. A bead of perspiration trickled down between her breasts.
Oh, my! Issy couldn't help licking her dry lips.
When he turned away, she was unreasonably piqued at his easy dismissal. Don't be silly, she scolded herself. That man was so far out of her league, she'd need a space rocket to even get close.
Beside her, Sapphie smiled and wiggled her fingers at the men. Issy tried not to grind her teeth when the one on the right grinned and waved back.
"Doesn't act like he's gay," Sapphie said. "Hopefully we'll see them at the beach party this evening."
Issy gave a noncommittal reply. She pretended to be engrossed in her story, not watching the toned butt and great legs of a man who was clearly not interested in her.
Excerpts. © Reprinted by permission. All rights reserved.
Book Info:
Theirs is a game of give-and-take…
Schoolteacher Issy Brandine has a plan to build a stable, secure future for herself. No settling for second-best. Anything more than a sultry Caribbean fling with hotshot hockey star Jean Baptiste Larocque isn't part of the plan. A New Jersey Ice Cat with the ultimate hockey trophy in his sights won't fit into her low-key lifestyle. Except a surprise pregnancy changes everything.
Issy knows her child deserves more than a part-time dad. With JB's eyes on the championship that will redeem his career, compromise is out of the question. But love—and the baby between them—might prove that nothing is impossible.
Book Links:

Meet the Author: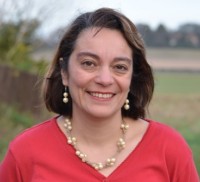 A former marketing executive and primary school teacher, award-winning author, Anna Sugden, loves reading and writing happy endings as much as hockey (where she prefers a happy ending for her team)! When she's not researching hockey players (for her books, of course), she makes craft projects and collects penguins, autographs and memorabilia, and great shoes.
Anna lives in Cambridge, England, with her husband and two bossy black cats. Learn more about Anna, her books and her shoes at www.annasugden.com .
You can also follow her on Website | Facebook | Twitter |