Today, HJ is pleased to share with you

Kasey Michaels

new release: 

A Scandalous Proposal

The drama of London's Little Season continues in this vibrant new series by USA TODAY bestselling author Kasey Michaels featuring three courageous war heroes surrendering at last to love…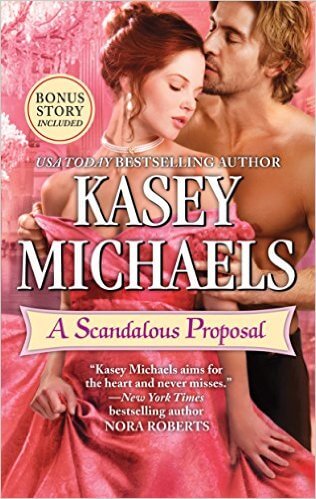 Who would have thought a man could tire of being fawned over and flirted with? Ever since Cooper Townsend returned from France as a hero with a new title, he has been relentlessly pursued by every marriageable miss in London. Perhaps that's why the unconventional Miss Daniella Foster is so appealing. She doesn't simper or flatter. She only wants him to help unmask her sister's blackmailer, and Coop has never been so intrigued…

Let every other woman in London fight over His Lordship's romantic attentions. Marriage is the last thing on Dany's mind…at least until she samples his illicit kisses. Now, as a mutual enemy races to ruin Coop's reputation and Dany's family name, an engagement of convenience will spark an unlikely passion that might save them both.

Enjoy an exclusive excerpt from A Scandalous Proposal: 
It was quiet in the Portman Square drawing room now that the countess had retired to her bedchamber, led there by the promise of tea and freshly baked lemon cakes. She'd run out of complaints and threats, anyway, emptied her budget of Things Ladies of Good Breeding Do Not Say or Do and thrown up her hands in defeat when her sister grinned and asked, "So, are you breed¬ing, Mari? You've been rather overset lately. Perhaps you haven't been counting?"
Having successfully routed her sister at last, Dany looked across the room, to where her maid, Emmaline, had been told to take up residence on a chair positioned close by a front-facing window. There were two reasons for that. One, Emmaline would be able to watch out the window to alert her mistress when one of the carriages stopped in front of Number Eleven, and two, the car¬riage traffic would help muffle voices while Dany and the gentlemen spoke.
Oh, and a third: young unmarried ladies needs must be chaperoned at all times or else the entire world just might disintegrate into cinders, or some such calamity. Of course, were that true, Dany would have destroyed the world at least six times over by now. And that was just this year.
In any event, Emmaline was discreet. She'd kept many a secret for Dany over the years, either out of af¬fection or because she'd be sacked on the spot for having allowed any of her mistress's daring exploits, many of which had necessarily included her cooperation. Dany preferred to believe it was affection.
She glanced at the mantel clock, mentally calculat¬ing the time between their departure from Bond Street and now, and pulled the chapbook from her pocket. The thing was thin of pages, no more than thirty at the most, quite shopworn, and with luck she could finish it before the hero and his viscount friend arrived.
But first she'd look at the cover again. The baron truly owned one of the most pleasing collections of fea¬tures she'd ever seen gathered together all in one place. Hair so thick and blond that it would have to be the envy of all the many women who both dyed their locks and supplemented them with itchy bunches of wool to help conceal the thin patches.
Not that Dany had that problem. When it came to her own hair, the true bane of her existence was its color. Not red, not chestnut, not even orange, thank God and all the little fishies. Her mother (believing herself to be out of her younger daughter's hearing), had once de¬scribed the curious mix of red and gold as trashy, the sort of hair that couldn't possibly come from nature, and was favored by loose women who flaunt their bosoms and kick up their skirts to expose their ankles in the chorus in order to delight the randy young gentlemen in the pit at Covent Garden. Although sometimes Dany thought that might not ex¬actly be considered a bane on her existence, as at least the kicking up of her heels sounded rather fun. To date, the only thing growing up had proved to Dany was that
the mere passing of years could turn a female's life into one long, boring existence, with nothing to look for¬ward to but purple turbans.
She'd marry somewhere in between some sort of hopeful kicking up of her heels and the turbans, she supposed, although she was in no hurry to please her parents by accepting the first gentleman willing to take her off their hands. She hoped for at least two Seasons before anyone was that brave, anyway.
But on to the baron's eyes. The engraver had been a tad too generous with the green, but by and large, they were the most compelling eyes Dany had seen outside of her childhood pet beagle, which somehow had man¬aged one blue and one brown eye. And they were sweet, and sympathetic, just like her puppy's eyes when he wanted to convince her he deserved a treat. Winsome, yet wise, and not a stranger to humor.
Yes, she really did admire the baron's eyes. They were nearly as fascinating as her own, she thought immodestly—she would have said truthfully—which seemed to change color with her mood or what she wore. Not that she was in any great hurry to be limited to dowager purple.
His nose definitely surpassed hers. She liked the small bump in it just below the bridge, which kept him from being too pretty. Hers was straight, perhaps a bit pert. In short, it was simply a nose. It served its purpose but would never garner any accolades.
And then there was his mouth. Oh, my, yes, his mouth. Her father had no upper lip, none at all, as if he'd been hiding behind a door when they were handed out. The baron's upper lip was generously formed, and nicely peaked into the bargain, and his bottom lip full, just pronounced enough that there was a hint of shadow beneath it.
He didn't favor side-whiskers, for which she was grateful, seeing that her brother, Dexter, he of the madly curling black hair, had taken to wearing his long enough to clump around the bottom of his ears, making him look rather like a poodle.
And he was tall—the baron, that is—so that the top of her head didn't quite reach his shoulders. Ordinarily that would annoy her. She'd always thought she would be attracted to shorter men, so that she didn't feel over¬powered. But she didn't feel small or powerless beside the baron. She felt…protected. Most especially when he had caught her as she fell and lifted her high in his arms. It had been quite the extraordinary experience.
"I suppose I can't trip again, because that would be too obvious. Pity," she said to herself, opening the chapbook. It was time to stop thinking and start read¬ing. Time to see just what sort of hero the baron was, if he was a hero at all. She hoped at least part of the story would turn out to be real.
She had only two pages to go when the mantel clock struck the hour of one, but she pressed on, determined to finish.
Excerpt. ©Kasey Michaels. Posted by arrangement with the publisher. All rights reserved.
Giveaway:

Print copy of A SCANDELOUS PROPOSAL by Kasey Michaels
To enter Giveaway: Please complete the Rafflecopter form and post a comment to this Q:

What did you think of the excerpt spotlighted here? Leave a comment with your thoughts on the book…
Meet the Author:
USA TODAY bestselling author Kasey Michaels is the author of more than one hundred books. She has earned four starred reviews from Publishers Weekly, and has won an RT Book Reviews Career Achievement Award and several other commendations for her contemporary and historical novels. Kasey resides with her family in Pennsylvania. Readers may contact Kasey via her website at www.KaseyMichaels.com and find her on Facebook at http://www.facebook.com/AuthorKaseyMichaels.